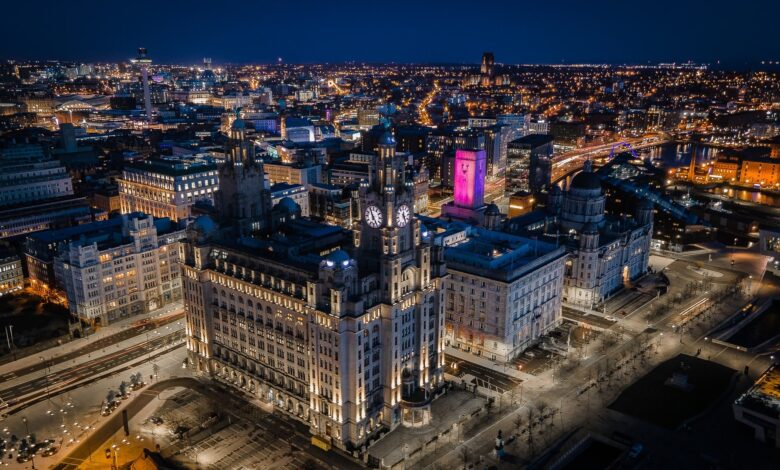 This is our ultimate guide to things to do in Liverpool. Here you'll discover activities and experiences to take part in, in Liverpool, as well as discover some of the best places to eat and drink in the city.
1. Do an Escape Room. Check out our Best Escape Rooms in Liverpool feature here.
2. Go Roller Skating at the Invisible Wind Factory's Rollerdrome.
3. Visit the Baltic Triangle – Liverpool's creative hub is thriving and is home to some amazing places to eat and drink.
4. While in the Baltic Triangle, you can sip gin cocktails at the Botanical Gin Garden.
5. Head to Cain's Brewery Village, home to the immensely popular Baltic Market. Cain's Brewery Village is full of great bars and eateries.
6. Play arcade games at the three-floor gaming arcade, Ar-Cains. Discover the best of Liverpool's gaming arcades here.
7. Take in the spectacular views at the Oh Me Oh My rooftop garden for amazing views of Liverpool's three graces and waterfront.
8. Visit VideOdyssey, dubbed 'the UK's last video shop' by BBC Radio 4. The venue has a special members' arena with a huge VHS cinema and a selection of retro arcade machines.
9. Discover the best vegan places in Liverpool.
10. Watch all the live sporting action at Genting Casino Liverpool Queen Square.
11. Find the best restaurants and bars on and around Liverpool's famous Hope Street.
12. Play the craziest game of bingo of your life at Bongo's Bingo.
13. Students – check out our Student Guide To Liverpool.
14. Head to Smithdown Road for an eclectic mix of bars, restaurants.
15. Eat the best burgers ever at Almost Famous.
16. Visit Liverpool's only authentic Iberian bar, BoBo, on Castle Street.
17. Unwind and relax at Float Planet's floatation tanks.
18. Go to a Liverpool music festival – Sound City features big headliners alongside loads of local talent.
19. Take in a concert at the Liverpool Philharmonic Music Hall.
20. Then pop across the road and visit the Philharmonic Pub and see their famous toilets!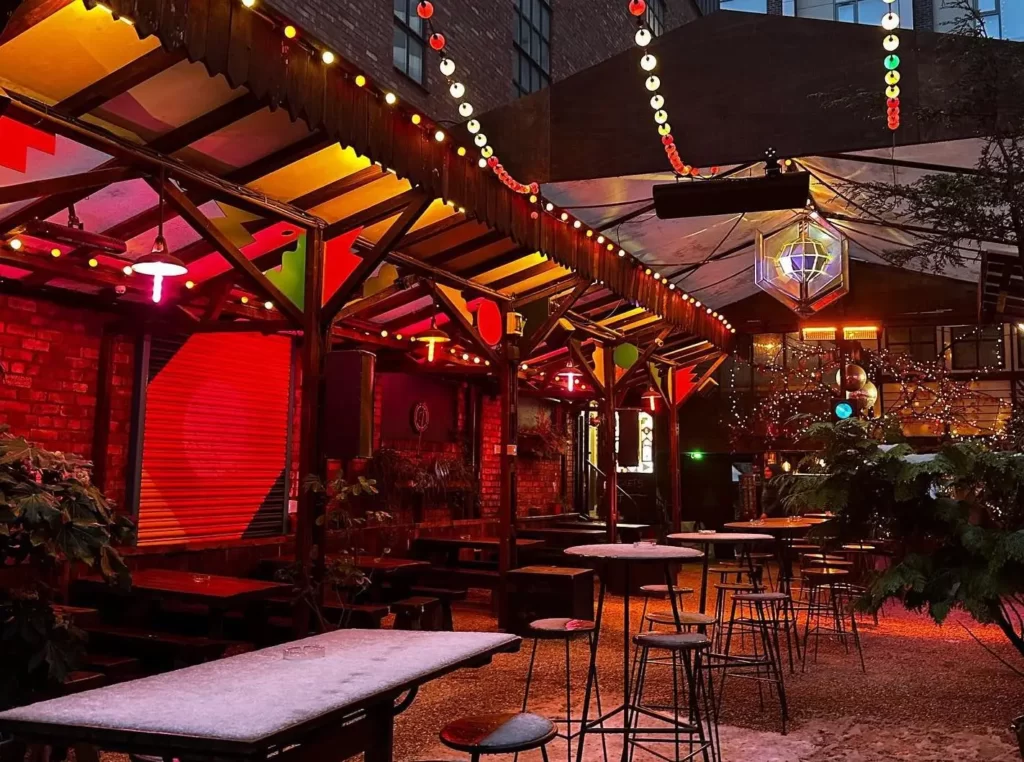 21. Have a drink in the Kazimier Garden.
22. Have Afternoon Tea at Cuthberts Bakery or check out our definitive Afternoon Tea guide.
23. Visit one of the many brilliant restaurants on Castle Street.
24. Enjoy breakfast at The Tavern Co.
25. Play table tennis, shoot pool, go bowling, play mini golf or even shuffleboard at the Roxy Ball Room.
26. Pay a visit to the Bombed Out Church – an iconic building in the heart of the city, with a unique 'interior'.
27. Take a ferry across the Mersey.
28. Buy some vinyl records in one of Liverpool's vinyl stores. Probe, Dig Vinyl, Defend Vinyl.
29. Go for cocktails at Abditory bar.
30. Go axe throwing at Hatchet Harrys or TimberJacks.
31. Explore the world-famous Royal Albert Dock which is enjoying a resurgence in shops, bars and eateries. Here's our Royal Albert Dock restaurants and bars guide to get you started.
32. Put your toes in the sand at Crosby Beach, the home of Sir Antony Gormley's Another Place statues.
33. Stroll around Sefton Park and visit the beautiful Palm House.
34. Then take a walk along Lark Lane and visit the many bars, cafes and restaurants of this bohemian street. There's some fantastic vintage shops along here too.
35. Go on a Foodie Tour of Liverpool.
36. Visit Liverpool's food halls. The Baltic Market is a firm favourite and the Duke Street Food and Drink Market is an impressive million-pound warehouse renovation that is definitely worth a visit.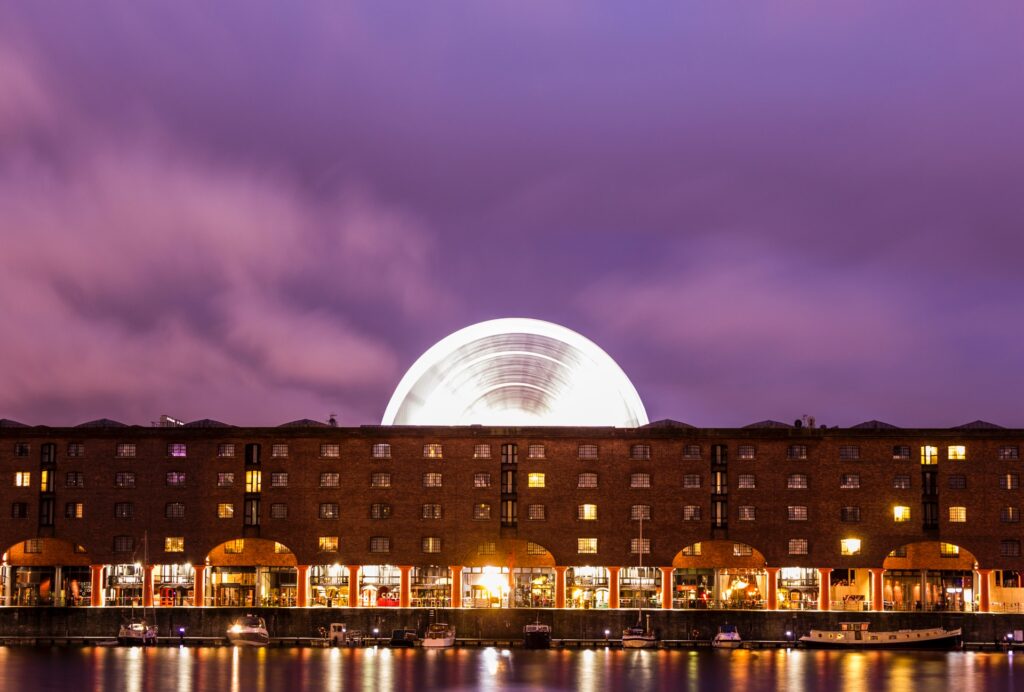 37. Eat Gluten Free pizza and normal pizza at American Pizza Slice.
38. Check out the latest exhibitions & creativity going on at FACT.
39. Don't miss the latest exhibitions at Tate Liverpool.
40. Find one of the city's Speakeasy bars like Berry & Rye.
41. Dance the night away at 24 Kitchen Street.
42. Visit the Walker Art Gallery, which houses one of the largest art collections in England outside London.
43. Join the Liverpool Indie Choir.
44. Visit the Royal Liver Building Interactive Attraction.
45. Visit Liverpool Central Library and check out the view from the rooftop.
46. Go paddle boarding.
47. Discover the Best Dessert Places in Liverpool.
48. Go indoor paintballing at Ultimate Indoor Paintball.
49. Venture up the Radio City Tower for spectacular views of the city.
50. Eat amazing Mexican food at Big Lola's.
51. Visit The Quirky Quarter attraction for optical illusions and great photo opportunities.
52. Eat all the meat you can manage at Fazenda.
53. Visit the Virtual Reality gaming hub VRVE for fun that kids and adults will both love.
54. Get your geek on at Forbidden Planet.
55. Sweat it out at Rise Cycle Studio for die hard spin class goers.
56. Experience Fine Dining at Barnacle at the Duke Street Food and Drink Market.
57. Attend a graffiti workshop with Zap Graffiti.
58. Drink great coffee at Bold Street Coffee & 92 Degrees Coffee.
59. Laugh yourself silly at the Hot Water Comedy Club.
60. Play the coolest mini-golf of your life at Golf Fang or the brilliant Junkyard Golf Club.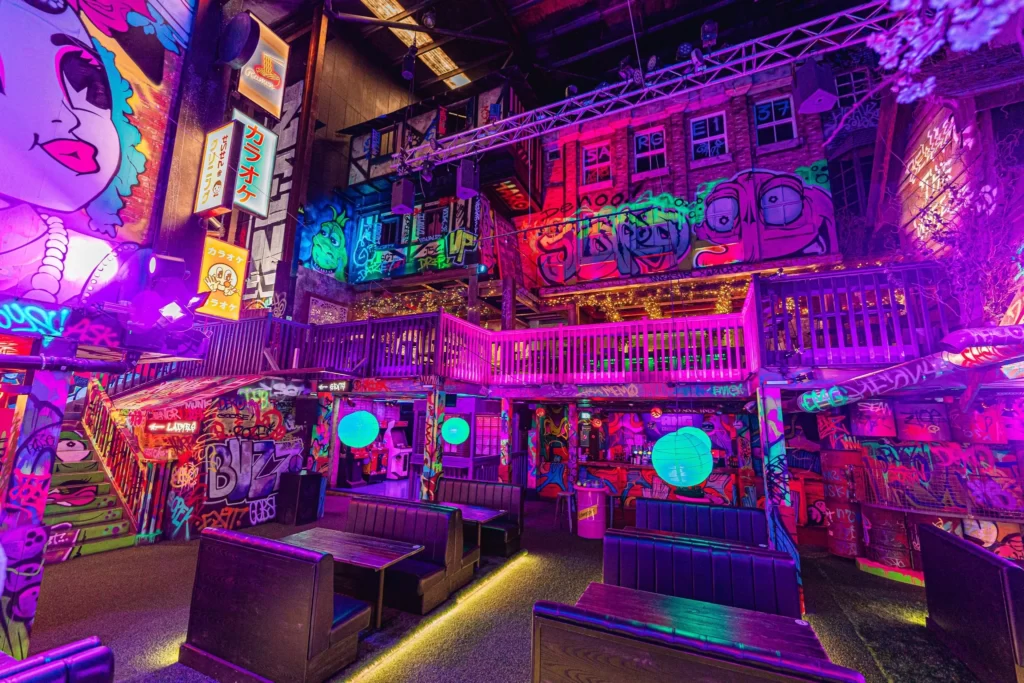 61. Eat amazing pies at Homebaked Anfield.
62. Watch a film in the comfort of the Everyman Cinema where food and drink are delivered to your comfy sofa seats.
63. Enjoy food and drinks with a view at Matou.
64. Drink a pint at the Ship & Mitre with unique ales aplenty.
65. Visit Rice Lane City Farm.
66. Explore the Williamson Tunnels.
67. Visit the Bluecoat for art exhibitions, workshops and more.
68. Visit the most Instagrammable spots in the city, including Liverpool One's new destination sign.
69. Pick strawberries at Claremount Farm.
70. Visit the Festival Gardens.
71. Sing Karaoke at MBox.
72. Climb the walls at the Climbing Hangar.
73. Go skateboarding at the Baltic Triangle's skate park.
74. Or, skate at the Everton Park glow-in-the-dark skate park.
75. Eat amazing Gelato on Lark Lane.
76. Visit the Liverpool cat cafe for your feline fix.
77. Drink Liverpool Gin.
78. Get your ramen fix (and much more) at Smithdown Road's Maggie Fu.
79. See a show at The Empire Theatre.
80. Visit News From Nowhere – the most eclectic book shop in the city.
81. Samba long into the night at Brazilica Festival.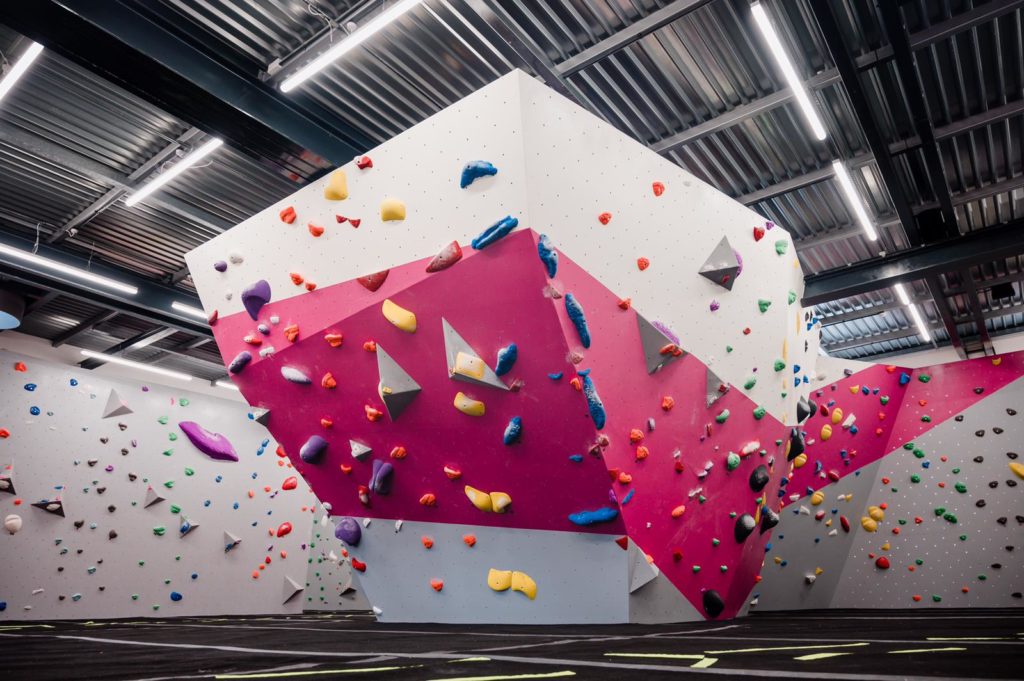 82. Take a trip to Hilbre Island.
83. Go on a Shiverpool Ghost Tour of the city.
84. Visit Speke Hall.
85. Play to your heart's content at Sugar and Dice board game and cafe.
86. Looking for a faster way to explore or get around the city? The Voi E-Scooters, which you no doubt will have seen zipping around the city are quick and easy to hire. Read more about the scooters here.
87. Shoot virtual guns at Point Blank Shooting Range.
88. Have fun at Bounce House, an interactive inflatable play arena. They have high slides, an assault course, jump bags, trampolines and so much more. Kids, adults, it doesn't matter, there's something for everyone at Bounce House.
89. Take a trip to Otterspool Adventure Centre for fun outdoor activities for all the family, including adventure golf, a bouncing pillow, go karts and more.
90. Gather your mates and head to Team Sport's Go Karting track.
91. Head to Hope Street and visit the city's two amazing cathedrals, anchoring both ends of the street.
92. Visit the world-famous Cavern Club.
93. Check out The Beatles Story museum to discover everything you need to know about one of the biggest bands in the world.
94. Go on a stadium tour of Liverpool FC at Anfield and Everton FC at Goodison Park.
95. Discover Liverpool's seafaring history at the Maritime Museum. And visit the fascinating Slavery Museum in the same building.
96. Go to the World Museum for its extensive collections covering archaeology, ethnology, the natural and physical sciences. It is also home to an amazing planetarium.
97. Head to Sefton Park for Africa Oyé music festival every June.
98. Enjoy a night of jazz music at Frederik's bar.
99. Have a day at the races at Aintree Racecourse, home of the Grand National.
100. Be entertained at a FunnyBoyz event with some of the best drag artists in the city.
Have we missed any of your favourite things to do in Liverpool? Let us know in the comments.