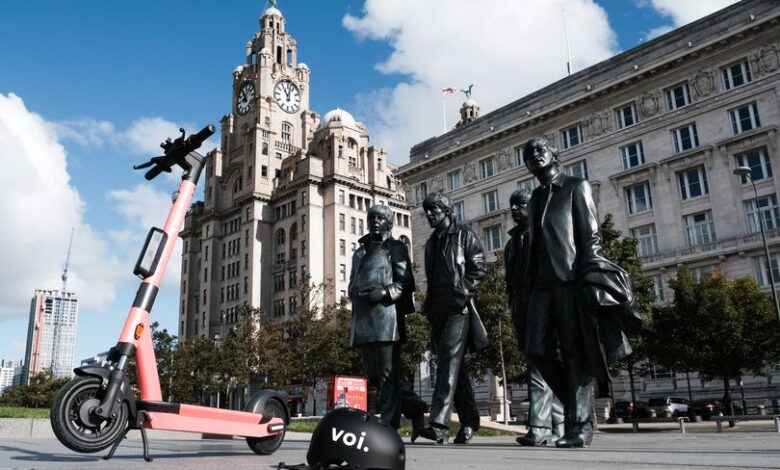 There's now a faster way to explore the city with E-Scooters for hire in Liverpool City Centre.
The year-long pilot scheme, a joint initiative of Liverpool City Region Combined Authority and Liverpool City Council, will see Swedish-based e-scooter company Voi offer 50 carbon-neutral scooters to the city for public hire, with hopefully more to follow as the scheme progresses.
The coral-coloured e-scooters are sure to stand out and will be available to hire from Tuesday 6 October. Using a mobile app, it costs £1 to unlock your scooter and then 20p for every minute of use.
Unlimited daily and monthly passes will be available soon, with the E-Scooters being placed at key sites around the city centre – including the shopping and commercial districts and near to the University of Liverpool and LJMU campuses. The trial area will cover Liverpool city centre, extending from the city's historic waterfront to its Knowledge Quarter, Georgian Quarter and the Vauxhall area to the north of the city centre.
The vehicles will travel at a maximum speed of 10 miles an hour, but their speed will be electronically restricted to around five miles an hour in areas with high footfall.
Initially the scooters will only be available to users between 6am and 10pm, in line with national COVID-19 restrictions around the opening of restaurants and bars. Only e-scooters which are part of the trial are currently allowed in Liverpool, with the use of private e-scooters remaining illegal in the UK.
Voi – Europe's fastest-growing e-scooter company, operating in 45 cities across 11 countries – has an exclusive contract to provide scooters for the trial. The company expect that the trial will create 50 full-time jobs.
E-Scooters For Hire in Liverpool City Centre: The Details
The e-scooters will cost £1 to unlock, plus £0.20 per minute
Unlimited daily and monthly passes will also be available soon
Users will need to have at least a provisional driving license to hire an e-scooter
Discounted travel passes will be made available for low income groups
Voi will launch free online traffic school for local riders with incentives to take a course
To help prevent transmission of COVID-19, all vehicles will be disinfected daily and handlebars will be wrapped in Shieldex Copper-Tape which kills 99.98% of coronavirus on contact
The Voi e-scooter app can be downloaded from the App Store and Google Play