When I think of Hellmann's mayonnaise, I think of those polystyrene trays you see lashed by a bin somewhere after a party-goer tried to aim the last of their cheesy chips into it after one too many Vodbulls. I think of the squeezy sauce bottle I've had at the back of the fridge for weeks which only comes out when there are curly fries in the freezer. I don't think of bitchin' burgers from absolute burger-bar, waffle-house, shake-shack royalty, Archie's. At least until Hellmann's teamed up with Archie's to create a limited edition burger, aptly entitled the Hot As Hell-Mann and I was kind enough to go and try it for you…
Hellmann's are on a roll at the moment with these burger joint collaborations – a charcoal roll to be precise. While the Frickin' Hell Mann burger at Almost Famous came on a standard (but very delicious indeed) brioche bun, the Archie's edition comes served on a rather eye-boggling black bun. Were you blindfolded while munching on this rather ominous looking dish, you couldn't be blamed for not really noticing much difference from the norm. However I thought the addition of charcoal definitely gave the bun a subtle yet smoky aftertaste. Maybe it was all psychological and maybe the choice was all for Instagram's benefit but I can't say I didn't love it.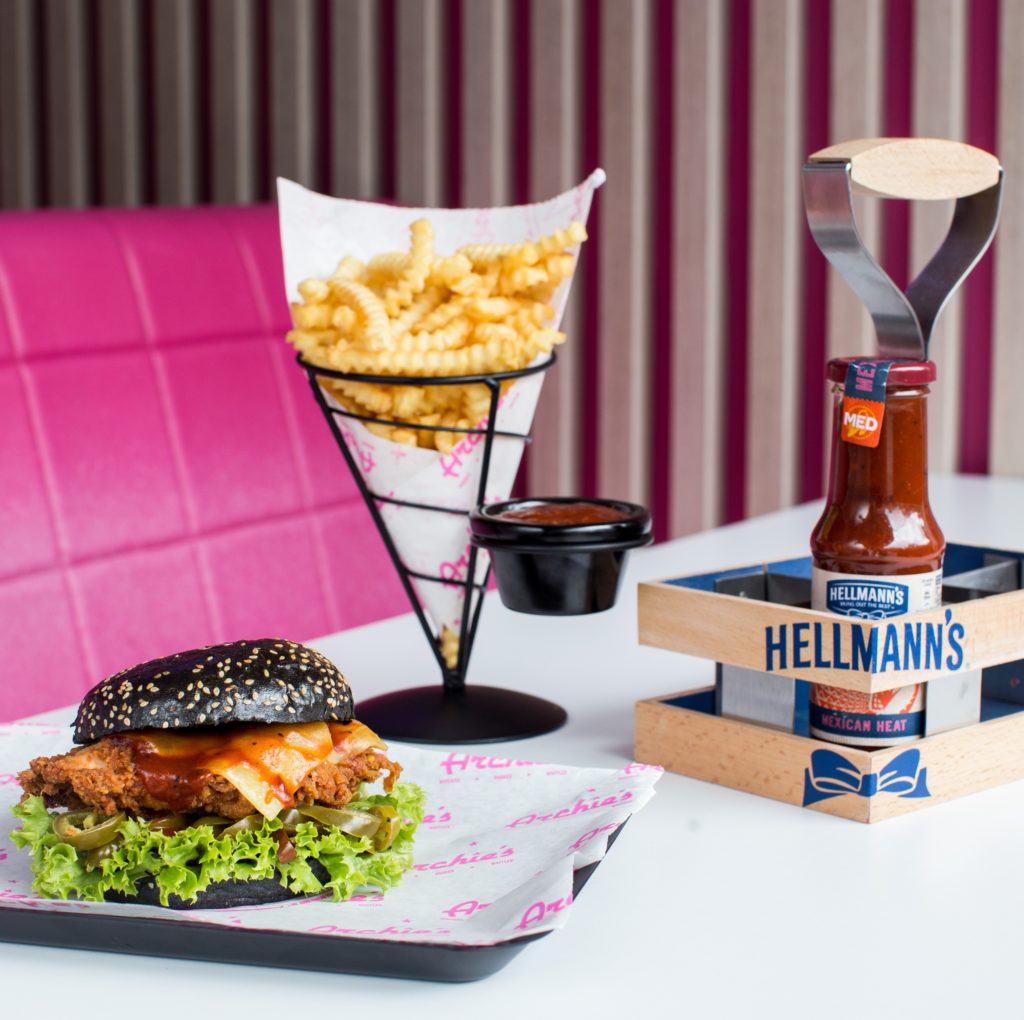 Another thing that made me sit up and listen about the Hot As Hell-Mann burger was that Archie's chose to showcase their fried chicken skills over a bog standard beefburger. I'm not a huge red meat lover and steak just doesn't get mouth watering in the same way it does for most so to have the spotlight shone on a chicken burger made for a refreshing diversion. KFC-stylee (but way better sorry, Colonel), the generous hunk of chicken breast was fried in crispy, golden breadcrumbs that had been as perfectly seasoned as the Peri Fries that came on the side.
Now when they said this bad boy was going to be hot, there was definitely some truth in the matter. It wasn't like a… singe your enamel and leave you numb for days kind of spice but Hellmann's' Smokey Chipotle Sauce and the liberal layer of fiery jalapeños nestled in there definitely had me gasping for an extinguisher. We chose to cool down with a Peanut Butter Protein Boost shake because A) they're bloody delicious and B) being made with low fat milk and fat free frozen yoghurt, it'd be rude not to really.
If I could have it my way, the Hot As Hell-Mann burger would be on the menu full-time but unfortunately, this limited edition recipe is only here for a limited time only. Catch it any Archie's restaurant across Liverpool or Manchester until September 14th and I promise you won't regret it, Mann.  
Hellmann's and Northern burger, shake and waffles joint, Archie's, have created a new limited-edition dish, the 'Hot as Hell-Mann', available from 17th August to 14th September.