I've been an Almost Famous fan since the food served on frisbee days; since the girl with jaw lock hit the headlines after tackling one of their infamous burger towers. Almost Famous has been the go-to eatery for dirty, Instagrammable junk food since it's opening on Liverpool's Parr Street way back in 2013 and is still as well loved by locals and visitors alike today. So, as you can imagine, I didn't hesitate at the chance to head back there and check out the brand new (but sadly limited edition) Frickin' Hell Mann burger. 
Designed in collaboration with household top dog and condiment king, Hellmann's, the Frickin' Hell Mann is witty in name, well-constructed in nature and bloody huge when it's sitting in front of you. Made up of a double helping of cheeseburger, Hellmann's mayonnaise, a gargantuan layer of creamy mac 'n' cheese, a mahoosive dollop of BBQ pulled pork and top off with two deep fried pickles, this baby surely ain't for the faint hearted. No really… if you're suffering from a heart condition or particularly concerned about your blood pressure, you're probably best off dodging this monster and heading down the road to Brink Cafe for a Frealth Shake instead.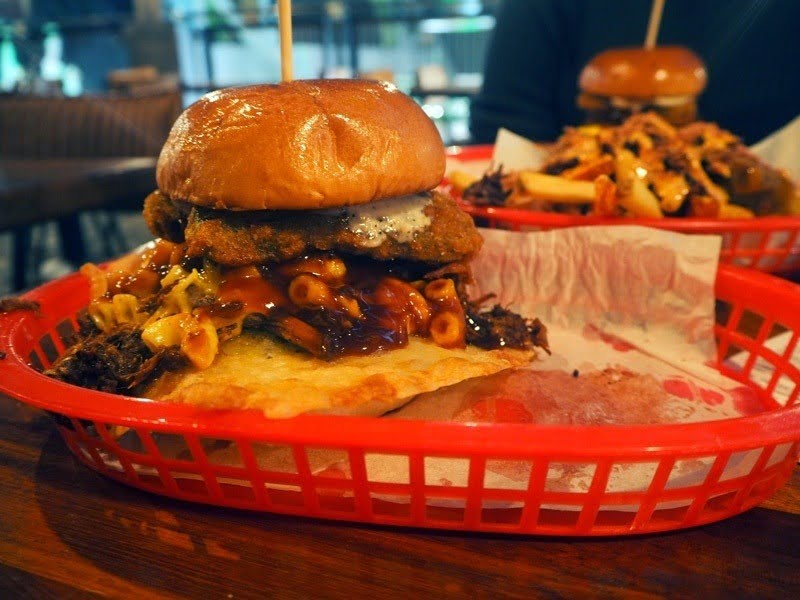 Anywho, whether you choose to tackle the mac 'n' cheese mountain with cutlery like a civilised human being, or squash it all in your grid at full force like Bruce Bogtrotter incarnate, you're going to be mm-ing and OMG-ing the whole way through. I promise. The mac 'n' cheese was frickin' delicious, the pulled pork was smokey and tender, the toasted bun was soft and buttery, and well, the actual burgers themselves made for a perfectly seasoned canvas on which to construct this culinary masterpiece.
Sometimes, these novelty dishes can be guilty of the old style over substance sin and to be brutal, Almost Famous have fallen under this category once or twice in my opinion but not this time. Sure, Michelin star 'tis not and I did have to lash my pickles to one side 'cause pickles and I do not get on but if you're looking for something seriously dirty that will leave you guilt-ridden and satisfied for days, come on down. If you can't get there in time to catch the limited edition Frickin' Hell Mann, you're still going to be spoilt for choice with the standard menu.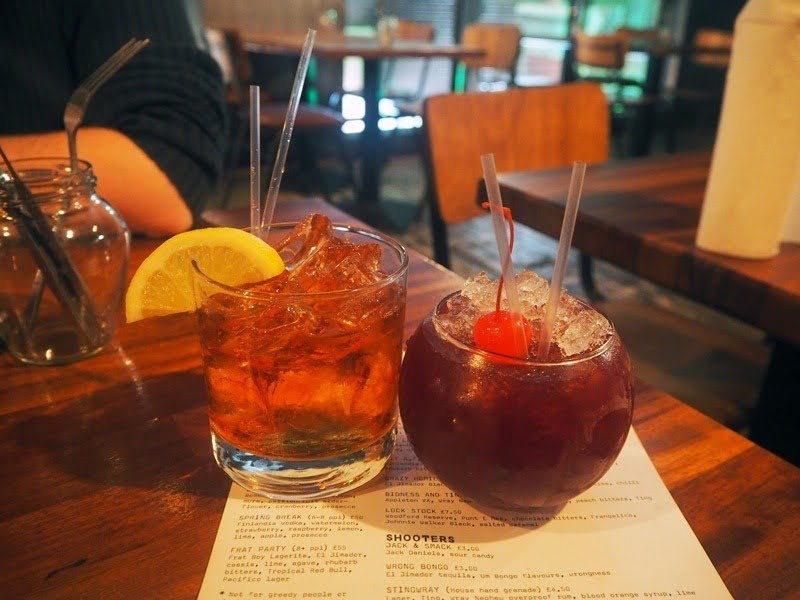 We washed our lot down with a couple of cocktails from the list of Poisons: the Lock Stock and the Cherry Bomb. I won't insult your undoubtably lofty IQ by telling you which is which in the snap below but the first is a whiskey, Frangelico, chocolate bitters kind of concoction and the latter, a eye-twitchingly tart muddle of vodka, cherry puree and lemon. The drinks are a little more on the pricey side (at about £7.50 a pop for a cocktail) but they definitely had my eyes feeling a little cross eyed so you're getting plenty of bang for your buck. 
Hellmann's and trendsetting burger joint, Almost Famous, have created a new limited-edition dish, the Frickin' Hell Mann, available from 27th July to 24th August. Enjoy at any of the Almost Famous restaurants in Manchester, Leeds and Liverpool between 27th July and 24th August, priced at £12.