Gary Usher's latest restaurant, Wreckfish, launches breakfast menu with exclusive brunch event, hosted by Duck & Waffle's Chef Director, Dan Doherty.
Not one to do things by halves, Chef owner, Gary Usher, broke crowdfunding records earlier in the year by raising over £200,000 to open Wreckfish in Liverpool. With exclusive guest chef events available to purchase via the Kickstarter campaign, the latest star to take to the Wreckfish kitchen was London based Dan Doherty, Chef Director of Duck & Waffle on Sunday, 5th November.
If there's one venue that springs to mind when thinking of iconic breakfast venues, then it's London's Duck & Waffle. Open 24/7 and famed for its playful take on traditional British cuisine with broad European influences emphasising local, rustic, seasonal and sustainable ingredients, it's a must-see on any brunch lover's list.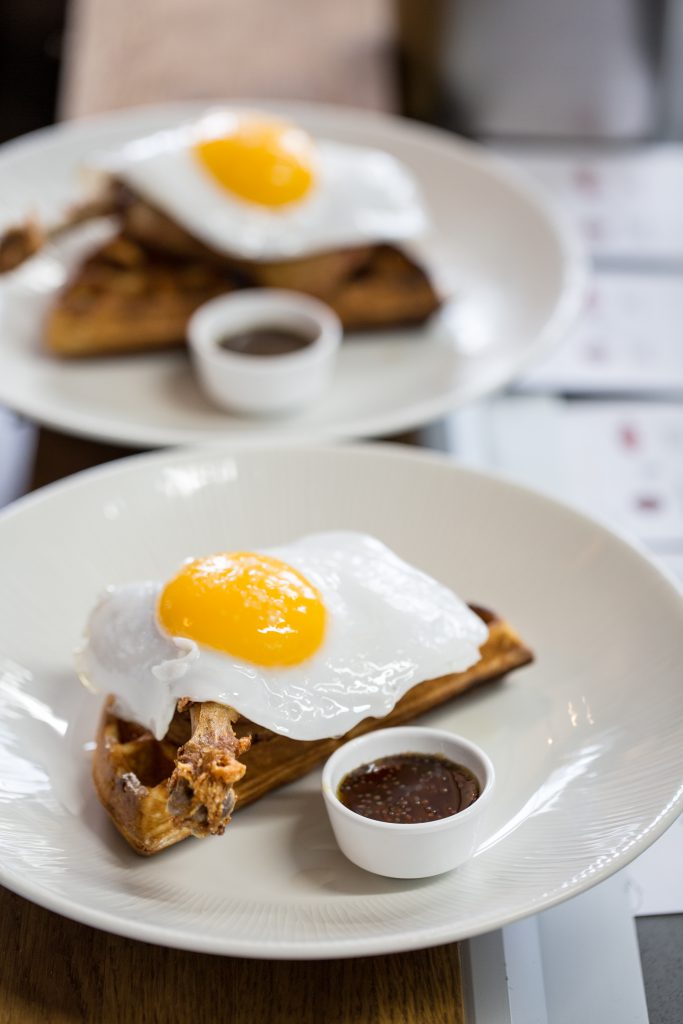 On Sunday, 5th November, Liverpool's brand new restaurant, Wreckfish, launched their breakfast menu with an exclusive Duck & Waffle brunch, hosted by Chef Director of Duck & Waffle, Dan Doherty. Ticket holders enjoyed such dishes as; Dan's signature waffle with crispy leg confit, fried duck egg, mustard maple syrup and Wreckfish's waffle with Armagnac prunes and fromage blanc, which will feature on the restaurant's breakfast menu from Monday, 6th November.
Gary Usher comments: "We were so humbled when Dan offered to do a guest chef event as part of the Kickstarter campaign. We really couldn't have done it without the support we've received from some incredible chefs. With our breakfast menu a first for the restaurants, we really couldn't have thought of a better way to launch it than with Dan coming to cook with us."
The permanent breakfast menu will be served from 7 am daily and include an array of dishes such as; porridge, damson jam and cinnamon, a full English breakfast and smoked salmon and scrambled eggs.
As well as breakfast, Wreckfish is serving lunch and dinner seven days a week with a contemporary take on classic, bistro food.
For more information or to book online, visit http://www.wreckfish.co