It isn't just the delicious Italian style food that makes The Quarter so appealing, the authentic décor and overall ambience – whether you're visiting for an early morning breakfast, or, like us, a romantic dinner for two – make it an enjoyable place to eat, drink and socialise. It really is a little deli style haven somewhat hiding away just off Liverpool's prestigious and much loved Hope Street. It's one of the very few places where mis-matched décor, old wooden chairs and several potted plants don't resemble an antwacky tea room serving egg mayonnaise on white and instead just work as a versatile hangout where customers can be totally wined and dined or nip in for a hot drink and a piece of cake at any time of the day. I don't know if it's the Penny Lane sign on the wall or just the sheer relaxed, cool and friendly vibe oozing out of the front door that make this joint just totally Liverpudlian, through and through.
After a pre-dinner cocktail (or 4) we ventured up to The Quarter and couldn't help but notice an extremely casual, book-reading Bill Nighy in the window. After a few 'is that who I think it is?' at other passers-by, we confirmed it was in fact Davey Jones himself – and prepared to eat our dinner in the presence of royalty  – cue us, an extremely overexcited girlfriend taking extremely unsubtle pictures accompanied by an embarrassed, head-shaking boyfriend being led to sit down at a quaint table for two at the front of the restaurant. A few, 'you'll never guess who's in here' Whatsapps later, I finally ordered a huge jug of sangria and double checked my menu choices. Our table was booked for 8.15pm and so by this point I was considering ordering one of everything on the menu and 5 cheesy garlic breads. After a little more consideration, we went for the fish sharing board, manchego and ham hock croquettes and olives to start. 
I spent the brief time between making our order and the sharing board arriving, sipping Sangria and wondering whether we'd made a mistake. The meat and veg antipasti platters had sounded right up my street and I was just hoping the choice to go with something a little different wouldn't backfire – I needn't have worried. Before I continue I'd just like to play it safe and mention that if you don't like fish or you're not a fan of 'fishy flavours' or textures then don't order this.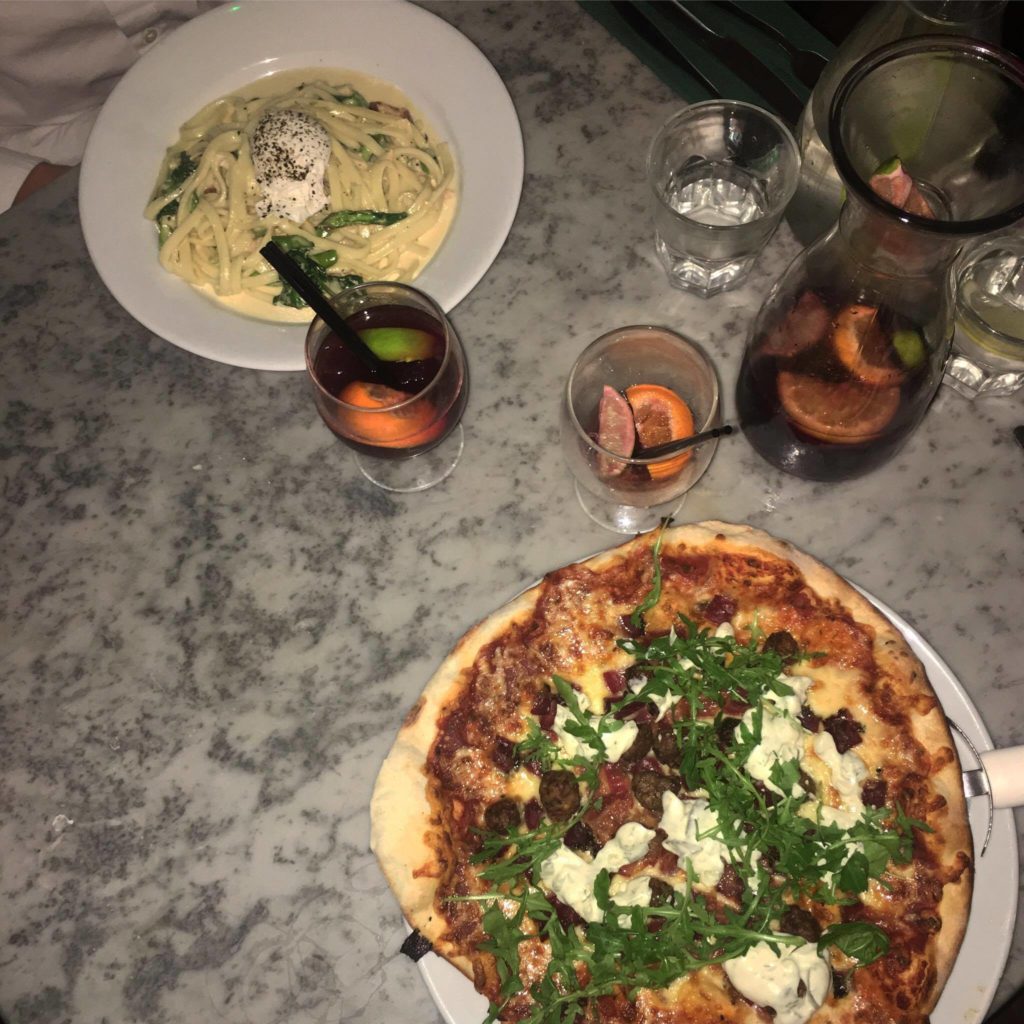 However, if you do, then definitely do order this. Right now. Piled high with crispy calamari and white bait, topped with salty anchovies, smoked salmon and a generous helping of flavourful mackerel pate, this wooden board was even better than I was expecting. The board was so full our flatbread came on a separate plate and this was warm soft and just all things delicious. Although the board was big, I had no regrets ordering the croquettes as well (I like to try as much on the menu as my appetite will allow) they came in a tapas style dish topped with melted mozzarella and were super gooey. When it comes to cheese, Manchego is my all-time number one and so the fact that these were stuffed to the brim was very pleasing indeed. The saltiness of the ham hock chunks levelled out the sweet cheese filling perfectly and these were absolutely demolished.
Next up was the New Yorker pizza. When it arrived, I was delighted to see how imperfectly round it was (if that makes sense) because the rustic appearance of the dough allowed you to have no doubt it was completely homemade. Tomato based, topped with mini meatballs, crispy bacon and pastrami it really was the true taste of New York on the thinnest, crispiest base. The menu did allow you to add 'extras' for a small price and I did request an addition of mushrooms but after a brief search amongst the toppings  – they were nowhere to be found. I wasn't too upset however, because I was busy appreciating the deliciousness of the salty dill pickle mayo and the extremely generous helping of fresh parmesan I was able to sprinkle liberally over the top. A pizza fit for an absolute queen.
Second was the benedict pasta, which was exactly was described on the menu. Creamy sauce, a perfectly poached egg, flakes of salmon and pasta cooked al dente. Naturally a rich tasting dish (thanks to the smoked salmon and cream) it was somehow rich and indulgent without being overwhelming in any way. Deliciously salty and moreish, the only downside to this dish was that it finished. I try not to order the same thing when visiting a restaurant twice but we seem to choose this every time and quite often associate The Quarter with 'that really nice salmon pasta' when discussing our favourite eateries (which is often).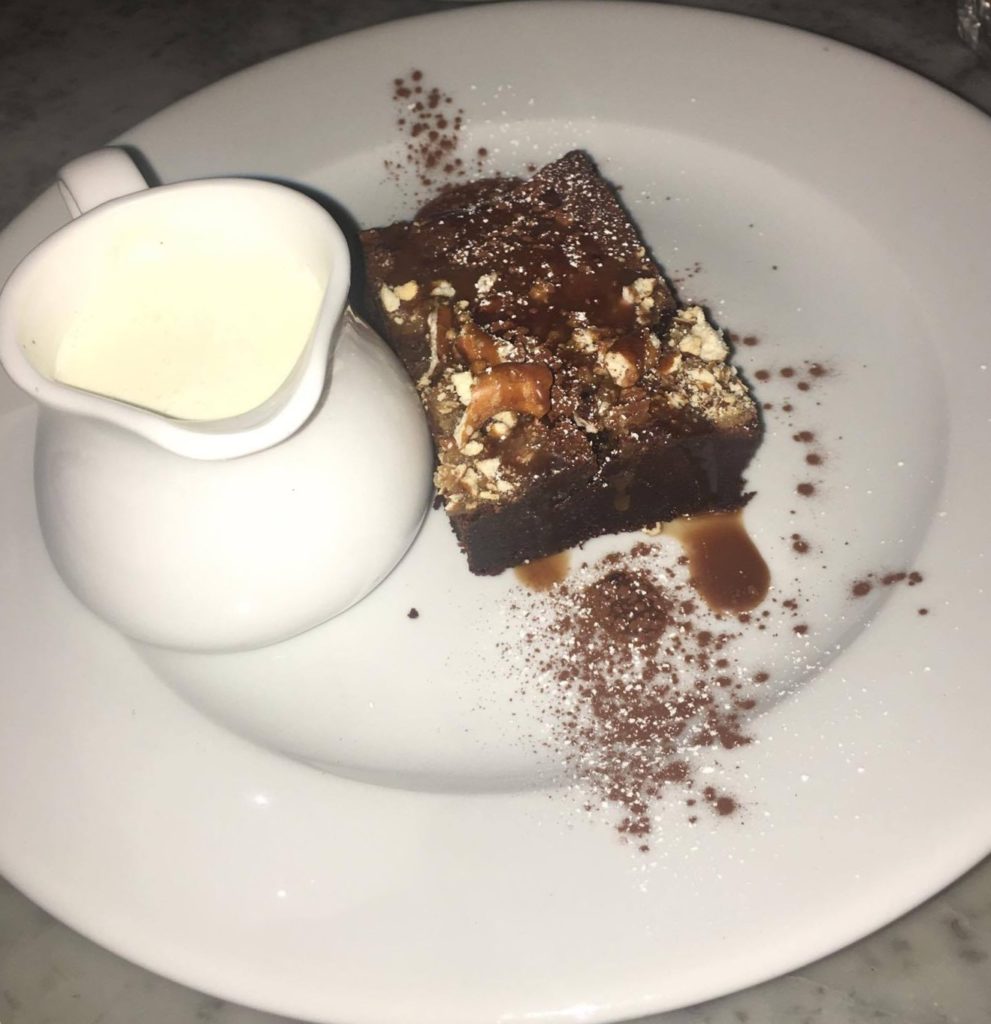 It's safe to say that by this point we had had an absolute feast, but anyone that's visited The Quarter before will know it's a crime to leave without a belly full of dessert. In true deli style The Quarter has a selection of homemade cakes (red velvet, carrot, chocolate fudge), chocolatey treats (brownies, rocky road) and pies (apple, bannoffee) as well as monstrous sundaes.
Hoping to venture out to meet friends after our dinner, we didn't want to have to practically roll down Seel Street from overeating, so we made the rather modest decision to share. I was totally torn between the homemade apple pie and custard (you can't go wrong with tradition) and the chocolate brownie. In the end we requested the brownie (after our servers recommendation), warmed up, with some pouring cream. To simply call this dessert a brownie wouldn't do it justice as it was, in fact, a salted caramel brownie with a pretzel crumb and my god was it delicious. Moist, warm brownie, topped with crunchy, salted pretzels. I thought the salted caramel flavour could have been a little more intense (but then again I am a big fan!).
Despite delicious, authentic homemade food, an appealing yet not over-complicated menu and a warming atmosphere that lights up the whole of Faulkner Street, The Quarter is somewhat humble and understated. The type of place that knows it's good and doesn't need to shout about it. We've been many times in the past and will continue to visit as it is, in my opinion, a true representation of the fantastic vibe that resonates from all of the hard-working independent restaurants in Liverpool. (And if it's good enough for Bill…..it's good enough for us).
For more information and to book a table at The Quarter visit http://www.thequarteruk.com/
Laura Nicholson