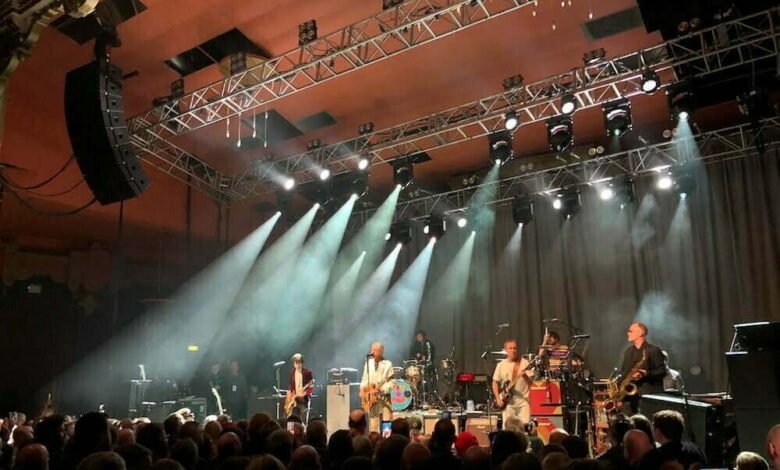 Music
Live Review: Paul Weller At Liverpool Olympia
Few artists can boast the universal adoration that Paul Weller does. That was visible on Friday night, when Weller arrived at the Liverpool Olympia on the third night of his UK tour. As West Derby Road was thronging with long-time Weller fans, long before he was due to arrive on stage, it was easy to see that this is a man who is loved steadfastly – this was Liverpool's opportunity to adore him.
Opening up duties were given to The Lathums. The West Lancashire outfit are no strangers to the city and even played a part in one of its biggest gigs in recent history, the post-COVID pilot gig at Sefton Park in May this year.
Most of those intending on being inside by this time were still backed up outside, but for those that missed the rush it was a chance to see how they handled the big stage once more. Their rise has been meteoric, and it was no surprise that their debut album How Beautiful Life Can Be rocketed to number one earlier this year.
Steve Rotheram, Metro Mayor of Liverpool City Region, and Andy Burnham, Mayor of Greater Manchester, were amongst those in attendance and it was the former who was given the honour of introducing the great man. Rotheram spoke of his personal love of Weller and how he had never waived from his values, before allowing him and his band to come to the fore.
When he arrived on stage, the atmosphere was perhaps more fitting of the Philharmonic Hall than the Olympia. There was a sense that the audience were settled in to be taken on a journey through his extensive catalogue and as he moved between his place centre-stage and his piano to the left, Weller was as much a chief conductor as anything else.
Effortlessly cool and fending off declarations of love from the front row, Weller worked his way through new tracks from his latest album Fat Pop, whilst there were early out songs for Peacock Suit and the first from his Style Council years in the form of My Ever Changing Moods.
Fat Pop, an album with more than a lick of electronic influence, is his sixteenth studio album and Weller, now 63, shows no sign of slowing up. Lead single Shades of Blue is straight out of the Broken Stones playbook, both tracks featured, and efforts like Cosmic Fringes keep him and fans on their toes to new sounds.
The Changingman, predictably, gets as good of a reception of any of his own tracks. Stanley Road is truly Weller's tour de force and You Do Something To Me fills the air in the Olympia with that bit of magic so many artists would love to bottle.
He closes with That's Entertainment and Town Called Malice, introducing the latter as "the national anthem". All in attendance are left in no doubt that Paul Weller is indeed a true icon and he remains at the peak of his powers.
Lewis Ridley