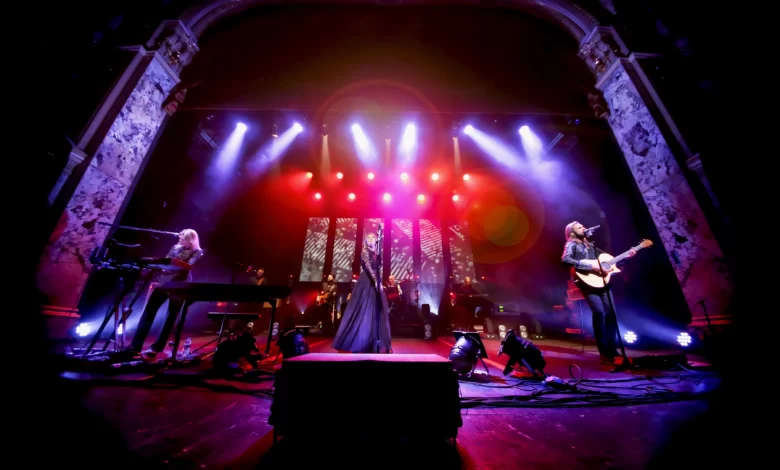 Music
Rumours of Fleetwood Mac Announce Massive UK Tour Including Liverpool Dates
Rumours of Fleetwood Mac, the world's finest tribute to Fleetwood Mac, returns to the stage in 2023 celebrating the very best of Fleetwood Mac.
Personally endorsed by Fleetwood Mac founding member, Mick Fleetwood, Rumours of Fleetwood Mac is the hugely popular ultimate tribute to one of rock and roll's most remarkable groups.
Channeling the spirit of Fleetwood Mac at their very best, Rumours of Fleetwood Mac offers a unique opportunity for fans, both old and new, to rediscover the songs and performances that have ensured the British-American supergroup's place as one of the most loved groups of all time (and one which has sold a staggering 120million albums worldwide).
The band's drum maestro Allan Cosgrove (aka Cos) said today, "We're all very excited to bring the new Rumours of Fleetwood Mac tour back to the UK for 64 shows in 2023. This year is tinged with sadness after the loss of Christine McVie, but we will pay tribute to her from the stage with classic Fleetwood Mac songs, plus some you may not have heard for a while. Hope to see you on the road to celebrate the legacy of Fleetwood Mac together!"
This new very best of show (featuring live seven-piece band) will hit British towns and cities throughout spring-summer 2023 via a mammoth 64-date UK tour.
Rumours of Fleetwood Mac UK Tour Dates 2023
3 April              Yeovil Octagon
4 April              Wolverhampton Grand
6 April              Cardiff St. David's Hall
7 April              Liverpool Philharmonic Hall
8 April              Liverpool Philharmonic Hall
9 April              Liverpool Philharmonic Hall
12 April            Birmingham Symphony Hall
13 April            Leicester De Montfort Hall
14 April            Croydon Fairfield Halls
16 April            Northampton Derngate
17 April            Newark Palace Theatre
18 April            Reading Hexagon
20 April            Dorking Halls
21 April            London Cadogan Hall
22 April            London Cadogan Hall
24 April            Ipswich Regent
26 April            Guildford G-Live
28 April            Shrewsbury Theatre Severn
29 April            Shrewsbury Theatre Severn
1 May               Swansea Grand Theatre
2 May               York Barbican
3 May               Bradford St. George's Hall
4 May               Dunfermline Alhambra
6 May               Scarborough Grand Hall
7 May               High Wycombe Swan
8 May               Salford Lowry
10 May             Basingstoke Anvil
11 May             St. Albans Arena
12 May             Folkestone Leas Cliff Hall
14 May             Buxton Opera House
15 May             Hastings White Rock Theatre
16 May             Cambridge Corn Exchange
17 May             Malvern Forum Theatre
19 May             Truro Hall For Cornwall
20 May             London Cadogan Hall
4 June              Carlisle Sands Centre
6 June              King's Lynn Corn Exchange
7 June              Crawley The Hawth
8 June              Tunbridge Wells Assembly Hall
9 June              Plymouth Pavilions
11 June            Crewe Lyceum
13 June            Warwick Arts Centre
14 June            Dundee Caird Hall
16 June            Glasgow Royal Concert Hall
17 June            Edinburgh Usher Hall
19 June            Aberdeen Music Hall
21 June            Inverness Eden Court Theatre
22 June            Inverness Eden Court Theatre
23 June            Gateshead Sage
24 June            Gateshead Sage
26 June            Blackpool Opera House
27 June            Harrogate Royal Hall
28 June            Sheffield City Hall
29 June            New Brighton Floral Pavilion
1 July               Hull Bonus Arena
2 July               Llandudno Venue Cymru
3 July               Dartford Orchard Theatre
5 July               Portsmouth Guildhall
7 July               Poole Lighthouse
9 July               Southend Cliffs Pavilion
10 July             Swindon Wyvern Theatre
11 July             Bromley Churchill Theatre
13 July             Lowestoft Marina Theatre
26 August        Isle Of Man Villa Marina
Tickets for all shows are on-sale now via https://www.rumoursoffleetwoodmac.com/uk-2023