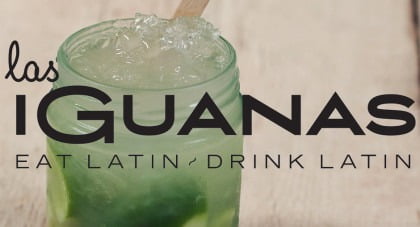 Liverpool's finest Brazilian inspired restaurant has more than it's delicious food to offer.
During the World Cup, Las Iguanas has made the place top priority for football lovers as well as those who favour a taste of Brazilian cuisine. The restaurant was quite busy for a Tuesday evening, but we were seen to instantly and we got the best reserved seats in the house.
Our waiter introduced himself and was very pleasant and helpful when it came to ordering as I am a known fussy eater and he recommended I try their own famous fajitas, without hesitation I agreed. I've always loved fajitas so I was keen to try theirs. There was no consideration of the starter, try their nachos and you will understand why.
Whilst I'm not one for a 'mouth on fire' experience, my boyfriend differs. He went for the choice of Cha Cha Chorizo (spicy sausages in a rich source) for starters and Blazing Bird for his main (Spicy chicken marinated in their special fiery source with peri –peri source on the side).
My night became even better when our waiter said that we had visited during happy hour, which meant 2 for 1 cocktails. We decided to try a new cocktail that was inspired by the World Cup, 'The Victory' which was made with Cava, Absolute Mango, Banana, Passion Fruit and Gold. It was a bit strong for the both of us as we are light weights when it comes to drinking. Although, we noticed it seemed to be a new favourite for the locals as many of the diners had the World Cup Cocktail.
Then we ordered my all-time favourite, Pina Calada – not exaggerating when I say that it was heaven in a glass. It somehow tasted different to other places where I've ordered it, it tasted more tropical and thick, and I definitely could taste the alcohol in it, but this time I wasn't complaining, it went down a real treat after that gorgeous meal.
The restaurant has just undergone a refurbishment and it was elegant and classy without any effort. I definitely felt like I was living the luxurious life, and the staff couldn't do enough for us, they were so pleasant.
Las Iguanas is top on my list right now, how about yours?
Natasha Holmes