Grand Central Food Bazaar joins Liverpool's food hall trend.
For years, the stunning Grand Central building has been somewhat neglected. Standing tall on Renshaw Street, the quirky, character filled building has many a story to tell and has finally been restored to what it was supposed to do – wow the public. The unusual, slightly peculiar but at the same time beautiful interior is now playing host to a fantastic food bazaar – an indoor market showcasing a huge range of creative food stalls from all over the city, from old favourites to new and innovative vendors. We were lucky enough to be invited down to the total transformation of this Liverpool landmark and sample some of the offerings for ourselves.
Approaching Grand Central, it was clear that this new venture is set to be something big. From the dancing fire eater outside to the live jazz band in the entrance area, it was clear that the brains behind the food hall have taken the weird and wonderful vibes that have always exuded from grand Central, and totally ran with it. The result? A total foodie heaven in the heart of Liverpool.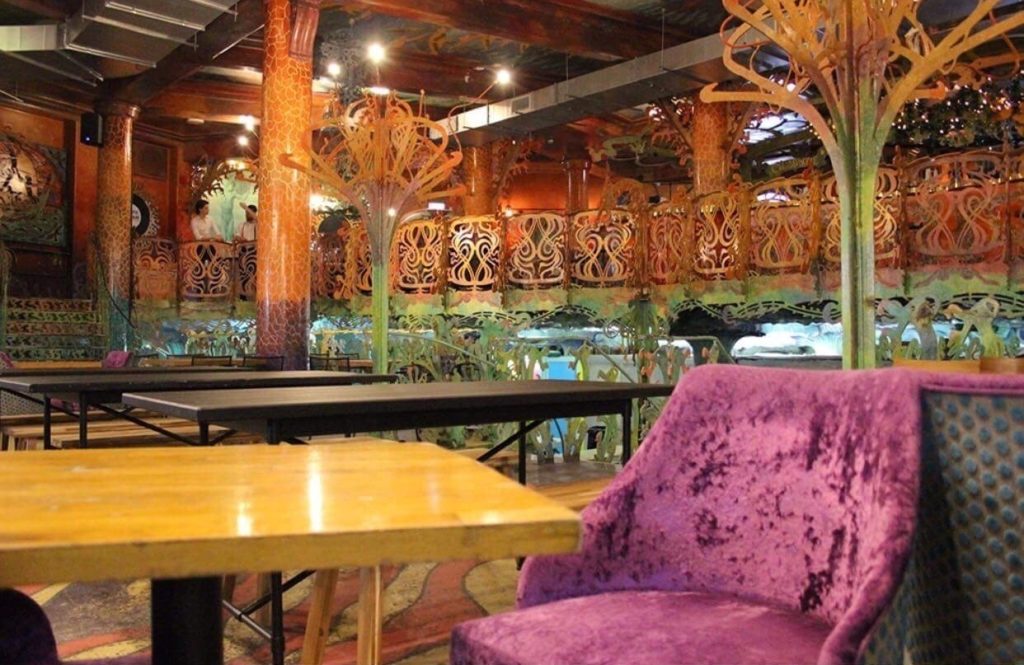 Walking around the building (complimentary prosecco in hand) it was a delight to see that although refurbished and re-jigged slightly, the amazing features of the old interiors had been kept, which, is what now makes it a venue like no other. The huge bar in the reception area (that once served as an instore till) serves everything from mini bottles of prosecco, pints and delicious gin cocktails. Within minutes we were also sampling the incredible offerings from Crosby based Pinxto Alehouse – small bruschetta type nibbles topped with everything delicious – Parma Ham and Olives, goats cheese and chutney and, my personal favourite, the blue cheese and fig.
Other food stalls were located at the back of the room and also on the tier above and full use of the rest of the space was made with plenty of seating, both bench style and tables for two. We were lucky enough to receive vouchers to sample the food of four of the vendors, first up being healthy takeaway and previous Baltic Market residents, Picnic. Famed for their delicious falafel, great use of halloumi and other fantastic vegetarian dishes, we were spoilt for choice when it came to choosing a dish off their carefully put together menu.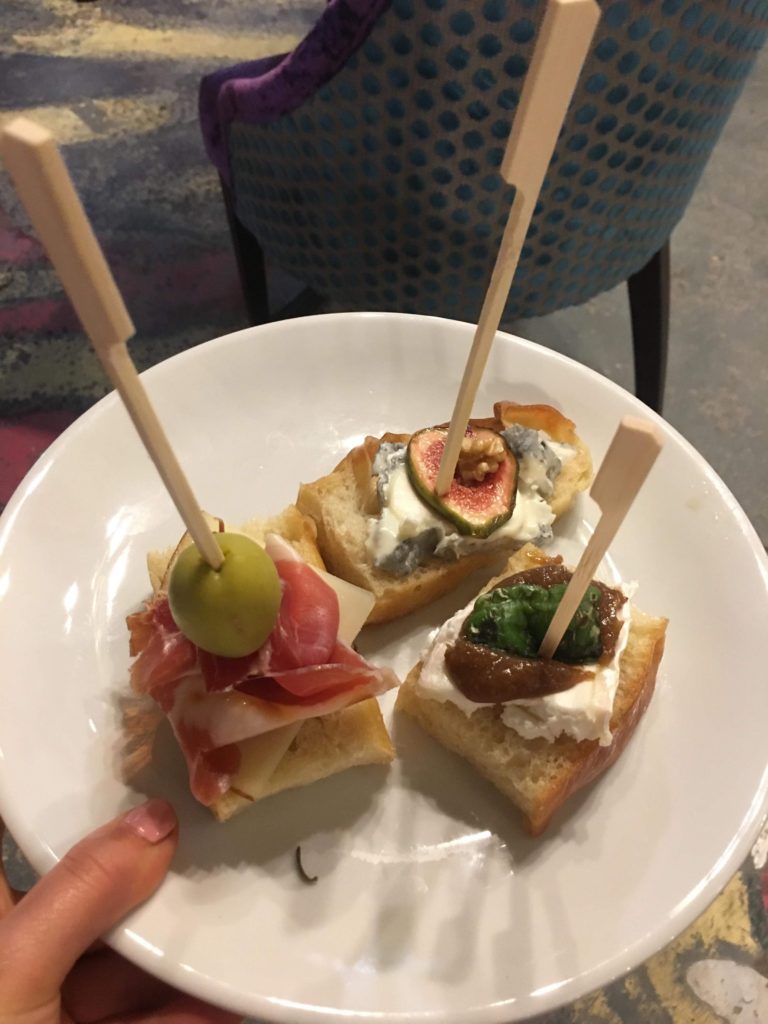 Having sampled the amazing falafel and red pepper salad before, this time we went for something a little more indulgent, the Harissa bean burger. The rich flavours of the soft bean patty combined with the fragrant spice of the harissa was made complete by the melted cheese on the top – all encased in a soft burger bun and served with side salad and red pepper humous. Despite there definitely being a time and a place for a well-cooked beef burger, these guys have definitely proved that veggie burgers can be just as good, if not better with this unbelievably tasty invention. Perhaps one of the best burgers I've ever eaten.
After getting off to a good start, we were keen to try out some more and with our eye firmly on You've Pulled, we headed off upstairs in search of some BBQ beef brisket. We definitely weren't disappointed, opting for a pitta filled with the delicious sweet but spicy pulled meat and a VERY generous helping of melted cheddar. Amazing. Next up was Indian style street food from Saju's Dhaba, with the amazingly flavoursome chickpea and spinach curry going down an absolute treat.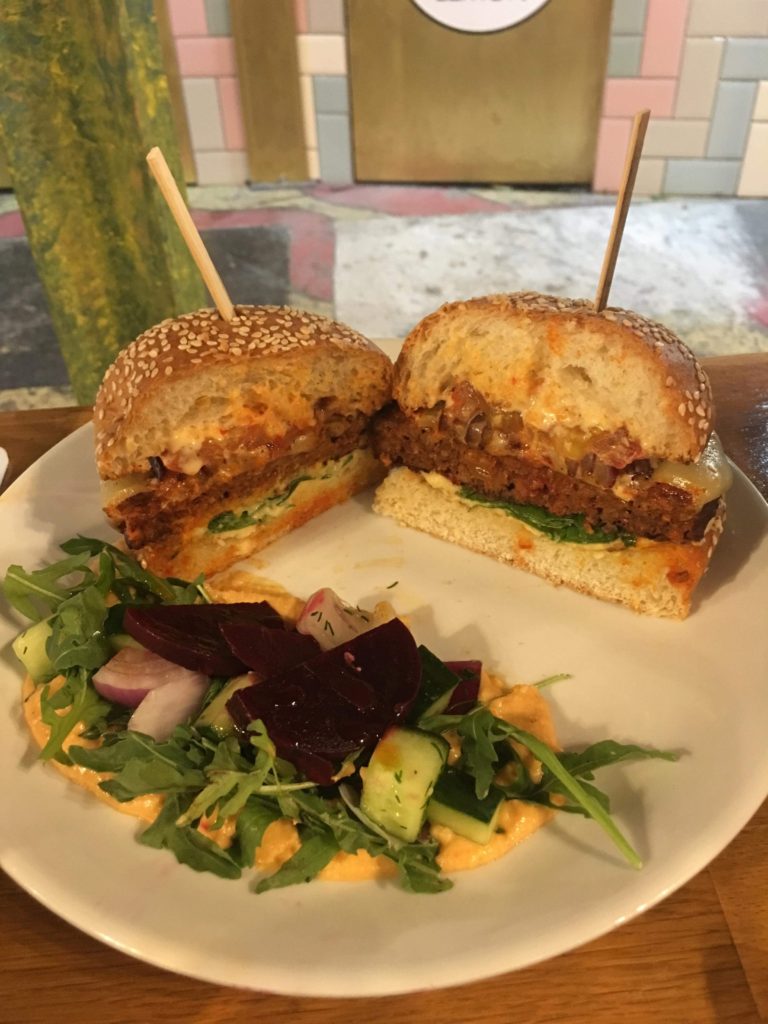 Other street food vendors inside the bazaar include much-loved sushi extraordinaires Izakaya, tapas lovers Barna and creative connoisseurs; Funky Lemon. If it's a sweet treat you're after, you have to stop at caffe cream and treat yourself to some unbelievable gelato or an indulgent milkshake. For something a little off the cuff, Grand Central Oyster Bar is also on hand.
An eclectic mix of Liverpool's history, interesting architecture and bloody good street food, Grand Central Food Bazaar is now open!
For more information find Grand Central Food Bazaar on Facebook here.
Laura Nicholson