This new addition to the eclectic and already vibrant Bold Street is not just your average café. This all female-led bakehouse opened its doors on 8th coincide with International Women's Day and has already made a blooming impression on the foodies of Liverpool.
Named after the street where the business partners, Jo Byers and Charlotte and Ellie Jones, grew up, East Avenue Bakehouse (EAB) prides itself on their speciality breads, which are all freshly baked daily on site. As soon as you enter the door you know you're in for a treat. What greets you is not soggy breads or skimpy fillings for your lunchtime sandwich, but an array of beautifully crafted pastries, fresh artisan loaves, and delightful sponge cakes.
As you sit yourself at the clean wooden tables, inhaling the aroma of freshly baked bread it feels as though you are submerged in the ambience of a good old-fashioned English bakery. Everything is relative and the detail is very well thought out. From the clean white walls, the white and blue tiles lining the counter, the mini Hovis tins holding sugar, and the Golden Syrup cutlery containers, to the ingredients boards displayed around the place, the miniature milk bottles carrying your bill, and the quaint china tea cups for your drinking pleasure.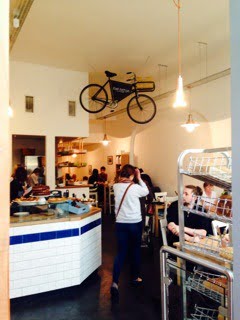 The menu, displayed above a cake-filled counter, boasts a lovely breakfast menu served till 12pm (brunch at weekends is served till 2pm) and a cracking choice of main meals to see you through your day. The drinks menu is also not short of options; whether you prefer a hot tea or coffee with breakfast, a fruit juice with lunch or even a tipple of wine with dinner, EAB is very accommodating to a variety of tastes.
It is clear that the staff at EAB are knowledgeable about their food and drink products and are very quick to meet the demands of their customers. Even though a busy turnover is apparent, the waiting on staff and the chefs do not appear stressed and customers can watch as the open kitchen prepares the food, without waiting very long at all.
Fitting in with the ambience of Bold Street there is a nice, relaxing vibe in this establishment where you'll find people grabbing a quick takeaway lunch or a fresh loaf to take home for dinner. Others may be reading while they dip their wholemeal or farmhouse slice into pots of tasty oils and vinegars, or feeding their baby while gossiping with friends over a scrumptious lemon drizzle.
If you're in need of specific dietary requirements then you'll be pleased to know that vegan cakes are available. Gluten free products are baked only on certain days at the moment with the prospect of permanent production. However, if you're in doubt, I believe the staff and chefs would be more than willing to inform you of the ingredients they use.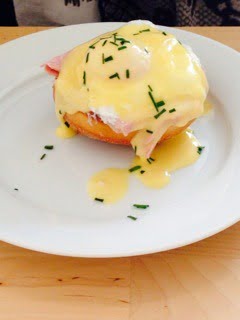 As with the establishment's décor, the presentation of the food is lovely, quirky yet understated. The freshness and taste is modest in knowing it doesn't need fancy garnished plates or lavish arrangements. It is quite simply good, honest food with local ingredients fuelled by deep background knowledge of good hospitality and the bakehouse way of life.
East Avenue Bakehouse certainly has the right seed to bloom and grow into one of Bold Street's predominant eateries.
For more visit their Facebook, Twitter, PInterest pages.
East Avenue Bakehouse, 112 Bold Street, Liverpool, L1 4HY
Nicola Copeland