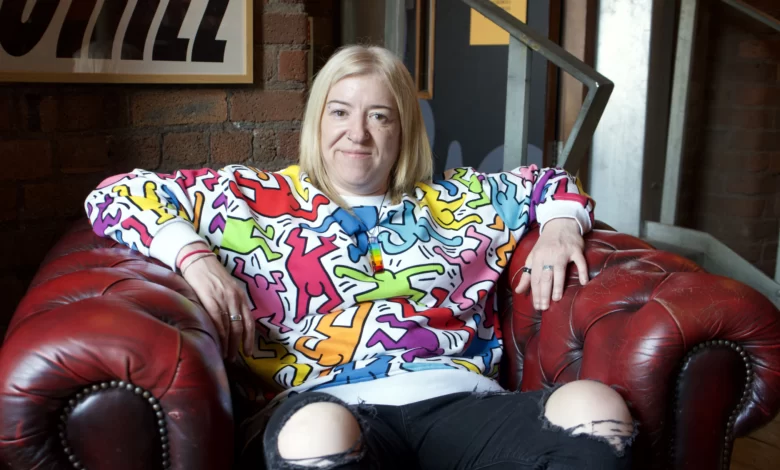 The first arts event at Arts Bar Baltic is due to open on Friday and until now they've keeping the exact details under wraps. We can now reveal that the Dip into Pride installation is in fact a free-standing roll top Pride bath and we're all invited to take the plunge.
Since opening their flagship venue on Hope street in 2019, the team behind both Arts Bars have worked hard to create welcoming spaces. Their curator, Laura McCann says the timing for this first event was, "crucial" she went on to tell us, "Pride is hugely important to us, we didn't want to host something at the Hope Street bar but not at Baltic, we want the message to be clear, both our venues are always inclusive".
Anyone who's visited both Arts Bars will know, they're located in very different buildings, as Laura explained, "Hope Street has huge windows, the Baltic hardly has any, so I decided to commission something that wouldn't need much light and had an added interactive element. I want people to feel a part of the art and Pride".
The creative Laura chose to work with on the Baltic event is known as, "Tits Up Artist Liverpool", a mosaic artist who is fiercely proud of her local roots and passionate about promoting positive messages throughout the community.
TitsUpArtist has always been creative but her formal education isn't in the arts. In fact, she has a degree in Criminology and Sociology and a masters in International Slavery Studies. So perhaps it's her interest in connecting with people that motivates her to be so active in local arts groups and in the LGBTQIA+ community?
TitsUpArtist first started making mosaics during lockdown, saying "the creative process had positive impact on my mental health". Since 2020 she's become an advocate for helping others to express themselves in similar ways, working for multiple good causes including, The Big Help Project, which lead to her involvement in the Ukrainian Peace Garden, just around the corner from Arts Bar Baltic.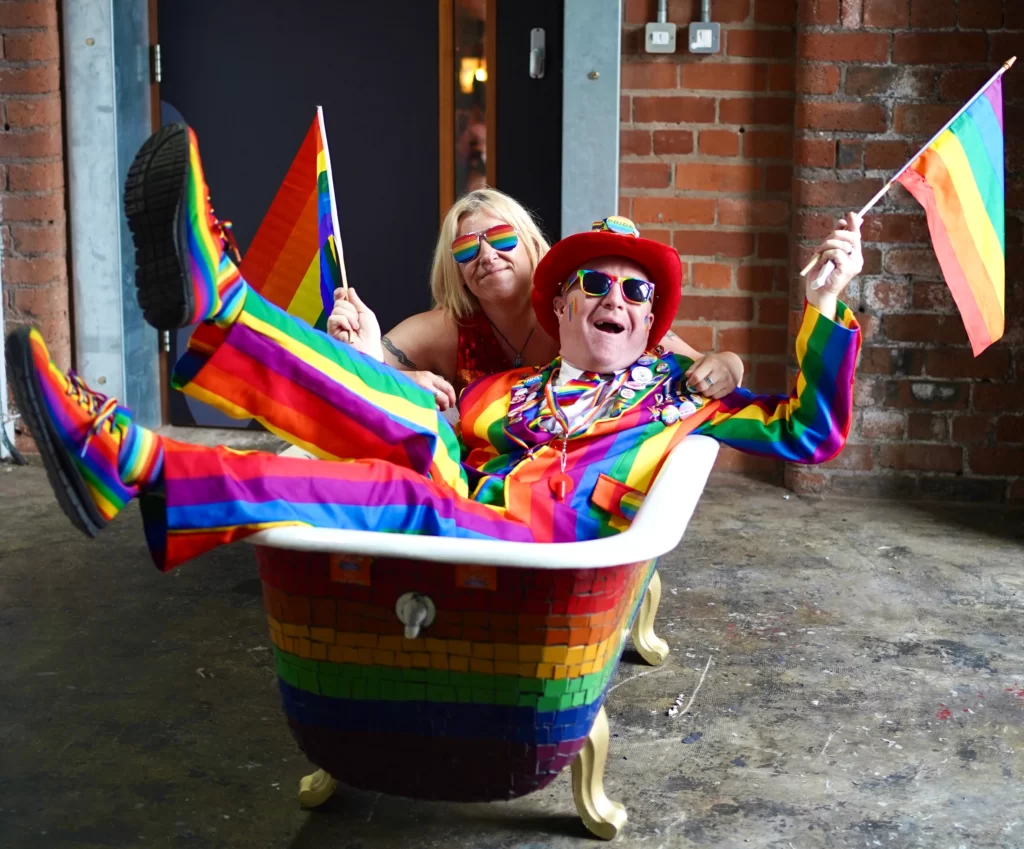 For this exhibition TitsUpArtist was asked to mosaic a bath in Pride colours, the idea being that people can have their photo taken in the bath, tag it on social media and hopefully encouraging others to do the same. As Laura stated, "for me Pride is about equality and I'd love us all to immerse ourselves in the spirit of that".
The Baltic's installation will launch at noon on Friday the 21 July and will then be open daily from 10am to 6pm from the 22 – 30 July. The exhibition at Hope Street, Pride in Hope, runs from the 21 – 23 July 12-6pm and features an eclectic mix of art from Antony O'Connell, Seirian Williams, Tasty Jazz and Severus Heyn. Visitors who go to both events between the 21-23 July will receive a 10% discount on their first drink when they visit the second venue.
Entry is free to both events, although the venue is supporting Sahir House over the Pride period, so artists will be giving 10% of all sales to the charity and the public can also make donations at either venue.
Sahir House's Shereen Cowley said, "Arts Bar's Pride Exhibition is a fantastic initiative. Sahir House supports LGBTQIA+ people as well as children and adults living with HIV, people seeking asylum and also our friends in the Trans/non gender conforming community. Whilst Merseyside is renowned for being friendly and welcoming, there's still so much work to be done to draw attention and awareness to the LGBTQIA+ community. Funding is scarce so we need all the help possible to continue to operate our vital support services and we're really delighted to be involved in this event".
Curator Laura McCann echoed Shereen's thoughts saying, "We're so happy to champion Sahir House and we hope that we raise funds and awareness for all the good work they do in the city".
More information about the events all the artists involved is available at lauramccannphotos.com