Liverpool is a great place for date night. Fact. Whether you want to eat seriously good food, get dressed up and drink cocktails or even have a pint or two in a pub with. But if you're looking for somewhere you can combine cocktails and a boogie with a delicious candlelit dinner then your answer is situated at the bottom of Seel Street and with their new menu showcasing a whole host of delicious Cuban dishes, Alma De Cuba have the whole package, not only when it comes to date night, but also girls night, lads night, party night, mums night or any other reason to go out and indulge that you can think of.
The upstairs bar area of Alma De Cuba is probably well known to many a Scouser as they've stumbled through the doors on a night out and danced away to the DJ, cheering on the impressive performers and dancers that take the stage. However, just up the stairs with an amazing view of the whole venue is the restaurant area, where you can enjoy the lively atmosphere as you eat your food and enjoy drinks served to your table. Having been to Alma de Cuba for a drink more than once before, there was only one drink I had in mind when asked what I'd like to order – an Espresso Martini. A popular choice on today's cocktail scene, this is one of the nicest I've had. Sweet with a strong kick of coffee – they're super delicious, and if I'm honest, far too easy to drink!
Having been shown to the bar by the super friendly host at the door, we ordered our drinks and were led upstairs to our table. The restaurant itself is pretty dark as it is in the same room as the bar, but with a candle in the middle of our table, a lamp at the end and the beautiful stained glass windows around the building, the seating was cosy and relaxed, despite the size of the room we were in. Sitting down at our table, cocktails in hand, we really felt we were eating somewhere special and a little out of the ordinary – which is exactly what we wanted.
The menu itself has recently been re-vamped and is now a small selection of Cuban-style dishes listed as starters mains and desserts with a few side options. To start, we opted for the delicious sounding sautéed scallops with Cuban marinated broad beans a chilli jam as well as something a little more unique – the Caribbean baked cod cheeks baked in a curry sauce and topped with Kale crisps. Our food arrived promptly and was a good size for a starter – fairly small but packed full of that delicious Cuban spice. The Scallops were succulent cooked really well and the pieces of cod were super tender having soaked in the delicious, creamy curry sauce they'd been baked in. The Kale crisps were a nice addition to a rather rich dish and the whole thing went down a treat.
The menu then has a choice of six main dishes, again mainly using Caribbean-inspired flavours. If you fancy something a little simpler, you can choose freshly cooked steak from the grill and pair it with a side and sauce of your choice. Keen to try the new dishes, we went for one fish and one meat option – the tasty-sounding Cod Loin Chowder served on a bed of Quinoa in a Chipotle chowder and the chicken supreme, described as roasted chicken, creamy Orzo pasta with wild mushrooms and parmesan crisps. Right up my street. At £17.50 for the cod and £16.50 for the chicken, I thought the prices were fairly steep and was keen to see if they were worth it. Being super hungry and wanting to try everything we also went for a couple of side dishes – the 'onion chips' described by our server as onion rings, but chips (amazing), a green salsa for dipping and an Asian-style slaw.
Another Espresso Martini later (I really, really recommend these!) our main course was brought up. Everything looked delicious, from the creamy pasta to the deep fried chunky onion chips and the vibrant salsa that accompanied them. Tasting everything, the chicken was full of earthy mushroom flavours, balanced out with the saltiness of the parmesan crisps and slowly roasted (skin on) chicken. The cod was seasoned well and sat in a chowder that showcased the fruity, spicy, full-bodied flavours of Cuba with that unmistakeable kick of chipotle. However, I will say that the chowder was a little watery and could have been richer and thicker and overall, the portion sizes of the dishes didn't really live up to the price tag that they came with. Usually, an expensive but small portion size is justifiable because the dish is packed full of amazing flavours, but in this case, although tasty, I think they could be sold for a little less.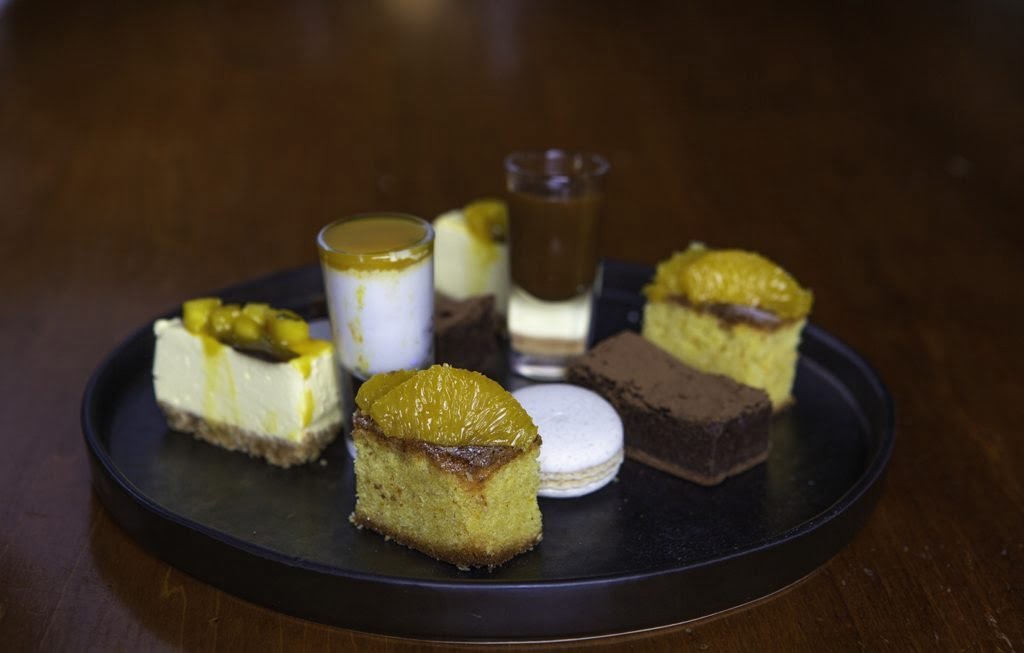 As always, we had room left for dessert and were a little torn when looking at the menu, as everything sounded equally as good. I was so glad to see that at the bottom of the list was an option for a sharing platter – a little sample of everything available on the menu. Perfect. The platter consisted of Kalua Mocha Macaroons, Spiced orange polenta cake, chilli chocolate brownie, pineapple and mango cheesecake and a coconut and lime sorbet. This was priced at £10.95 and unlike the main courses, this was worth every penny. The indulgent chocolate and coffee flavours and the brownies and macaroons, combined with zesty, fruity refreshing cheesecake and sorbet made this one heck of an enjoyable dessert. If you're eating here and fancy something a little different, I'd definitely recommend the spiced polenta cake. Sweet and textured with a kick of Cointreau, there is really nothing to dislike about this naughty but oh so nice pudding.
Overall, the atmosphere, really friendly staff and amazing cocktails at Alma De Cuba make this an ideal setting for a special occasion. Although the food wasn't the best I've had and perhaps a little overpriced, if you're looking for somewhere to celebrate, this really is one of the most beautiful buildings in Liverpool and when the food's all finished you can head downstairs for a right old boogie. A place with the whole package for a perfect night on the town.
Alma De Cuba official website
Laura Nicholson