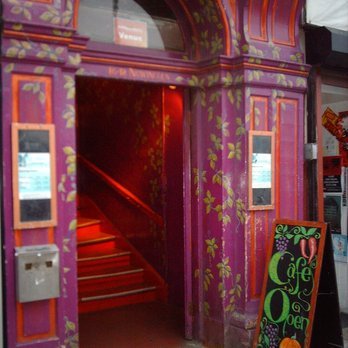 Whilst out and about in Liverpool, any vegan, or even vegetarian, may find it fairly difficult to discover a café or restaurant skilled in this specific meatless cuisine and dietary requirement.
However, open 9am-10:30pm on the weekdays and 10am-10:30pm on the weekend, located a stone's throw away from the central train station and down a quiet street covered in creative street art, The Egg Café can be found behind a rustic entrance and up two flights of shabby chic stairs. From outside the door to the café, you can hear uplifting and upbeat music whilst the smell of freshly cooked food invites you in. Once inside, the interior appears to be in tune with nature: sturdy, solid wooden tables, numerous windows to allow natural light to fill the space, and green leafs painted on beautiful exposed beams.
Seeing at it was only 11am, at only £4.70 the vegan breakfast was a must have to complement my heartfelt hot chocolate. As I have constantly been let down with hot chocolates before for either being boring and plain, or too heavy and thick, I was not expecting much. Nonetheless, served in a homely mug; to my surprise it was creamy but not thick. The frothy bubbly top made me feel as if I was in good hands, as well as making my drink nothing but delicious. This was the perfect way to start my day.
As I waited for my meal, I found myself entertained by the art on the walls. The Picasso-style paintings were strangely stunning, bestowing more character to the humble café. Additionally, as there were many tables located next and near the windows, on this bright day the sun added to the positive atmosphere whilst singletons read, friends chatted, and three generations of a family bonded. The soothing environment is an ideal place for almost any situation. Even if you wish to settle down for a nice evening meal, this café may be the café for you. Despite The Egg not serving alcohol, their website does state that you are welcome to bring your own, perfect for those on a budget, or simply for those who dislike paying a hefty price tag for a glass of wine.
It did not take long for my food to arrive, and when it did, oh my, it was delightful. Unlike some sausages, these were busting with a strong taste and a firm texture. They blended flawlessly with the baked beans, fried mushrooms, thick door stop toast, and lightly heated up tomatoes. The scrambled tofu was tantalising with a rich yellow colour mimicking the colour of scrambled eggs. To my surprise, it was also cooked with red and green peppers, making the tofu the focus point of the dish. It was simply to die for.
However, as lovely as it was, the flavouring of the scrambled tofu was far too strong to match the sausages or the beans. Though, it did remind me of those warm sunny days in Spain. This is because it recapped the taste of freshly prepared vegetable paella, a dish I have longed to recreate but have never quite perfected, yet somehow The Egg café has. As much as I enjoyed the scrambled tofu, it was too heavy and strong for breakfast, yet ideal for later in the day, but unfortunately it is not on the menu other than the vegan breakfast.
Nonetheless, the options for main meals sound wonderful: spicy bean burger served with pitta, salad and sweet radish; fresh humus; and tandoori mushrooms. Moreover, they offer specials such as a meat free Shepherd's pie. Additionally, for dessert their cakes are delicious and full of flavour. They certainly do not disappoint.
As perfect as the café sounds, there is one noticeable drawback. It does not offer anything other than foods suitable for vegetarians and vegans. This may not actually affect you, but it may affect your meat-eating family and friends, especially those who are not necessarily open to going without for one meal. Still, this is an issue with any place to eat out which specialises in vegetarian and vegan food.
Even so, whether you are looking for somewhere to eat by yourself, or with others, this is a café I would recommend. The location is very accessible for locals and travellers, the food hits the spot, and it is very affordable. And if you do visit The Egg café, do try the hot chocolate.
Ceri Hall