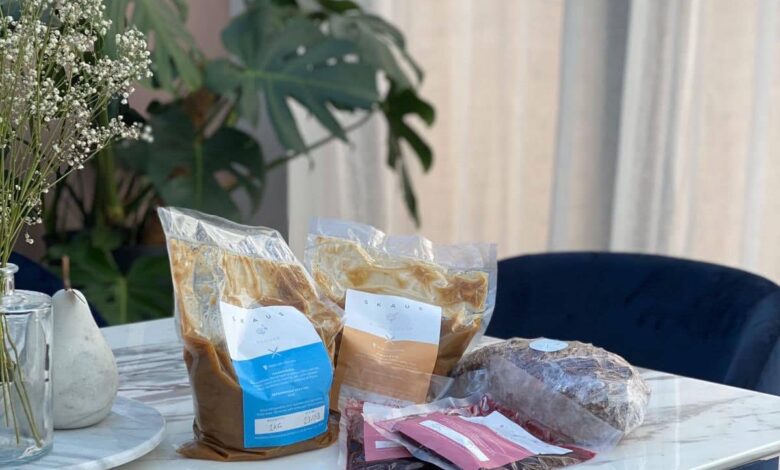 The SKAUS Liverpool Home Delivery service is one more reason to keep smiling during lockdown…
Scouse is a staple dish in many Merseyside homes and Scandinavian inspired foodies SKAUS are delivering it to your door during the Coronavirus lockdown.
You can order a freshly baked soda bread loaf, 24 hour cooked beef Scouse, Vegan blind Scouse, Pickled beets and there's even Treacle tart for dessert. 
And now, due to popular demand, the SKAUS Team has made even more products available with their sandwich fillers; Curried chicken mayonnaise, Mature cheddar cheese salad and Roasted beetroot and goat's cheese.
"During the testing times of Covid-19 we're doing our best to think proactively to ensure the business moves forwards & keep our staff as secure as possible. Fewer things emphasise community more than sharing a pan of Scouse with your nearest & dearest.
SKAUS are now offering our native dish for home delivery to the city of Liverpool, whether it be for yourself or for a loved one unable to nip out to the shops."
Set up in January 2017 by local lads Dan Cameron and Josh Lundon, SKAUS is an independent catering company based in Liverpool. Their concept is inspired by Scandinavian culture, seasonal cooking and Scouse hospitality.
Their dishes, sauces, pickles and puddings are totally homemade, with produce ethically and (where possible) locally sourced. They pride themselves on minimal food wastage and are truely passionate about what they do, but most importantly their Scouse is amazing! We were lucky enough to get our hands on the goods when they had a residency at Dockleaf bar and we can't recommend it enough. 
Menu
Freshly baked soda bread loaf /£3.00 each
24 hour cooked beef Scouse* /£7.25 per kg
Vegan blind Scouse* /£6.65 per kg
Pickled beets /£1.50 per portion
Treacle tart /£8 per ¼ (approx. 4 slices)
Sandwich fillers /335g per pack (~4 portions)
Curried chicken mayonnaise /£5
Mature cheddar cheese salad /£5
Roasted beetroot and goat's cheese /£5
One of each /£12 (no mix and match)
All products are homemade in a 5-star hygiene rated L1 located kitchen space. Delivery days are Monday, Wednesday and Friday. Your delivery day will be confirmed upon receipt of order. £1.50 delivery fee for orders below £20. Payments can be made by bank transfer or cash on delivery (bank transfer preferable). 
You can place your SKAUS Liverpool home delivery order by visiting https://www.skaus.co.uk/home-delivery
Feature Image Credit: Jade Fung