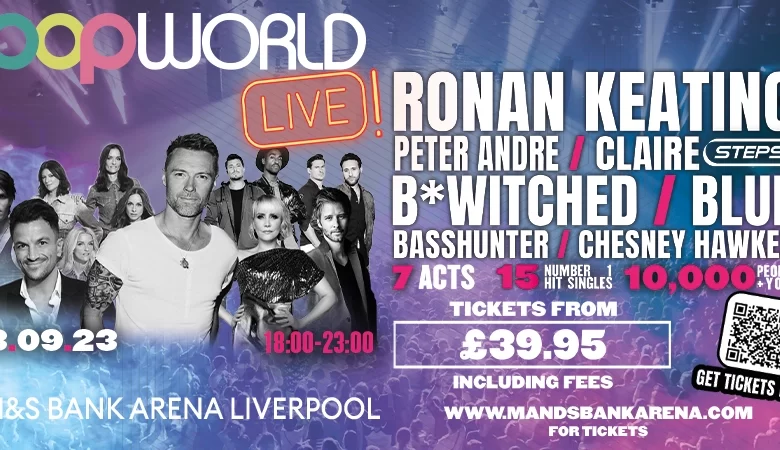 Liverpool is set to welcome a star-studded Popworld Live festival, which will see Pop Royalty take centre stage on the 23 September 2023. The M&S Bank Arena Liverpool will be the setting for an unforgettable night full of nostalgia, fun, and top hits, with the likes of Ronan Keating, Peter Andre, Claire Steps, B*Witched, Blue, Basshunter, and Chesney Hawkes gracing the stage. These legendary pop icons will transport fans back to the golden age of pop. 
Keating who became one of Europe's most recognisable stars having shot to fame in the band Boyzone before launching a solo career, is expected to belt out hits such as 'Life is a Rollercoaster' and 'The Way You Make Me Feel' – sure Popworld crowd pleasers. Pop star turned TV celebrity Peter Andre will be swopping the leafy suburbs of Surrey for the spotlight and stage as he makes a return appearance following the success of the inaugural festival in Leeds last year. Not so 'boy' band Blue who have sold over 16 million records worldwide will also take center stage with their repertoire of noughties hits.
The concert, just weeks ahead of S Club 7's 25th anniversary tour is sure to get the city into party mood as poptastic bands from the 70's, 80's, 90's, and 00's ramp up the cheesy tunes at the ultimate Popworld Party.
As the home of Popworld, Liverpool has always been synonymous with great music, and with a passionate and dedicated fan base that spans generations. It was clear that Liverpool would be the perfect choice for the next Popworld Live festival after the huge success of last year's festival in Leeds. With an amazing lineup of pop icons, a fantastic atmosphere, and a rich musical heritage, Liverpool is the perfect place to celebrate the magic of pop music.
Jonathon Guest, spokesperson for Popworld Live said, "We are thrilled to be bringing Popworld Live to Liverpool this year after an amazing festival in Leeds last year. The reception we received in Leeds was poptastic, and we're confident that Liverpool will be just as enthusiastic about the return of our special brand of pop music. This is a city that's known for its passion and energy and music history, and we can't wait to bring together pop icons for an ultimate night of pop frenzy.  
"With 10,000 fans expected to attend, we're looking forward to creating unforgettable memories for pop music lovers everywhere. Get ready to dance the night away and sing your heart out – Popworld Live Liverpool is going to be a festival like no other!" 
Tickets are available to purchase at https://www.mandsbankarena.com from £39.95 each.