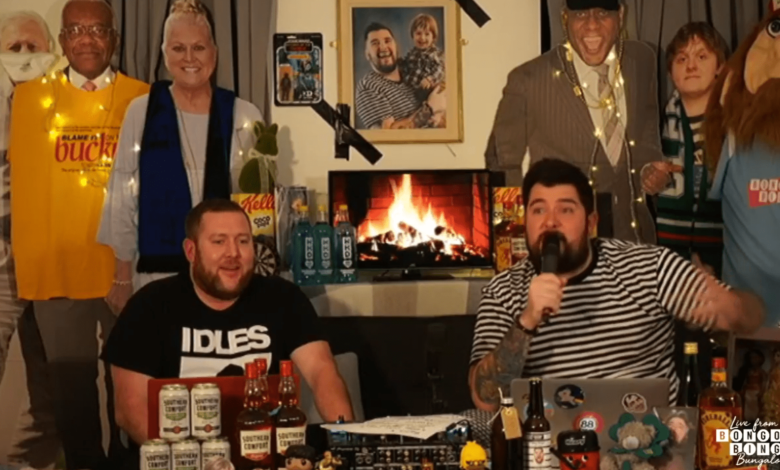 Live stream entertainment in Liverpool is argueably one of the best things happening in our lives right now. There's live streams of Bongo's Bingo, film quizzes, yoga classes and more, all detailed below.
Bongo's Bingo Live Stream
The alternative-rave-bingo sensation that is Bongo's Bingo has been using streaming platform Twitch to live stream their show every Tuesday, Thursday and Saturday during the lockdown. Better yet, they've made it free for people to play at home using their phones. There's also quiz rounds and other hilarious antics during each two hour broadcast.
Watch at https://www.twitch.tv/livefromthebungalow
Reel Tours Live Stream Film Quiz
Gary Lunt runs Reel Tours, usually giving people a guided tour around film and tv set locations in Liverpool city centre. He also runs a monthly film quiz night at the Everyman Theatre bar, so he's set up Facebook live stream film quizzes to keep us all entertained and test our brains! 
Find out more about the Reel Tours Film Quiz via https://www.facebook.com/ReelToursUK/ 
Jimmy's Live Gigs
Jimmy's music venue has been working with local musicians and bands to bring a live stream by a different band each night. Performing from their living room, bedroom or even bathroom, you can enjoy a live set every night and maybe you'll even discover some new acts that you can go and see live at Jimmy's in the future!
Head over to Jimmy's Instagram to find out who's performing https://www.instagram.com/jimmys/
The Mind Map TV
Mental Health service, The Mind Map has launched regular Instagram Live sessions through their The Mind Map TV concept known as the Isolation Station For The Nation. The sessions feature wellbeing demos, music, comedy, cooking and much more.
Visit their Instagram page for details https://www.instagram.com/themindmapco/
White Wolf Yoga
White Wolf Yoga has a series of yoga classes on YouTube to help us all get through the Coronavirus lockdown. There's plenty of evidence to suggest that yoga is great for your mental health as well as being an amazing physical workout, so whether you're a total beginner or ar looking to keep up with regular classes, White Wolf Yoga has got a range of beginner classes as well as more advanced classes like How To Do A Tripod Headstand!
Visit the White Wolf Yoga YouTube Channel to start watching https://www.youtube.com/channel/UCBs0f3I4MOa5ksZm_mODZdg
Netflix Party
If you're looking for a fun way of staying connected to your friends and family then the Netflix Party lets you watch a film or tv show together by synchronising video playback and adding group chat to your favorite Netflix shows.
*Only available on Chrome browsers on desktop or laptop computers. https://www.netflixparty.com/
Western Approaches History Lessons
The Liverpool War Museum at Western Approaches is providing a series of history lessons focusing on the Second World War. They'll look at what rations were, coding and morse code,  evacuees and evacuation during WW2. Lesson 1 included looking at lockdowns during the war, a tour of the secret bunker, lessons on the people who worked in the bunker and the work which happened at Western Approaches during the war.
To find out more visit https://liverpoolwarmuseum.co.uk/visiting/isolation-lessons/
Have we missed anything off our Live Stream Entertainment in Liverpool guide? Let us know in the comments below.