We'd heard wonderful things about the Buyers Club food menu so what better way to put it to the test than by trying a British staple; the roast dinner. Our only previous visits to the Buyers Club have been to the music venue upstairs, so we were eager to find out what all the fuss was about.
Set back, but accessible from Hardman Street, the Buyers Club has found itself a cosy spot hunkered behind the hustle and bustle of the main road. Upon entering the garden area there's plenty of greenery growing around you; plenty of herbs and spices which are used within the Buyers Club kitchen.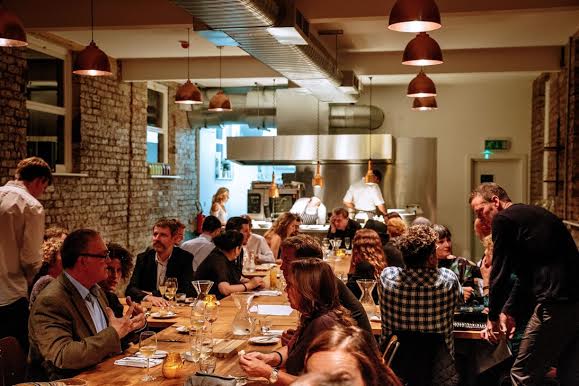 As we made our way into the bar/bistro area we were met by welcoming staff and we immediately started poring over the menu of beers on the large chalk board above us. There was so much choice with beers from all around the world as well as local favourites including Liverpool Craft Beers Company's Love Lane.
Our waitress was really helpful in suggesting beers and a decision was finally made by my dining companion. I decided to go for a cocktail off the menu -the Garden Negroni. A Negroni is gin, vermouth rosso and campari. It's a great drink for sipping, so it's a good choice with a roast with such strong flavours and the added touch of fresh mint leaves straight from the Buyers Club garden.
Now onto the main event – the roast. The meat options were leg of lamb or pork loin and there were several vegetarian options too. We both opted for the leg of lamb and we were not disappointed. There was plenty of lamb and the roast potatoes were some of the tastiest I've had in a long time, not to mention the massive Yorkshire pudding! The veg was also spot on, mashed carrot and swede, pickled shredded cabbage and broccoli, it was cooked to perfection and full of flavour. There was no room for dessert this time, but this will definitely not be our last visit.
So basically, you need to try the Buyers Club roast, as its reputation is well deserved.
Buyers Club, 24 Hardman Street, L1 9AX