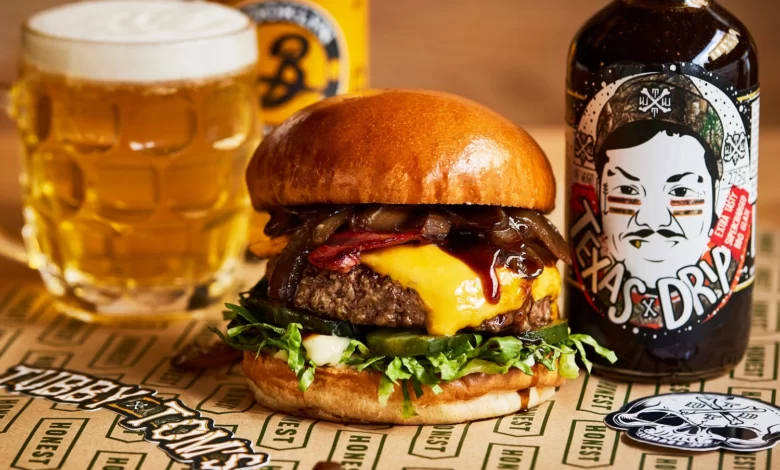 With barbecue season on the horizon, Honest Burgers Liverpool is taking a trip to Texas to inspire the roll out of its new limited-edition burger special this May.
The Texan BBQ Burger is a new collaboration with award winning seasoning brand Tubby Tom's and boasts all the hallmarks of a classic barbeque build, straight from the cowboy capital.
Dripping in not one but two sauces, Texas Drip and Fire Candy, the burger features double American cheese, bacon, caramelized onions, candied jalapeno mayo, pickles and lettuce which creates an indulgent combination rich in syrupy goodness.
Established in 2014, Tubby Tom's has come a long way since he sold his first bottles to a local farm shop in Gloucestershire. Today Tom operates from his fully independent sauce factory with a Tubby Crew of six: still making everything by hand (with a little help from his mum).
Adam Layton, Honest Burgers, Head of Food, said: "Tom is the madcap creator of a thousand delicious spice rubs and sauces. He can't sit still. Every day there is a new recipe and his creativity blows me away.
"Tom's Texas Drip BBQ sauce is 'McDonald's BBQ sauce in heaven', spiked with a little espresso coffee. We tame his Fire Candy candied jalapeno hot sauce with mayo as a creamy counterpoint to the rich, syrupy BBQ sauce. It's everything you want from a BBQ burger."
Tom Hughes, Founder of Tubby Tom's added: "Get ready to taste the best burger ever created. I've eaten 11 of them already and can confirm is slaps! One bite of this burger and you'll be transported to a cattle ranch in Texas, whip in hand and spurs on the heals."
The Texas BBQ Burger will be available at all 43 Honest Burgers' restaurants until the 5 June and is priced at £14.50, served with homemade rosemary salted chips for dine-ins and collection or £15.50 with a side when ordered via Uber Eats. 
For more information on Honest Burgers visit www.honestburgers.co.uk