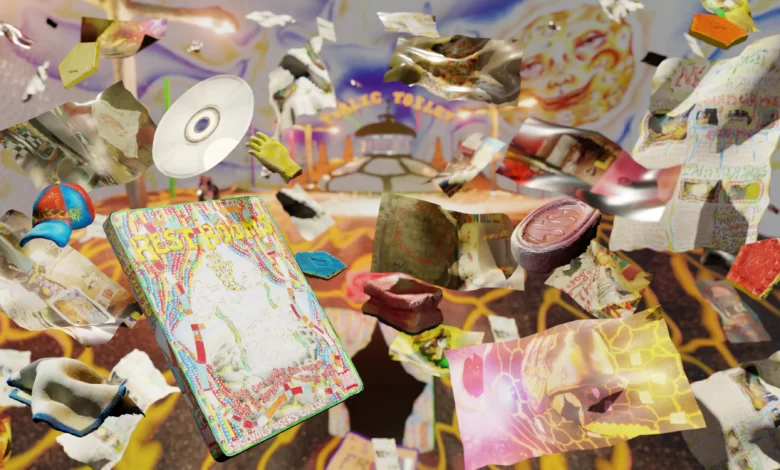 From Friday 8 September, FACT will launch four new digital artworks by Liverpool and Manchester based artists Dongni Liang, Nicole Prior, Charlotte Southall and Ellie Towers.
Working across film, alternative reality, performance, games, textiles and sculpture, the FACT Together 2022 artist cohort consider the different ways technology affects our collective existence and respond to experiences of togetherness across physical and digital formats.
The display runs from 8 September – 8 October and is a focal point to engage with the works, as well as gain further insight into the artists' practices.
Since 2020, FACT has supported 20 emerging artists from the North of England and provided over £30,000 in grants as part of its FACT Together residency programme. This exhibition marks an important moment ahead of the opening of Studio/Lab in October 2023, a space dedicated to supporting researchers, curators and artists to create new works and present and test ideas.
Nicole Prior (Manchester) investigates the intersection between art, digital technology and human behaviour. With a focus on the impact of surveillance and data collection, Prior's "digital experiments" raise questions around data ownership and consent in commerce.
As an outcome of her FACT Together residency, Prior presents LAB_our (2023) an interactive website and digital installation. Within the work, Prior raises questions around how our data is used now, and may be used in the future. Visitors to the website and gallery installation are invited to interact with her playful website, which mimics the trend-focused marketing language used by big corporations to encourage data collection. Her film adopts the visual language of surveillance footage to draw attention to how often our movements are captured without our knowledge or explicit consent.
Dongni Liang (Liverpool) presents Kudzu Whispers (2023), an online collection of video works, speculative fiction and audio. Within the work, Liang blends archival imagery and computer generated footage to reimagine the Kudzu plant's migration story within the Stanley Dock area of Liverpool, an important site for trading during the height of the British Empire.
Long used in traditional Chinese medicine, Kudzu was introduced to the West in the early twentieth century and later considered an invasive species. The work reflects on the responses and rebellions of natural ecosystems alongside the construction of urban landscapes. By imagining the Kudzu plant growing in Liverpool's North docks and abandoned factories, Liang asks visitors to consider the closely intertwined relationship between the natural and human environment, and to rethink perspectives on movement and migration.
Charlotte Southall (Liverpool) works across textile, video, sculpture and memes, to explore the idea of post-digital identity. To conclude her residency, Southall presents The Perfect Influence (2023), a multimedia presentation building on her digital clone, SkinnyChip2, initially developed in 2019.
Southall's practice is rooted in the intimate relationship between our physical and digital selves, and how our online presence can be manipulated and capitalised on. By training a chatbot with advertising data and influencer content from Instagram, the artist has given SkinnyChip2 a new-found persona. This advancement of SkinnyChip2 using AI is presented in multiple works that play with the tensions between what is considered real in the digital age.
Ellie Towers (Liverpool) combines handmade elements, 3D-rendering and stop-motion animation to present Rest Rooms (2023), a film inspired by lost public places in Liverpool. Depicting a journey through underground and hidden spaces, the film evokes the nostalgic feel of a misremembered video game.
Towers invites viewers to explore the anxieties, functionalities, and joys of community spaces. Through anecdote, reflection, and memory, the work calls into question the role of preservation and creation, as you contemplate the intricate relationships we have with public and private places.
Ellie Towers, FACT Together 2022 Artist, said: "Creating within the FACT Together residency has not only elevated my practice but has also opened up many new opportunities and ways of thinking. The unwavering support and confidence provided within the programme has strengthened me as an artist, while the time and financial aid has allowed me to venture into exciting and less familiar processes like stop-motion animation and integrating my installation making into film."
Lesley Taker, Studio/Lab Manager at FACT, said: "Our ongoing FACT Together residency has proved an incredibly exciting way to work with emerging artists across the North. It's given them – and us – the room to experiment, play, and try out new things. This year it has been amazing to see how the artists engaged with concepts of liveness and performance, and the ways digital spaces affect our identities – both positively and negatively."
For more information visit fact.co.uk