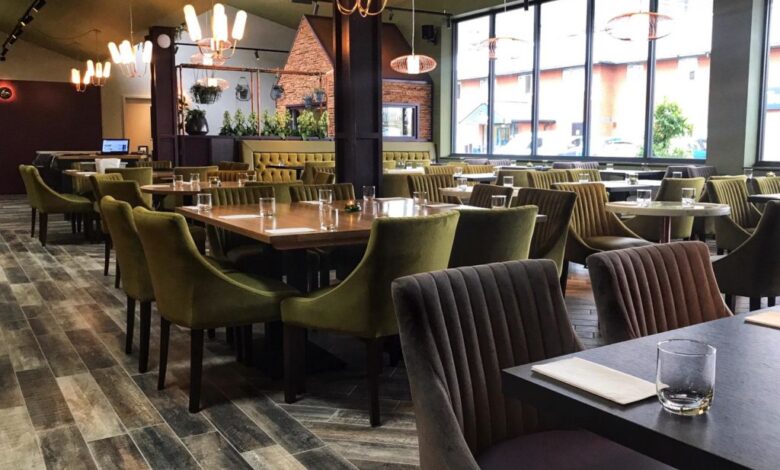 Delifonseca restaurant opens its doors at Dockside site after extension, to ensure it remains one of Merseyside's most innovative dining ventures…
As a long-standing venue and pioneer of Liverpool's food and drink scene, Delifonseca's new 100-seated capacity space has more than doubled the covers of its existing restaurant with the addition of a bar and al fresco dining area following a six-figure sum investment. The architecturally impressive building now incorporates a striking roof shape, deep overhang and large roof lights.
Inside, a bespoke bar facilitates an all-new seasonal cocktail menu accompanied by design features such as booth seating and a tailor-made vestibule inspired by a traditional potting shed in homage to the restaurant's commitment to home-grown produce.
Proprietor of Delifonseca Candice Fonseca said: "We are excited to finally share our extension with the public and showcase what we have been working on tirelessly since the springtime. The introduction of the bar allows us to hugely expand our drinks offering with cocktails and draft beer now on the menu, both of which can be enjoyed in our lounge area, allowing guests to relax with a tipple or two before or after dining. The new kitchens have also given our chefs the space and equipment to really flex their creative muscles so customers will see new dishes alongside our 'deli classics'."
The site now has a spacious, well-equipped kitchen to provide Delifonseca's chefs a much-improved workspace with additional capacity to train apprentices looking to embark on a career in hospitality. The new state-of-the-art facilities will also support the restaurant's growing outside catering business which has enjoyed its busiest summer to date.
Candice added: "Despite these times of economic uncertainty, we felt confident that we should stick with our vision and we've continued to invest in the business to ensure that we are fighting fit for the future. We now have a restaurant setting that does our fabulous food justice and gives our customers a more comfortable place to while away an afternoon or evening."
The Delifonseca restaurant space will initially operate from midday onwards serving dishes from its blackboard menu with plans to extend its service to include weekend breakfast in the coming months.
The existing restaurant will become known as the 'Brunch Room' and will have an expanded breakfast menu that is served until mid-afternoon throughout the week.
For more information visit www.delifonseca.co.uk