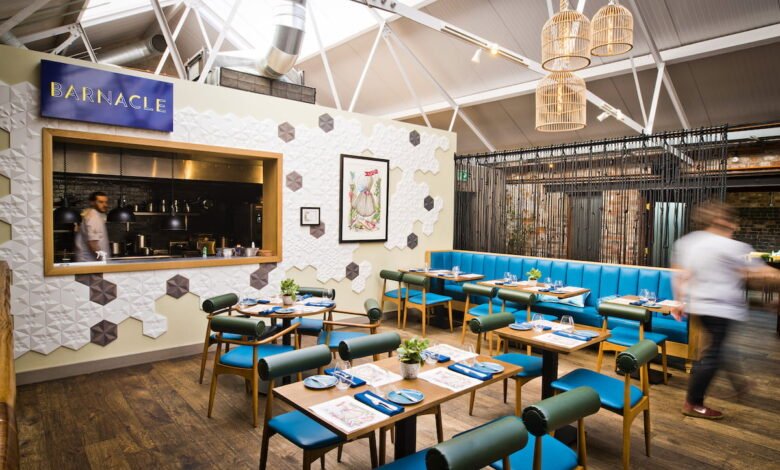 In the space of a few months, Barnacle has carved out its own space in Liverpool's burgeoning culinary scene and now reveals its spring menu, reflecting the gradual change of seasons.
Set in Duke Street Market, since opening in December 2021 the Scouse brasserie has captured the imagination of the region with sublime cooking paired with an intimate, informal experience in the mezzanine. 
Helmed by a collective of leading local chefs – The Art School's Paul Askew, Bone and Block's Harry Marquart and local kitchen stars Kieran Gill and Jake Lewis – their ethos is embedded within sustainability and working with the abundance of incredible produce on the doorstep. Barnacle has relationships with many local suppliers, with the provenance of the ingredients informing each menu; from the fields and farms which surround the city region to urban artisans dotted across the city, Liverpool has never before had such an incredible array of variety in its produce.
Harry Marquart says: "We are all immensely proud of what we have achieved so far at Barnacle and the last four months have certainly kept us on our toes. From launching at Christmas time, to the whole sector almost shutting down, to January onwards picking up again – we've been busy to say the least. We are all about celebrating and using what grows around the city region, there's so much to choose from. Barnacle feels like it's always been at Duke Street Market. We've been made to feel very welcome and services keep getting busier, from midweek through to our Sunday roasts, so it's a lovely moment to introduce our brand-new menu. We are inspired by what's around us, all of this incredible produce to use, and that's informing how we have shaped our new menu for spring." 
Barnacle's New Spring Menu
Chef's Snacks
Gordal olives + £4.00
Oyster, buttermilk + £3.50
Rose harissa corn croquette + £4.50
"Chips and cheese" artichokes, roasted garlic, Mrs Kirkham's cheddar + £4.00
Amuse Bouche
Celeriac broth, celeriac noodles, chive oil, smoked pork & Abyss Stout soda bread
Starter
Smoked lamb's tongue, lamb neck, king oyster, raspberry
Chicken & wild garlic terrine, black garlic, caperberries, preserved lemon
New Liverpool chowder, mussels, smoked haddock, samphire, oyster leaf, crispy potato
Asparagus, parsley, chervil dressing, hay espuma
Main Course
Spiced roasted cod, toasted cauliflower pilau, pickled shallots, crispy wild rice, Barnacle masala
Salt aged Cumbrian duck, 'Tales Of The Orient' tea, beetroot, cashew, toasted seeds
Pork tenderloin, pork shoulder, romaine lettuce, crispy potato salad, coriander oil, coconut, kaffir lime, pork dashi
Gnocchi, Wirral watercress, green beans, runner beans, peas
Dessert
PB&J – Peanut butter parfait, wild strawberries, brown butter, strawberry jam, brioche croutons
70% Guanja chocolate fondant, 92 Degrees Coffee
Honey, thyme and bay panna cotta, earl grey granita, stem ginger crumb
Cheese
Celtic cheese board 5 cheeses + £13.50
Petit Fours 
White miso fudge + £2.50
2 courses £37 / 3 courses £45
Barnacle
Duke Street Market, 46 Duke St, Liverpool, L1 5AS
Open Wednesday – Sunday
https://barnacleliverpool.co.uk