If you walked around Liverpool with your eyes closed, relying solely on your sense of taste and smell to guide you, you could be forgiven for thinking you had fall down a rabbit hole and landed in downtown Texas or the middle of Manhattan. American diners and burger bars are a common motif on the city's dining scene and Wall of Fame is a (relatively) new kid on the block. With entrances on the bustling hive of activity that is the famous Matthew Street and the vibrant Victoria Street, they've picked a prime spot with this one and I took a trip there on Thursday to see exactly what this industrial-style, urban establishment had to offer.
The venue is split into two halves – 'the restaurant' and 'the bar' and we were placed in a padded booth that was in some sort of limbo between the two, which made for a super vibrant dining experience. We were tended to by a couple of super-friendly staff members who struck the perfect balance between being on hand and leaving you be. Not long after we arrived, we heard the buzz of a guitar amp which signalled the start of an acoustic set performed by a shaggy-haired youngster (who I wish I'd picked up the name of) so it was nice to be able to enjoy this without ever feeling rushed out of the door. I love a bit of posh nosh as much as the next guy but sometimes, you just want to kick back, indulge in something naughty and nurse your food baby in casual surroundings and if that's what you're after, Wall of Fame is a strong contender.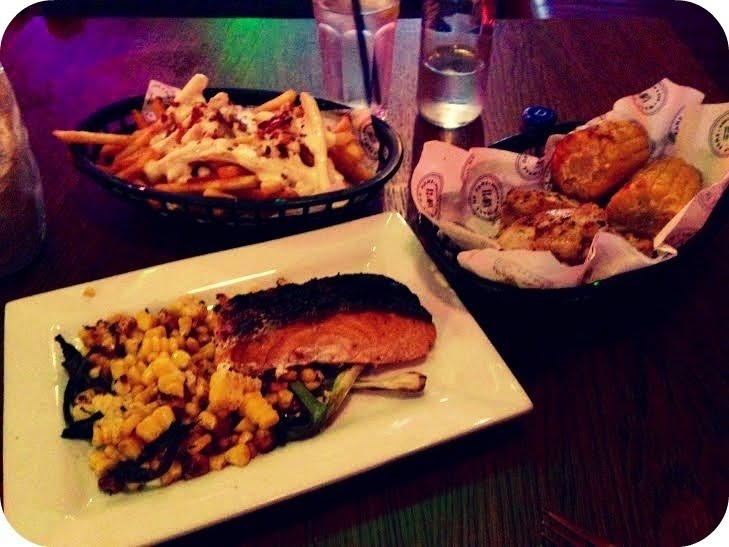 Now I'm done with the formal introductions, I'm going to refer to Wall of Fame fondly as WoF from here on in because I reckon I've found a new food friend here and I'd be confident in saying we're already on nickname terms. That's the kind of vibe you pick up when you walk into WoF, like you've just walked back into your BFFs gaff and nobody's going to mind if you drop the odd F- bomb here and there or pick at your Phat Fries with your fingers. Both me and my partner agreed that this is one of those places were you think to yourself, okay so the grub ain't grabbing a Michelin accolade any time soon but you know what, I've had a ball and a it was decent little treat for the ol' tastebuds. It was nice to see such an eclectic mix of clientèle too as I think this diverse unity is something eateries and watering holes in Liverpool always manage to nail so well.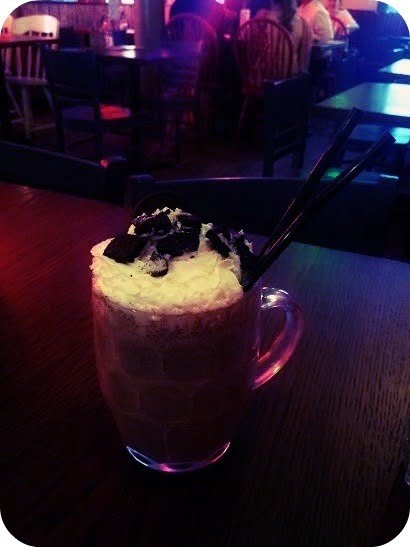 To kickstart our new culinary adventure, we both went for a Greedy Guts shake complete with Oreos, peanut butter, vanilla ice cream and optional whisky. It was a school night and we are both on that heavy health hype right now so we skipped the liquor but it was a deliciously sweet treat nonetheless. We then opted for Cajun (chicken) Fillets and Blackened Salmon which were both perfectly tender and tasty with just the right amount of kick. The Cajun Fillets are typically served with sweet potato fries but the obliging staff were more than happy to swap this for a Corn in the USA cob. The real star of the show, however, was the side of So Phat Fries we ordered to share. All of the yes. Sprinkled with a mouthwatering seasoning and drowned in cheese sauce and crispy bacon bits, these bad boys are the stuff dreams are made of.
So all-in- all, although the all-American menu might not have Heston Blumenthal shaking in his boots, you really can't complain about a place that has such a mixed-bag of customers all smiling from ear to ear. As I said, we played it safe with healthy options and an alcohol-free shake (yawn) but I would definitely encourage anybody to go and put us to shame and faceplant the Denver BBQ 10oz Sirloin Steak or the Empire State burger and lubricate your inhibitions with a signature cocktail or three. WoF also offers all day breakfast which I'm looking forward to trying because who doesn't enjoy eggs and waffles for dinner, right? If you get there before us, be sure to tweet us @Liverpool_Noise and let us know what you think!
Stephanie Whalley