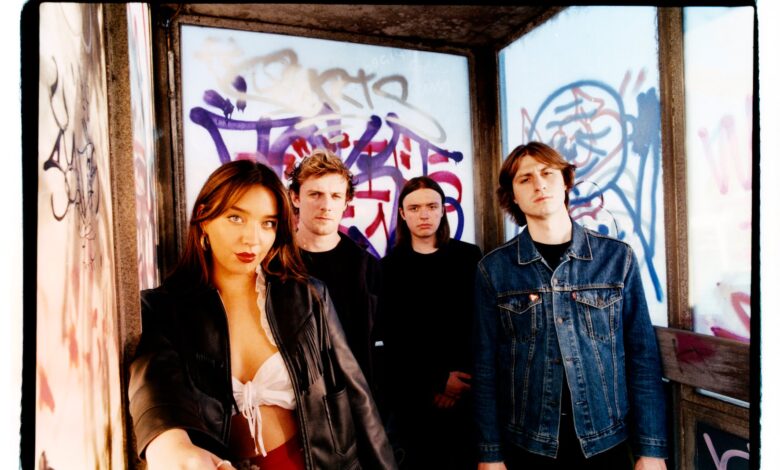 The latest tour de force album from Liverpool four-piece The Mysterines is a fuzz-ridden stress reliever. Reeling has 13 tracks of pure garage rock energy, with vocalist/guitarist Lia Metcalfe bringing a huge span of delivery from a scope of emotions that the album gives.
"It's a pretty ambiguous title for most people, but for me 'Reeling' sums up every emotion of the album in just one word," says Lia. "It was the hardest thing I've ever had to do," she explains.
Backed up by George Favager on bass, Callum Thompson on guitar and Paul Crilly on drums it's a fantastic mix of musicianship and clear that solid time has been put in to make everything right. Considering the style of the album, there's a lot of intricacies which jump out after each listen. Perhaps the fact is was recorded live means that it captures the way they bounce off each other and have that great chemistry that makes good bands into great bands.
With a headline UK tour starting this week, it's a perfectly timed album to get your ears around before going straight out to belt out the lyrics. The gigging circuit isn't new to The Mysterines, barely out of their teens, they completely sold out both their 2020 and 2021 headline tours, were selected as one of Amazon Music UK's Ones To Watch 2022, have supported Royal Blood, The Amazons and Sea Girls on tour, as well as headlined the BBC Introducing Stage at Reading and Leeds. Their live recording was overseen by acclaimed producer Catherine Marks (Wolf Alice, The Big Moon, PJ Harvey) over three weeks in between lockdowns at Assault & Battery studios in London and it's clear that working with renowned artists and creatives will soon become part and parcel of the band's career.
With an entire album full of punchy, meaning-felt lyrics backed by their modern-spin on garage rock, there's a huge open canvas ahead for The Mysterines as they take 2022 in their hands and create their own paths.
Make sure to check them out online with Reeling out now on all the usual streaming platforms.
Follow The Mysterines on Facebook, Twitter and Instagram for updates.
Michael Fell