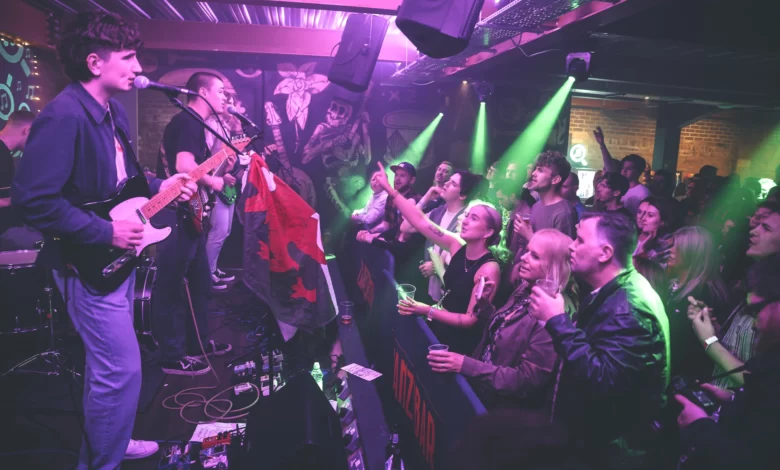 Renowned as a leader in new music discovery, Sound City continues its incredible history with the first details of its hotly anticipated 2024 return. Nestled in the heart of Liverpool – one of the world's most influential music capitals – Sound City returns to its core multi-venue roots between the 4th-5th May 2024.
Sound City: the dynamic music festival that first graced Liverpool's streets in 2008 swiftly became a pivotal event for music enthusiasts worldwide. Ed Sheeran, Stormzy, The xx, Alt-J, Courtney Barnett, The Wombats, Royal Blood and Catfish & The Bottlemen to name but a few have passed through Sound City on their way to global stardom.
Always looking to celebrate the vital fresh new artists paving their own destinies, Sound City is the spotlight that's always shining on the sounds defining the year ahead. The UK's longest consecutively-running showcase festival, Sound City's reputation as the kickstart of the summer festival season ensures it's a must for all music fans, offering a first look at your next favourite artist.
Continuing its uncanny knack for spotlighting emerging talent and shaping the future of music, 2024's first batch of names announced points to that and more – including festival headliners Caity Baser and The Snuts.
Caity Baser, at just 21 years old, has swiftly risen to prominence as one of the UK's most exciting pop artists. Her magnetic stage presence, combined with her honest, no-filter Gen Z anthems, has garnered her a devoted fanbase – commanding audiences across the globe and emerging as the next pop sensation ready to truly take over.
With latest track 'Leave Me Alone', and the dance-pop summer anthem 'Dance Around It' pointing to what comes next, Caity Baser at Sound City 2024 promises to be the coronation of future pop royalty as a household name touches down on the streets of Liverpool for a true headline moment.
Also ready to seize their headline step is Scottish indie-blazers The Snuts. Becoming a cult favourite thanks to their electrifying live shows and singalong hooks, their debut album 'W.L.' soared straight to the top of the UK Album Charts – establishing them as one of indie-rock's great breakthrough success stories.
With a desire to constantly push against genre and expectation, their second album 'Follow The Empire' was a bold follow-up full of overflowing ambition – marking The Snuts out as a band carving their own history right in front of the world's eyes. With their next glorious step already marking out, The Snuts return to Sound City to headline in style for an explosive party from a band embracing the big leagues.
Speaking about headlining Sound City 2024, Caity Baser said:
"I've heard that whenever you play a show in Liverpool, the crowd is nuts – so I'm excited to find out if it's true! It's a city that means so much to me with the amount of good music that has come from it, so I literally couldn't be more excited to headline Sound City Liverpool. Headlining – little old me – who would have thought huh!? Watch out Liverpool I'm coming for ya!! xx"
Receiving plaudits and adoration across tastemakers and leading industry figures, Antony Szmierek is a name at the forefront of new music culture. Blending genres and revelling in the sheer fun of it all, he's become an essential live trailblazer with recent appearances on Later With Jools Holland and being named as one of BBC 6 Music's Artists Of The Year. It's all setting up Anthony as an artist that will see thousands pour into his world come Sound City 2024.
Corella, the blistering indie-rock force hailing from Manchester are set to grace the Sound City stage with their irresistible melodies already cultivating a devoted following that's only set to grow.
Also announced is Seb Lowe, a modern-day troubadour known for seamlessly intertwining music and political themes into one stunning mix that's already turning heads across the UK and beyond.
At just 18 years old, flowerovlove's infectious and upbeat sounds offers a refreshing take on girlhood in the digital age with latest cut 'a girl like me' ushering in a rich future to come.
Additionally, prepare for the show-stopping power of Brooke Coombe, the Scottish singer that has rapidly risen into one of the most compelling performers going through her mesmerising live shows. From covering songs in her Edinburgh bedroom to headlining stages and even gracing SXSW in just a couple of years, Brooke's journey exemplifies why she's a must-see at Sound City 2024.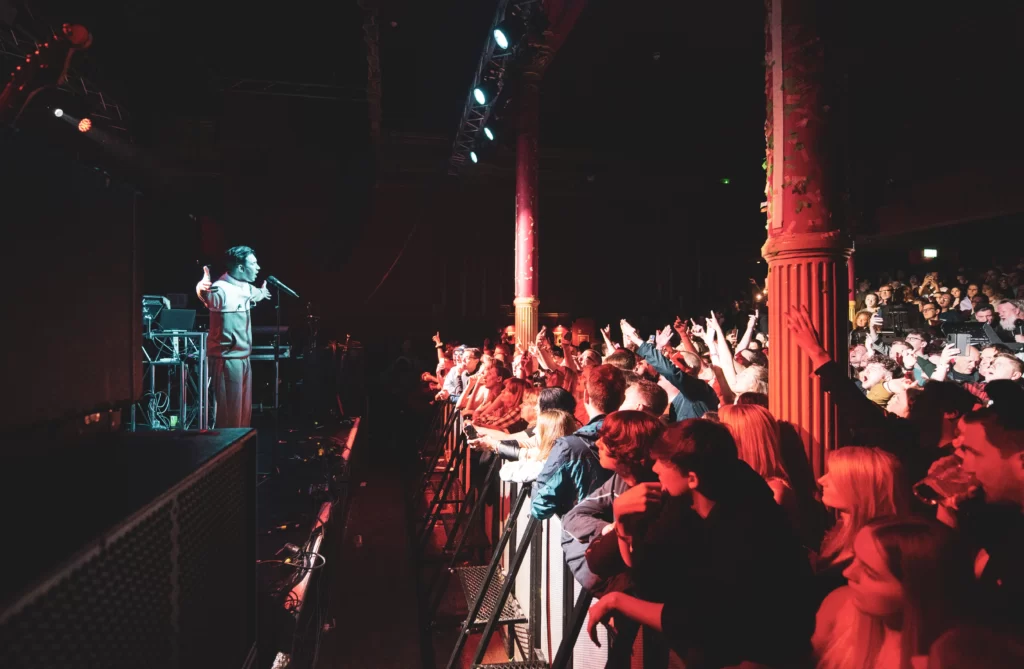 Crunching riffs are sure to ring out from live favourite Viji, whose anticipated debut album 'So Vanilla' out via Speedy Wunderground feels ready-made for sweaty club venues and countless memories.
Meanwhile, the infectious pop brilliance of LALA HAYDEN steps into frame in Liverpool, ushering in the next chapter of Anteros' Laura Hayden in epic fashion.
Already making a name for themselves across the UK, future breakout indie favourites Balancing Act head to Sound City with their razor-sharp arena-ready sound already garnering admirers across the country. With a huge 2024 in store, expect Sound City to be a blistering kickstart to a massive summer for one of guitar music's brightest new lights.
On heading to Sound City 2024, Brooke Combe said:
"I can't wait for Sound City. It was one of the first festivals I played at and I just remember thinking the vibe around it all was dead exciting. There's so many different artists you can discover and the crowds are always boss in Liverpool. Let's goo baby"
LALA HAYDEN said:
"Liverpool is such a special city for me and I can't wait to be back at one of the first festivals I played with my new solo project. Roll on May 2024!!"
Balancing Act's Jackson Couzens said about playing Sound City 2024:
"We're so excited to be playing Sound City 2024! I've always had good memories of Liverpool, I actually took part in a Guinness World Record attempt where I was part of the largest group to sing a Beatles song. As far as I'm aware we actually broke it so maybe expect another record breaking performance from Balancing Act? I'll leave that to your imagination, you'll have to see for yourselves"
From the fizzing buzz of hometown favourites Bandit, Keyside and WOO to the electric ride of VENUS GRRRLS and G!rlband or the immediate indie hooks of Megan Wyn, The Dream Machine, M60 and Forgetting The Future, Sound City 2024 already boasts an eclectic playlist of artists that they will be playing over and over. With even more to be announced, Sound City is the leading voice for the future of new music.
Rising songwriter Megan Wyn said:
"I'm buzzing to be heading back to one of my favourite cities to play at this year's Sound City! So many of my favourite bands have gone on to play cities and festivals all over the world after playing Sound City. It feels very special to be booked to play this year & hopefully join that list, especially as Liverpool is where I record all my music! Welai chi yna! See you there! :)"
Speaking about Sound City 2024, Managing Director Becky Ayres said:
"We're well proud to reveal the first details and names for Sound City 2024. Seeing everyone rush around the city to catch a glimpse of incredible new artists has always given us a buzz, and there is no other place in the world better than Liverpool to do this in. It's this which has inspired our plans for 2024 and beyond. With artists including Caity Baser, The Snuts, Brooke Combe and flowerovlove announced today – they represent some of the most exciting names in music ready to define the next few years in their own unique way. With an incredible Conference programme to be revealed and even more names to be announced over the coming months – we're dead excited to welcome the world to venues across Liverpool City Centre next May. We'll see you down the front!"
Continuing their long-standing relationship, Sound City is once again the UK's lead festival for Keychange, a global movement focused on the restructuring of the music industry to achieve gender equality. Leading a vast array of festivals and events across the UK and beyond, the focus remains on achieving a gender balance across all Sound City events and initiatives. An equal representation of women and diverse genders is announced in the festival's first batch of names and a range of initiatives, panels and more lined up in collaboration with Keychange over the coming months.
Sound City is proud to work with many leading and innovative partners, sponsors and funders. These include Arts Council England – supporting new artistic and industry talent and organisations from all corners of the sector, CAPLL, corporate funder of the Sound City Emerging Talent and Training; SAE, a global higher education provider in creative media industries; Virgin Music, a prominent record label and artist services company fostering diverse musical talent; Innovation Partner Amplead and Exclusive Discovery Partner Gigseekr. Other Partners Include: Bundobust, a renowned street food restaurant and Leeds Conservatoire, an institution offering higher education in music and performing arts.
As a part of Sound City celebrations, the Sound City+ Conference returns on Friday 3rd May 2024, sitting as a hotbed of forward-thinking ideas and discussion on what lies ahead for the music and entertainment industries. Bringing together figures from across the globe for what's primed to be one of the first opportunities to reconvene and examine the music landscape after a transformative 12 months, the Sound City+ Conference will feature a range of programming, panels and speakers not to be missed. Giving back and inspiring a new generation, the future of music once again thrives through the streets of Liverpool.
Sound City 2024 First Wave Announcement
CAITY BASER | THE SNUTS
ANTONY SZMIEREK | BROOKE COMBE | FLOWEROVLOVE | CORELLA
SEB LOWE | CAMERON HAYES | VENUS GRRRLS | BALANCING ACT |
LALA HAYDEN | G!RLBAND | BANDIT | KEYSIDE | MEGAN WYN | FOOD HOUSE | M60
FORGETTING THE FUTURE | WOO | THE DREAM MACHINE | VIJI
For more information visit soundcity.uk.com