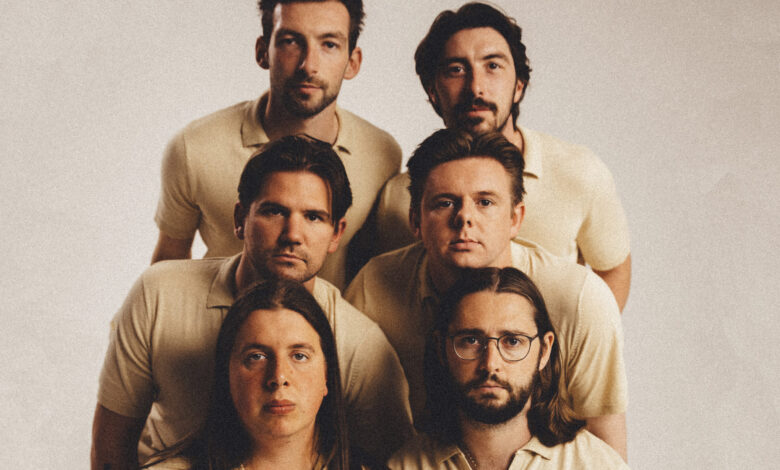 Liverpool-based sextet Red Rum Club are back with their latest single, Vanilla. Released on 15 September under Run on Records, this follows the back-to-back releases of their 2021 album How To Steal The World, 2020's The Hollow of Humdrum and 2019's Matador, as well as several live session singles from earlier this year. The band have been on a roll and certainly don't seem to be stopping anytime soon.
Vanilla's release comes after the band's support of both The Lathums and Miles Kane's tours earlier this year, and ahead of Red Rum Club's first headline North American tour coming up over the next month. An additional thirteen upcoming dates in the UK and Ireland later in the year will see the band wrapping up the tour in Liverpool's Eventim Olympia. Both Liverpool dates were quick to sell out, an indication of their loyal and growing fanbase.
The band is inspired by the likes of The White Stripes and The Arctic Monkeys, whose influence can be heard in lead vocalist Fran Doran's tone and lyrical rhythm. Their sound is also somewhat reminiscent of Merseyside's own The Coral and The Zutons.
Produced by Chris Taylor (Noel Gallagher's High-Flying Birds, Blossoms), Vanilla sees the band's sound distilled into a more refined and polished pop-rock territory. Alongside a tight, upbeat drum rhythm (performed by Neil Lawson) and punchy bassline (Simon Hepworth), the song's undeniably catchy, sing-along hook and chanted chorus make the track a real earworm.
The guitar – with Tom Williams on lead and Michael McDermott on rhythm – at times adds a rung-out, twangy flourish, whilst elsewhere mirroring the bass and driving the track's groove. According to Joe Corby, the song was based on "the irony of having such a bland flavour with such an exciting beat". Corby's trumpet section featured through the chorus evokes an almost Mariachi flavour, almost like stepping into an old Western film.
Red Rum Club Vanilla Official Video
The music video, having premiered on the band's YouTube channel on 15 September, stars This Is England's Thomas Turgoose, who takes on the role of a hypercritical self-anointed bedroom music critic reviewing the track. The video sees the band performing with deadpan expression, dressed in matching beige outfits against a plain backdrop, heavily playing on the song's central theme and lyrics: "Tastemaker, my tedious type of behaviour, like paint drying onto the paper" / "Your presence is a killer, your flavour, vanilla".
Shot on location in Liverpool, the video follows Turgoose, who head-nods along to the song throughout a journey to the band's live performance yet interrupts the track with intermittent disapproval: "Two words – bang average. It's alright. Yeah, nothing's really doing it for me". One moment sees the band adorning gothic makeup and costumes, shooting bolts of lightning from their fingertips into the record, seemingly an ironic depiction of taking the criticism to heart and wasting energy trying to please pretentious music critics. The tongue-and-cheek video is equally self-deprecating, highlighting their own sense of humour as a band who don't take themselves too seriously.
Vanilla is an undeniable pop-rock banger, and another great release from these festival-crowd favourites. The track is already popular with the band's audience and receiving praise across Red Rum Club's social media channels, which, alongside their upcoming stateside, UK and Ireland tour dates will surely bring in many new fans. Be sure to check out the track below and grab tickets to Red Rum Club's upcoming tour whilst they're still available!
Stream Red Rum Club's Vanilla on all major streaming platforms here.
Tour tickets are available via https://www.redrumclub.com/
Jude Bankier