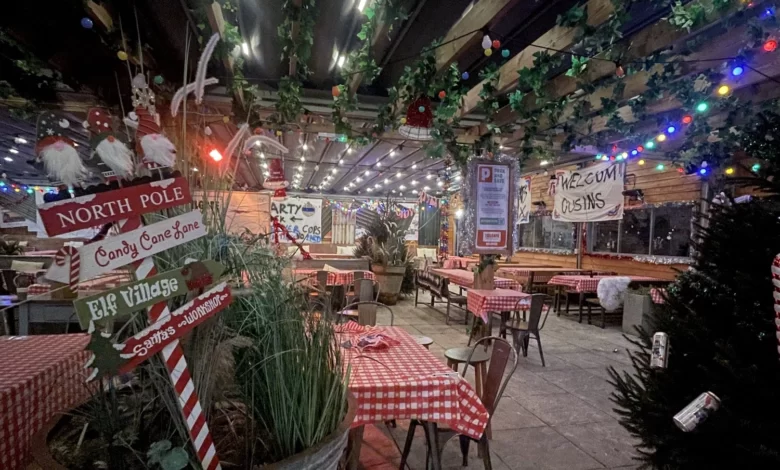 Two worlds collide this festive season as Liverpool's PINS and The Roof Project have launched their Christmas Vacation celebrations.
The two Ropewalks venues have come together for the first time ever in a huge festive collaboration which runs from 16 November until 31 December.
PINS are going all out for a traditional American Christmas, the halls are decked, trees are trimmed and two floors of their Duke Street home have been transformed into a Winter wonderland, with thousands of lights, giant hanging spruces, swags, bows and more Candy Canes than you can shake a stick at.
In the kitchen everything's prepped and on a low light with PINS 'Season's Feastin's' menus a perfect choice for sharing with friends and family. In the bar there's brand new Winter cocktails including Miracle on Duke Street with Aperol, Prosecco and Cranberry and Ms. Matchmaker which packs a punch with Grey Goose, Creme De Menthe, Creme De Cacao and Cream.
The team have all the holiday games organised too – from bowling with your besties down on the lanes to Pool and Shuffleboard upstairs in Rocco's Games Room, and Christmas wouldn't be Christmas without Karaoke'ing your heart out to Mariah now would it?
But something's happening up on the Roof Project, as "that" side of the family have rolled into town in their trashy RV and they're starting the party their own way.
Cousin Billy-Bob and fiancé Whitney are staying for the season, bringing their own Trailerpark vibes from their heated 'n covered rooftop campsite up the back stairs on Gradwell Street. (Look out for their actual RV parked up – it's a beaut!)
All decked out for Christmas The Roof Project is fully loaded with beer and holiday cheer. Think Tequila cocktails, hard liquor, inflatable Santas, deep-fried Turkey, beer can Christmas trees, burgers and pizza for days plus armfuls of the tackiest fairy lights from the local five and dime.
Watch your fav Xmas flicks at the bedsheet Cinema with dates running thru' all of December, slam a game of Cornhole or Beer Pong, shotgun a couple of blue ribbons before joining in a raucous chorus of Sweet Home Alabama!
Sporting their smartest Daisy Dukes and with fluffed-out Mullets, the rellies are even venturing downstairs to party in PINS every weekend, taking to the stage along with the rest of the PINS dancers in an entertainment showdown of epic proportions – a real rollickin' Hooternanny!
Top tip – make sure that you bag the best seat in the house with a feasting table, PINS' runway-side booths and tables which have unrestricted views of all the festive frolics.
Dan Gillbanks, co-Founder of PINS and The Roof Project commented:
"It's been loads of fun developing this year's Christmas campaign and linking the two venues – despite such a contrast between the rooftop trailerpark and the more traditional feel of downstairs, they both have come together perfectly. We know guests are going to enjoy partying across all the floors."
So from family feuds in Rocco's Games Room, kissing and making up in The Lobby and gittin' together over great food, to elegant cocktails, hard liquor and late night dancing – this year is going to be the biggest ever. And whether you prefer your Christmas trad-tastic or a little more rough around the edges, everyone's a welcome house guest at PINS and The Roof Project this holiday-time.
For all bookings please visit www.pinssocialclub.co.uk or www.theroofproject.co.uk
The Roof Project's Bedsheet Cinema dates and listings can be found on both social accounts @pinssocialclub and @theroofliverpool.