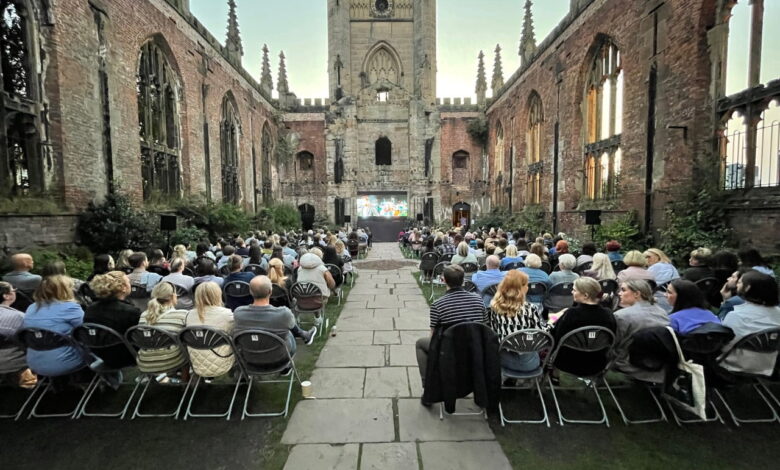 Back by popular demand, St Luke's Bombed Out Church is hosting an open-air cinema to celebrate Valentine's and LGBT+ History Month, over the 10, 11, 12 & 14 of February. St Luke's Bombed Out Church is one of Liverpool's most historic landmarks where many use it as a popular meeting point. Now St Luke's is making a name for itself for hosting an array of events, from weddings to film and to theatre (to name just a few).
After successfully hosting over 200 events and community projects last year, St Luke's are looking forward to another busy venue calendar for 2022.
"It was incredible to see so many people walk through our doors last year. Due to conversations with our visitors, we're happy to announce that we'll be hosting film screenings for February. We've gone with a couple of recommendations by the public for these ones too! 2022 is set to be another year of welcoming familiar and new faces to St Luke's, we can't wait!" – Kate Jones, Co-director.
Bring your partner and friends along this February and enjoy a film in the heart of the city, within a beautifully charming setting providing the perfect backdrop to a Valentine's date or that friend's night out that you've been trying to plan for months.
You'll be treated to a fully stocked bar from boozy hot drinks, beers, spirits, wine and fizz, soft drinks and more along with a tasty selection of snacks, all delivered straight to your seat. Audience members can bring their own blankets to keep them cosy underneath the Liverpool sky.
Tickets are now on sale through www.slboc.com/whats-on at £10 + booking fee, this is where you can also find full venue details. Film listings below.
Thursday 10 February – Pride (2014)
For LGBT+ History Month, a much-loved historical comedy-drama based on a true story.
Friday 11 February – Romeo & Juliet (1996)
The popular romantic crime tragedy by Shakespeare, that Valentine's doesn't feel complete without.
Saturday 12 February – The Bodyguard (1992)
One of the most iconic films of the 1990s, a romantic thriller featuring Whitney Houston in her acting debut.
Monday 14 February – Casablanca (1942)
A classic released in 1942, THE romantic drama that'll send you on a nostalgic journey.