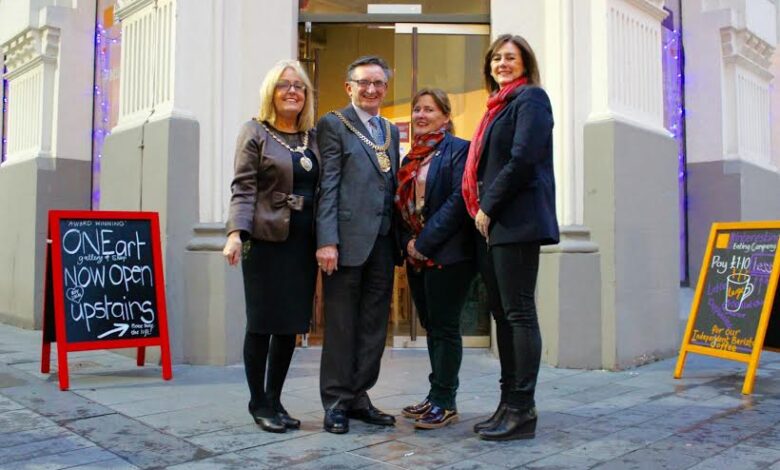 Cafes in Liverpool
Liverpool's Lord Mayor Pays Special Visit To The Interesting Eating Company Ahead of Small Business Saturday
The Lord Mayor of Liverpool has met with the directors of The Interesting Eating Company ahead of this year's Small Business Saturday (December 5).
During the meeting with Cllr Tony Concepcion, Nichola Lee and Andrea Edwards reflected on the eatery's recent business success, which saw the brand secure a long-term affiliation with an outdoor retail giant owned by JD Sports Fashion plc, and obtain tenancy at the entrance to Peter's Lane in Liverpool ONE.
Nichola said: "It was great to meet with Lord Mayor Cllr Tony Concepcion to discuss how our business has grown over the past three years. It has certainly been an exciting time for us, as our journey began as a small independent business located in the suburbs of Liverpool.
"Having approached and successfully struck up a partnership with the sports fashion and outdoor group Ultimate Outdoors, and now to have established three Ultimate Cafes spanning across Preston, Dudley and Nottingham, it gives us a real sense of pride to look back on what we have achieved as a small business."
Andrea added: "In addition to opening Ultimate Cafe sites across the Midlands, we also wanted to build on our ever-growing reputation that was established on Allerton Road. Having found a missing link in Liverpool city centre when it comes to speciality pancakes and waffles, we decided earlier this year to step up from the suburban high street and open a central retail location that mirrors our ethos and authenticity of an independent. It's so rewarding that customers across the North West and further afield can now enjoy the unique and interesting offerings that we are serving up."
Small Business Saturday is a non-commercial campaign with aims to highlight the successes of small businesses and to encourage consumers to shop locally and support the independent outlets within their communities.
Cllr Tony Concepcion said: "It was wonderful to meet with both Nichola and Andrea ahead of Small Business Saturday – they are both extremely driven women and it's wonderful to hear about how The Interesting Eating Company has blossomed from its Allerton Road roots to now boast venues across the North West and the Midlands.
"The Interesting Eating Company is a great example of how small businesses can take the retail market by storm and partner with prominent names to create new and exciting products with further originality."
For more information about The Interesting Eating Company visit www.theinterestingeatingcompany.co.uk