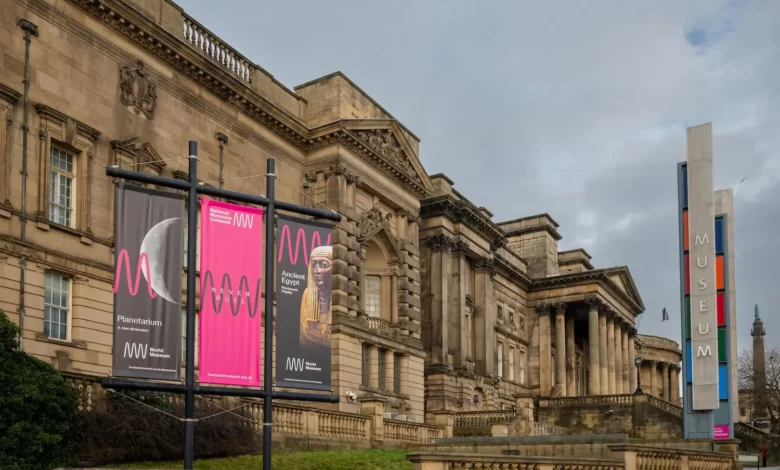 New figures have revealed attractions in Liverpool as some of the most visited in England – with World Museum taking the top spot in the North West.
Nearly 2.5million people visited National Museums Liverpool's venues during 2022 and there is anticipation of further growth this year, as the region enters the Eurovision spotlight, and a series of new exhibitions and special events get underway.
Latest figures from the Association of Leading Visitor Attractions (ALVA) named World Museum as the North West's top attraction in its annual visitor number research. A line-up of Merseyside museums and art galleries also feature in the rankings, including Museum of Liverpool at number two and the city's Maritime Museum and International Slavery Museum on the waterfront also in the top 10.
Laura Pye, Director at National Museums Liverpool, said: "We're proud to look after some of the most visited museums and art galleries outside of London. Our venues attracted more than double the number of visitors in 2022, compared to the previous year. We weren't back to pre-pandemic levels – but the start of 2023 is already seeing further uplift.
"This year has brought another boost, as we prepare to welcome thousands of international visitors when the Eurovision limelight shines across the Liverpool region. Our team are busy launching some exciting new exhibitions and special events across our venues – including a programme of live music sessions and activity inspired by Eurovision."
With an estimated 100,000 extra visitors expected in the city region when Liverpool hosts Eurovision on behalf of Ukraine, a series of special attractions are being launched. This includes an Augmented Reality (AR) walk of fame and a large-scale interactive piano on the steps of the Museum of Liverpool, a series of Museums Sessions Lives showcasing a diverse line up of musical talent across the venues in the build-up to the song contest, and official XTRA events in Eurovision week.
The popular World Museum, Museum of Liverpool and Maritime Museum are also in the top 20 visited indoor venues in the UK outside of London. Last year saw World Museum host the world premiere of the Doctor Who Worlds of Wonder exhibition and it is preparing to open the new blockbuster exhibition Return of the Gods next week on 28 April.
Top 10 North West Visitor Attractions
World Museum (National Museums Liverpool)
Museum of Liverpool (National Museums Liverpool)
Knowsley Safari & Knowsley Hall
Dunham Massey
Maritime Museum (National Museums Liverpool)
RHS Garden Bridgewater
Delamere Forest
Tate Liverpool
Science and Industry Museum
International Slavery Museum (National Museums Liverpool)
(Based on Association of Leading Visitor Attractions (ALVA) visitor figures*)
On now and coming up at National Museums Liverpool's venues:
Liverpool Through the Lens by Leroy Cooper
Museum of Liverpool
1 April onwards
Developed in partnership with local photographer Leroy Cooper, this exhibition draws on Leroy's 40-year career as a photographer documenting Liverpool communities. On display in the Skylight Gallery, Leroy's evocative and insightful images are a love letter to the city and the Liverpool 8 community. Accompanied by text written by Leroy himself, the images chosen reflect on themes including racism, justice, the transatlantic slave trade, community, inequality, empire, migration, pride, solidarity, culture, family and regeneration.
Flower Fairies ™
Lady Lever Art Gallery
15 April 2023 – 5 November 2023
Flower Fairies ™ features around 45 original illustrations from the Flower Fairies books by Cicely Mary Barker (1895 – 1973), owned by the Warne Archive. Marking the 100-year anniversary of her first book, Flower Fairies of the Spring, the show will immerse visitors into the enchanted worlds created by Barker.
Return of the Gods: Zeus, Athena, Hercules
World Museum
28 April – 25 February 2024
Enter the world of myth and legend told through the stories of ancient Greek and Roman gods in an intriguing new exhibition at World Museum. Featuring a stunning collection of sculpture and antiquities, Return of the Gods: Zeus, Athena, Hercules will immerse you in the ancient world, told through the words of ancient poets and writers, the sounds of mystery cults, rituals and festivals and the public and private worship of gods. 
Photie Man: 50 years of Tom Wood
Walker Art Gallery
20 May 2023 – 7 January 2024
A new major photographic exhibition from Tom Wood will open at the Walker Art Gallery, showcasing 50 years of the artist's work. Photie Man celebrates the internationally-acclaimed Irish artist Tom Wood with a comprehensive survey of work spanning 50 years since the start of his career.
The exhibition will bring together work from across all decades, displayed chronologically and for the first time in Liverpool – where many of Wood's iconic photographs were taken.
Renaissance Rediscovered
Walker Art Gallery
Re-opens July 2023
Featuring some of the finest paintings and decorative arts in Europe, Renaissance Rediscovered marks the re-opening of the Walker Art Gallery's Medieval, Renaissance and Baroque rooms.
The transformation and restoration of around 600 square metres of gallery, the first redevelopment of the space in more than 30 years, is supported by funding from the Department for Culture, Media and Sport.
Happiness!
Museum of Liverpool
14 July 2023 – 3 March 2024
Happiness! is an exhibition filled with fun and humour. Celebrating one of Liverpool's iconic comedians, the legendary Sir Ken Dodd, this exhibition charts the life and career of Ken, and his connection to today's comedic stars.
John Moores Painting Prize 2023
Walker Art Gallery
16 September 2023 – 25 February 2024
The UK's most well-known painting competition returns to Walker Art Gallery in 2023. Bringing together the best of contemporary painting from across the UK to Liverpool, the painting prize is over 60 years old.
For more information visit www.liverpoolmuseums.org.uk