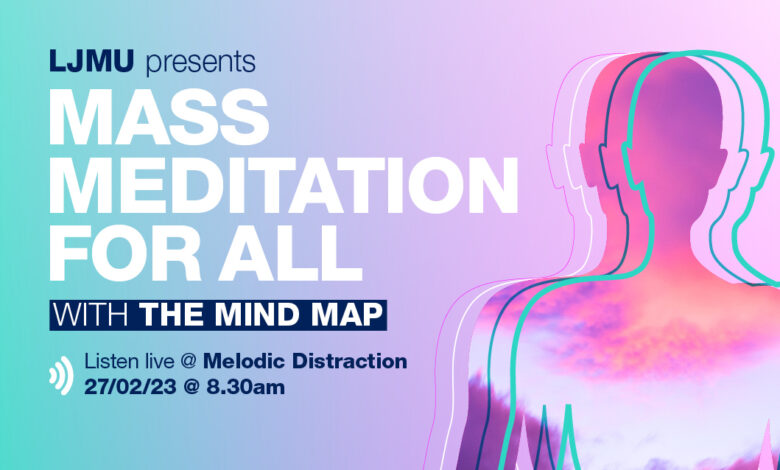 Liverpool John Moores University is to broadcast a free guided mass meditation for listeners across the university, the city, and beyond, to find a moment of calm as its wellbeing month draws to a close.
Working with Open Culture and The Mind Map, both Liverpool-based social enterprises, the 15-minute guided meditation will be broadcast via online radio station Melodic Distraction on Monday 27 February starting at 8.30am with the meditation at 8.45am.
People can tune in online using any mobile device, tablet, laptop or computer at www.melodicdistraction.com/shows/mindfullness-meditation and then hitting the play button. Anyone who wants to listen on demand after the event can use the same weblink to listen again.
Tony Bennett, a mindfulness teacher with The Mind Map and a current PhD student at LJMU's School of Psychology with a research focus on the long-term wellbeing effects of meditation, will voice the session.
Tony explains: "The half hour will begin with a brief discussion of what mindfulness is and how it can have a positive impact on your life, and how, alongside other activities, it can be an important part of a well-balanced, healthy, and happy lifestyle. We will then guide you through a 15-minute mindfulness meditation focussing on the breath and the body.
"The mass meditation takes place on Monday at 8.30am but, to paraphrase an old advert, you can meditate any time, any place, anywhere. That said, the very start of the week is a great time to take part in a practice that can help you to be present, calm, clear minded and energised to face the day and week ahead."
Phil Bridges, founder of The Mind Map, said: "Mindfulness – along with other aspects such as exercise, sleep, connection, and nutrition – is a wonderful addition to anyone's wellbeing toolkit. And as an LJMU alum, it's great to be involved in disseminating positive mental health resources through this collaboration."
Open Culture brought the idea of mass meditation to LJMU when they started working together on the university's bicentenary celebrations – 2023 marks the 200th anniversary of the institution which can trace its roots back to 1823 and the formation of the Liverpool Mechanics' and Apprentices' Library.
Coinciding with the end of LJMU's annual month-long programme of events, Feel Fab Feb, the meditation has the potential to become a long-term series for all staff and students, as well as communities across the city region, to engage with.
Charlotte Corrie, Director of Open Culture, said: "Across the globe mass meditations have shown positive social, political, and economic results. It's an act of collective consciousness, all with the same intention. With more and more people experiencing high levels of stress and anxiety, then why not try to offer a free tool to help make change for the better; the act of mediating together to help create a ripple effect for better mental health. And for those that have never meditated previously, it may help to switch them onto this important free tool, which has a wide range of psychological benefits."
By harnessing the power of digital radio, everyone will be able to tune in and engage in the mass meditation from wherever they might be and to listen back at any time at their leisure.
Kerry Weeks, Stakeholder Relations Manager at LJMU, said: "At LJMU the wellbeing of our students and staff is really important to us. That's why each year we host a month of free activities, workshops and events for them to get involved in, such as desk yoga, Arts workshops, guided walks and journaling as well as reading for wellbeing. This all helps to kick start and raise awareness of the year-round support and resources available.
"The mass meditation is an entirely new activity for us, and we hope it's enjoyed by not just our immediate community of students, staff and partners here in Liverpool, but by a much wider online community worldwide. It could be the launch point for similar sessions in future.
"We've been lucky enough to partner with Open Culture during our bicentenary to build mass engagement into our celebrations this year. Phil at The Mind Map has been generous with his time as a guest speaker, supporting student employability events in the past, as an alum, and Tony is a current PhD student with LJMU, so we're delighted to partner with them on this project. We're also really pleased to be working with Melodic Distraction for the first time, helping us bring this to the masses digitally."
Tony added: "I hope listeners enjoy the experience and get something useful from it. It would be great if that spurs listeners to find out more about, or even get involved in further practice with meditation and mindfulness, discovering how it can positively affect their wellbeing, helping them build resilience and to flourish in life."
Find out more about LJMU's bicentenary year.
Join in with the Mass Meditation on Monday 27 February at 8.30 am via www.melodicdistraction.com/shows/mindfullness-meditation