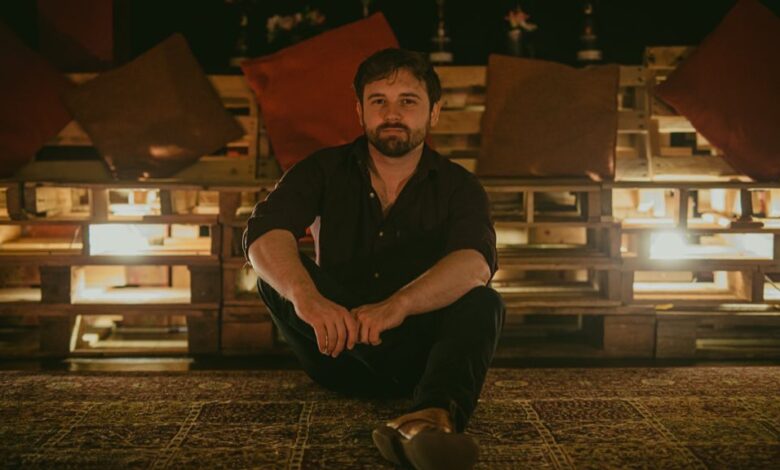 We chat with Liverpool-based singer-songwriter Thom Morecroft ahead of the release of his new single The Last Day You Left Home.
Liverpool Noise: For our readers who don't know you, tell us a bit about yourself.
Thom Morecroft: Hello readers-that-don't-know-me, my name is Thom Morecroft. I'm a singer-songwriter from Shrewsbury based in Liverpool. I'm a very enthusiastic live performer and singer. Sometimes I sing softly, but sometimes I sing things in a big loud way and I don't want to frighten anyone.
Liverpool Noise: Tell us a bit about your new single, 'The Last Day You Left Home'.
TM: A lot of stuff I like to make is really a blend of 70s singer-songwriter folk-pop and 90s alt-rock. 'The Last Day You Left Home' is very much in that vein. It's as much influenced by Teenage Fanclub as it is say James Taylor or Joni Mitchell, but it's produced with layers of jangly acoustic guitars rather than fuzzy amps and drums.
I wrote and recorded the song on a day where I found myself in a strange mood; I felt like I was hoovering up ghosts (figuratively speaking, I am not a Ghostbuster). It's triumphant but bitter at the same time. I think it's about leaving behind people who expect you to do what they want, but also don't necessarily give seven typing monkeys about your well-being. So it's a very happy song, but there's a teaspoon of angst in there.
Liverpool Noise: Where are you and what are you up to right now?
TM: I'm currently in my house near Liverpool John Lennon Airport. We had a baby boy last October called Leo, and he is currently napping. I'll try to finish this as much as I can and then it's gonna get pretty wild because I'm going to do the dishes, and when he wakes up we are going to go for a walk. Or at least, I am going to go for a walk and he is going to get carried around.
Musically speaking, I'm going through my recent stash of home recordings and seeing they can amount to in the future…
Liverpool Noise: You've been around on the Liverpool music scene for a little while now. What are your favourite venues to play in and around the city?
TM: There are so many great music venues in Liverpool. This year I've really enjoyed playing in both Jimmys and Prohibition. I think Matty Croft who runs Prohibition Recording Studios as a studio and venue is doing something really amazing there.
Liverpool Noise: And who are your favourite local acts? Who should we be listening to?
TM: This is such a hard question to answer because there are so many favourites for me, and if I missed just one of them I would feel terrible. I am going to name just three if I may? The first, a big influence on this song is John Witherspoon. I was listening to a recent single of his called 'Shame' again yesterday and it just knocks me out every time I hear it. I've never heard anything quite 'Shame'. He brings so much of who he is to his music; the lyrics are so personal and all the chord changes and melodies he reaches for seem so individual to him. He has a great live band too; would love to have a live album.
The same goes another artist I'd like to mention: Danny Bradley. Danny and me are pretty tight. However, even if I absolutely hated him, his guitar playing, voice and compositional ability are exceptional. In fact now I come to think of it, I do hate him; I certainly hate having to play after him because of his immense talent. He's one man and a guitar but it may as well be someone juggling and swallowing fireworks, given the effect he has on audiences. His album is truly amazing.
A third act I'd like to mention that has an EP coming out the same day as my single (and was featured on this website recently) is Katie Nicholas. Katie is an enormous talent; not just as a singer-songwriter but all the other things she does that go along with that (artwork, photography, filmography etc). An amazing guitarist and storyteller; people should make sure to head down to her EP launch on the 1st of December at the Nordic Church.
Liverpool Noise: If you had to tell people to go and listen to just one of your songs, which one would you choose?
TM: Oh I would definitely choose this song (The Last Day You Left Home). In some ways, it is gentler than things I've done previously, particularly with regards to vocal delivery. Nonetheless, it feels like it directly says what I wanted it to say more than anything I've written or recorded.
Liverpool Noise: What else does 2022 have in store for you? And 2023 plans?
TM: I'm playing a gig on December 8th in the Star Café in the British Music Experience, with Jenny Colquitt also on the bill. The BME is in the Cunard Building. Entry is free, but we are taking donations to raise money for the Liverpool Paper Cup charity which helps those suffering from homelessness and rough sleepers.
I do plan to release some more music in 2023, but can't say too much right now because it would endanger my life/let the cat out of the bag. There will be some more announcements soon, and I'll be sure to make a call to Liverpool Noise when I know what they are.
Follow Thom Morecroft on Facebook, Twitter and Instagram for updates.
Stream The Last Day You Left Home on all major streaming platforms from 1 December. You can pre-save the track here.