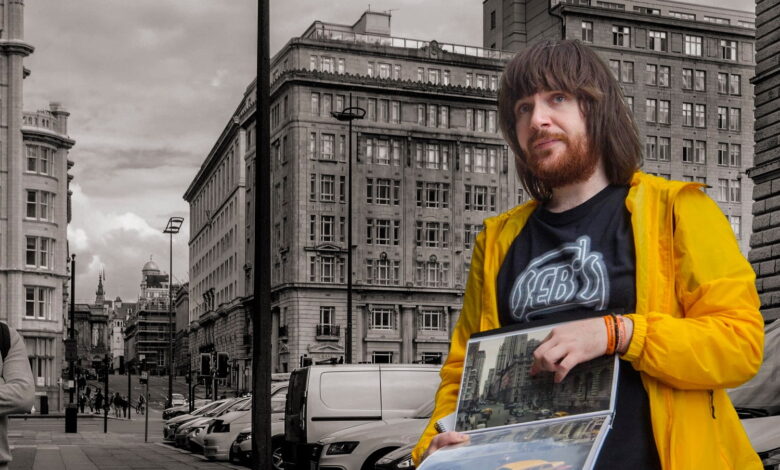 Film & TV
In Conversation – Gary Lunt (Reel Tours)
We talked to Reel Tours founder Gary Lunt about his tv and film location tours and obviously, his love of film.
Liverpool Noise: You're obviously a massive film buff, can you remember when you first started getting into film and what was the first film you remember watching?
Gary Lunt: It is truly one of my most vivid memories. It was a warm summer afternoon in Lancashire all the way back in 1993. My parents sat me down on the couch with an apple and said that they were going to show me a film that they thought I might like. It was the 1963 Don Chaffey flick Jason and the Argonauts. I fell head over heels in love with it and for the next five of six years, I must have watched it on a loop. I would re-enact the action sequences and could recite it word for word (I could probably still act out most of it today). 
Shortly after this I started adding new films to my watchlist. Around age seven, I developed an adoration for Hitchcock and horror. I had an older cousin who would sneak many 15 & 18 certificate films into my house by slipping the VHS cassettes inside Disney boxes. Ingenius. This enabled me to watch Psycho, Halloween, The Birds, Friday the 13th, The Silence of the Lambs, The Exorcist and countless others all before I'd reached double digits. It was quite the education!
LN: You run film and tv location tours around Liverpool and we know from being on your tours in the past just how much knowledge and enthusiasm you have for the tours. What made you want to do the tours?
GL: I've always had a strong interest in British cinema as well as films which have been shot on-location here, but are from other corners of the world and Liverpool in particular has such a rich cinematic heritage that I didn't think was being celebrated anywhere near enough. I'm also a big fan of city breaks and visiting new locations and one of my favourite things to do whenever I explore a new area, is to go on a walking tour. I had been on many tours in Liverpool and really enjoyed them, but I was surprised that a film location tour didn't exist, especially considering the amount of films that have been made in the vicinity. I initially started to put the tour together as a passion project because I was wanting to learn more about the history of the city and luckily, once I had curated my first tour, enough people seemed interested in coming along and it has just grown from there. I love showing off the sights of the area.
LN: What is your favourite film that was shot or set in Liverpool?
GL: This is a very tough question because there are so many, covering various genres. It's almost as tricky as asking what your favourite song by The Beatles is (usually one of George's). But I think that In The Name of the Father which stars Daniel Day-Lewis, Pete Postlethwaite and Emma Thompson is an absolute masterpiece. However, the majority of this was filmed in Liverpool, but set elsewhere, for a film that was filmed and set in the city, look no futher than Across the Universe. Wonderful.
LN: You've been across to America and visited famous film locations from films like Rocky and The Exorcist. Which was your favourite location to visit
GL: There are certain parts of America which are unbelievable, because no matter which direction you look, you will recognise your view from a film. New York is a prime example of this. Whether you're in Central Park, Greenwhich Village, Times Square, Brooklyn or even on the Staten Island Ferry, you're at the home of a thousand films. Visiting locations that featured in The Exorcist, Jaws, Good Will Hunting, The Warriors, When Harry Met Sally, Mr. Smith Goes to Washington etc. was a dream come true, but when I first saw those famous steps outside the Philadelphia Museum of Art that I've watched Rocky Balboa pace up hundreds of times over the years, I got all teary with excitement. Philadelphia is a fantastic city and I would highly recommend visiting it!
Reel Tours Rocky (1976) Filming Locations Video
LN: And what film locations are on your bucket list?
GL: Too many to mention here. I'm currently planning my next trip to London which itself can be like walking into a geographical who's who of cinema. But I'm particularly excited to track down the house from Hellraiser, various sites from A Clockwork Orange and of course a couple of the James Bond locations. Regarding travelling abroad, San Francisco is high up on the list for the Golden Gate Bridge which has appeared in countless films and for a Euro jaunt, I would love to visit the castle from Nosferatu which is located in Slovakia.
LN: This will be a hard question to answer I'm sure but do you have a favourite film of all time or maybe a top 5?
GL: I'm a big fan of making lists, so I do! Alfred Hitchcock's Rear Window has been my favourite film since I was about ten years old and I could never imagine a film managing to top that, because in my eyes, it's perfect. If you haven't seen it before, it's essential viewing. The other four, to complete the top five are interchangable. The Wicker Man (1973, of course – let's forget the Nic Cage atrocity), The Good, The Bad and the Ugly, Halloween and The Muppet Christmas Carol. It's perfect. Michael Caine and a few hands covered in felt bring me to tears every Christmas eve.
LN: During lockdown you've been hosting film quizzes which have been great! Do you think you might continue to do these every so often after lockdown?
GL: Most definitely. I run a film quiz in real life, which will certainly be returning once we're all allowed to gather out in the wild again, but I will be continuing the online film quizzes. They've been a lot of fun to host!
LN: What are you most looking forward to doing once we're back to a bit of normality and we can eat out, visit pubs and cinemas again?
GL: Visiting my favourite cinemas will be high on the list, as well as running film tours again. Besides all things cinema, my favourite haunts that I can't wait to visit again are Zorbas on Leece Street, Ye Cracke, The Ship & Mitre, The Grapes, Rococo, oh and of course, my hairdresser.
Reel Tours: Liverpool Film and TV Location Tours
You can buy gift vouchers or book at a tour at https://www.reeltours.co.uk/
Follow Gary and Reel Tours on Facebook, Twitter and Instagram and head over to the Reel Tours Youtube Channel for film buff videos.