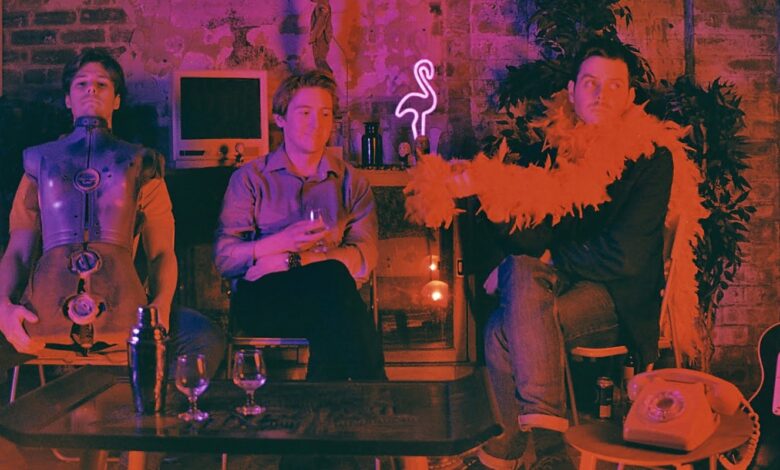 We're all craving a bit of live music at the moment and there's nothing I'd like more this weekend than to be getting stamped on by sweaty strangers in a gig pit, swilled with cheap lager and gob. It's funny the things you miss in lockdown, isn't it?
Here to save the day are post-punksters Eyesore & The Jinx, who have recorded their first live show in eight months, to be broadcast online this Friday 6 November. 
The event is part of the 'Live From Future Yard' streamed shows, which last week saw Seatbelts perform a live stream from the new 350-capacity Future Yard venue in Birkenhead.
The new government restrictions which have since come into place have thrown a bit of a spanner in the works, but the show must go on, and so forthcoming sets from Eyesore & The Jinx and By The Sea on the 20 November have both been pre-recorded. 
Eyesore & The Jinx are part of an exciting crop of Merseyside acts that have coalesced around the Eggy Records label and the trio have already gained a solid fanbase with their catalogue of ballsy garage punk tunes, including Nightlife, Leisure Time and On An Island, the latter produced by Jonathan Hartley from iconic psych surgeons, Clinic. 
Their debut release, Gated Community – a pumped-up train beat injected with eye-pulsing, knee-jerking surf guitars – would have slotted very nicely into a Tarantino film soundtrack. 
Two years later and new single Accidental Weller shows the same punk-infused, devilish chords and surreal dark humour, lamenting the misfortune of an unwanted new haircut. ("I only came in for a short back and sides…I look like a bloke on the front cover of Mojo magazine…Hair like a peacock's feather.")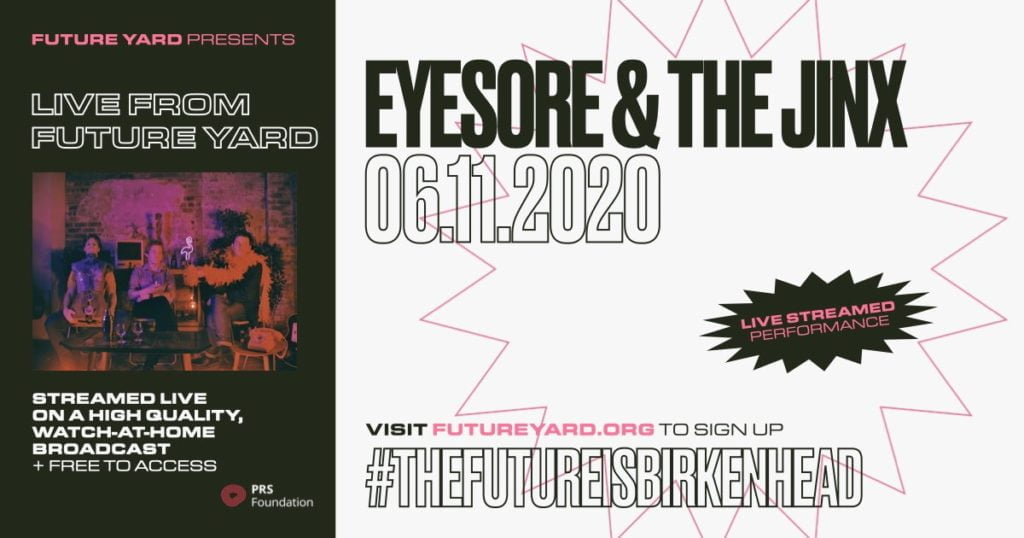 Listening to Eyesore & The Jinx is the next best thing to tearing up the dancefloor and 2021 could be the year that they give Idles a run for their money on the festival circuit.
The Future Yard set will broadcast for free via YouTube at 7.30pm on Friday 6 November and be available to watch for a limited time after. 
Future Yard opened its doors in September with the aim of bringing new artists to perform in Wirral and providing early performance opportunities for emerging local musicians. Right now, there is undoubtedly a hugely challenging time for live music venues nationally, but the team is committed to realising their vision for the new space.
"We believe that Future Yard is needed now, more than ever before," says co-founder Craig Pennington. "True, it is a challenging time, but we believe the experience of lockdown has shown how powerful a community can be and we want to provide a space for our local community to come together. 
"We've also seen an explosion in live streaming and digital performance, which has been hugely welcome and is here to stay, but this does not replace live music. 
"People who love live music have acutely realised how important it is to them, how much of a role it plays in their lives. We're committed to creating a new venue to champion and support new music in Birkenhead."
Sign up for the free to access YouTube broadcast here
Follow Eyesore & The Jinx on Facebook, Twitter and Bandcamp 
Vicky M Andrews
@planetvicster