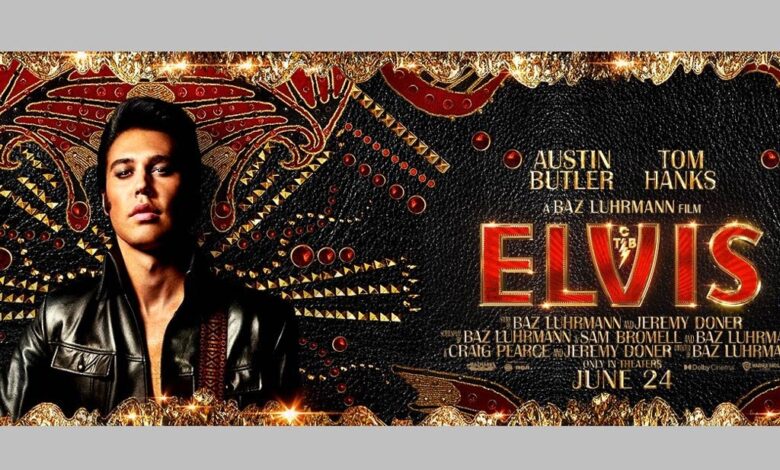 It takes a mammoth production, crucially convincing cast and a wholesomely accurate script to pull off a biopic based on one of the world's greatest rock 'n' roll King's, but Baz Luhrmann ticks every box and more with Elvis.
Emotionally triggering with tell-all revelations of Elvis' infamous, never ending Vegas residencies, the plot follows his short-lived 42 years, regretfully narrated and reflected on through the words and voice of his increasingly cunning promotor and manager, the so called 'Colonel' Tom Parker (Tom Hanks).
A chronological timeline follows the ambitious, poverty-stricken young Elvis with Superhero-inspired intentions of breaking his dad out of prison and an ear for the local Gospel choir, through to his iconic, non-conventional transformation into a knee-shaking, lip quavering musical hero.
Luhrmann's trademark is subtly embedded within the impishly modernistic elements of the shots. Retro font reappears on screen labelling cities and shows echoing the momentum and rapid speed of Elvis's rocketing success whilst classic Beale Street numbers such as Big Mamma Thornton's Hound Dog easily transform into modern day versions. Doja Cat, Eminem and Kacey Musgraves are but a few of the contemporary artists who contributed to the soundtrack. Stevie Nicks, Jack White and Swae Lee were also featured.
To embody the personality of a global sensation overflowing with a flamboyant charisma and an incomparably powerful and soulful voice to match can't have been easy, but Austin Butler's performance as Elvis was beautifully executed and painfully accurate on occasion.
Butler mastered his subject, relishing in the role of a frontman and a passionate musician but also capturing the despair and loneliness in the darkest hours of Elvis' final few years with unmatchable sincerity.
Butler's masterful incarnation as Elvis was largely reflected in his dialogue. When he meekly utters the words "Cilla I'm nearly 40" to his estranged wife Priscilla (Olivia DeJonge) while debating yet another painstaking Vegas stint, his words protrude and linger, leaving an indescribable feeling of empathy for a man who feels utterly helpless and unachieved.
This interpretation as the King could only be celebrated more with Butler's vocal likeliness to Elvis. From his nerves-wracked debut show with his newly acquainted band at the Louisiana Hayride Club watched on fondly by his initial supporter in Sun Studio's Sam Phillips, to the visually upsetting penultimate performance of Unchained Melody at what would be Elvis' final show, Butler delivered a voice that was difficult to distinguish from the real deal, and with just as much raw emotion.
A personal highlight is the passionate delivery of the politically laced If I Can Dream. When requested to perform a Christmas special, Elvis rebels, opting instead for the poignant ballad penned following the assassination of J.F. Kennedy.
The power of the message behind this scene permeates even more so in light of the recent events in America regarding the overturn Roe. Vs. Wade. An opportunity for Elvis to clarify that he wasn't about to disregard his musical roots to suit the 'men in black suits' became all the more meaningful as we are reminded that the universal symbolism and intimacy of music can often at times reach further than words in the midst of political change and unease.
Elvis Film Trailer
Rather than detailing the regretfully predictable rise and fall of a musical icon, as such films often do, Elvis unravels the antagonising, manipulative relationship between the global star and the preying Colonel.
Hanks embodied the role of a villain with results indicative to his versatility as an actor. A family friendly, caricature – like figure on the outside, (complete with a permanent cigar in hand poised eerily like an extra finger), Hanks excels as the cold hearted, money-obsessed Colonel, igniting our anger as we watch him silently seal the deal that ensured Elvis was US-tied for the foreseeable, all whilst earning and ultimately costing Elvis small fortune.
In one climatic, revelatory scene, we hear the familiar Suspicious Minds in a different light. In a spine-tingling, stripped back rendition, Elvis utters the words "we're caught in a trap…I can't walk out" as a painful reflection to his own real-life imprisonment, spitting the words towards Parker whose twisted web of deceit is finally revealed.
Whether you're a fan of Elvis or not, (and we're reminded of the latter with nods to ironic "I Hate Elvis" badges and rumours of death threats), the sincerity of the actor's performances cut through with a riotous intensity. At the end of the two hours and forty minutes we're left seething and bereft, perplexed as to how such a sad affair could happen, even though it did happen, and it happened to a grown man more than capable of making up his own mind.
Nonetheless, the poignant message in the story of Elvis' life is conveyed in the fact that he was so transfixed by his own self-destructing destiny to make his doting Mother proud and to leave a legacy behind, that he didn't survive long enough to see that he already had, to a truly monumental extent.
Naomi Campbell