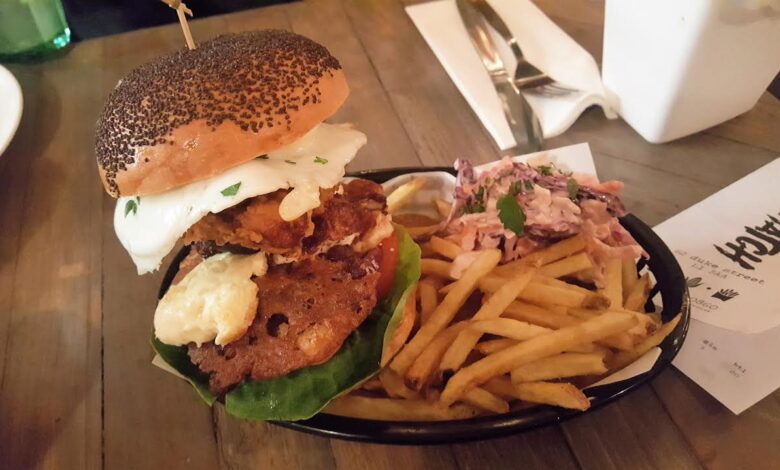 Liverpool is fast becoming a vegan food hotspot, with new and exciting restaurants opening in rapid succession. That being said, it's only at this point that we are finally getting our very first establishment specialising in vegetarian and vegan junk food. Yes, vegans like junk food too! Down The Hatch is changing the face of the vegan food scene in Liverpool.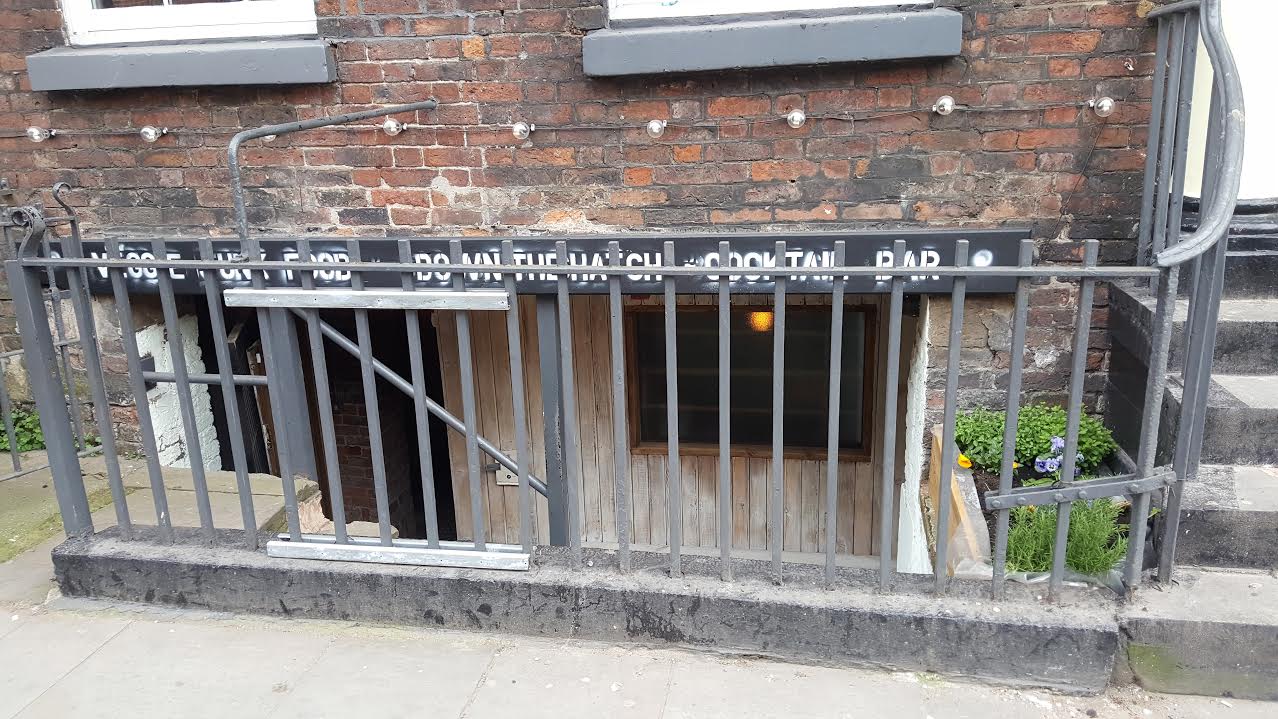 Based on Duke Street, Down the Hatch is a bar and restaurant that boasts a huge vegetarian/vegan menu. What sets this particular establishment apart from the rest is their take on the food that they serve. Don't expect lean salads or green smoothies, Down the Hatch is all about big flavours, big portions and dishes that you wouldn't usually expect from a meat-free eatery.
As the name suggests, Down the Hatch is based down in a basement and quite unassuming from the outside. However, don't let appearances deceive you as once you're inside you will realise that the restaurant is much bigger than you expected. The interior boasts a modern, rustic aesthetic that is both impressive and extremely comfortable. There is an aspect of 'American Diner' to the look and feel of the place which is also reflected in the menu.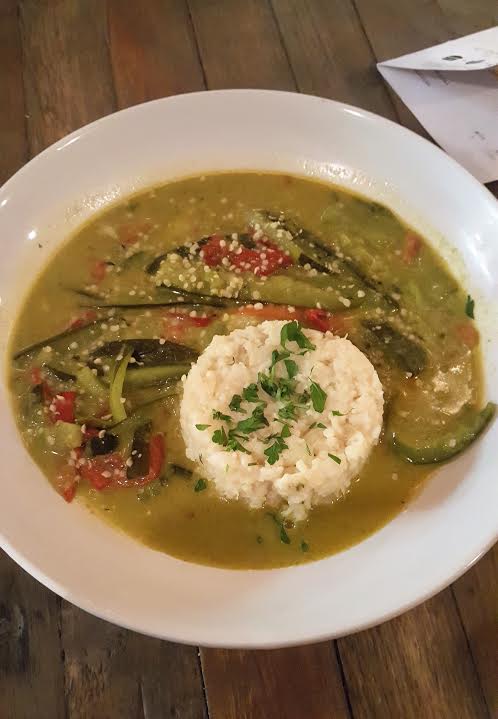 We found the staff to be extremely friendly and welcoming and this must have been the case for everyone because there was definitely a noticeable jovial atmosphere that permeated the restaurant. Interestingly, Down the Hatch is a complete family affair, with the majority of staff being relatives or close friends. You definitely get this impression whilst there as there is a certain laid back, non-formal quality to things.
The food and drinks menu is a particular triumph. In terms of beverages, alongside the usual beers, wines a spirits, Down the Hatch also offers a number of intriguing cocktails- many of which are just as beautiful to look at as they are tasting.
If you are meat-free but resent how difficult it is to find tasty, filling junk food- this really is the place for you. They offer a wide range of of meals, including small and large dishes with a distinct 'street food' vibe, as well as more traditional fare.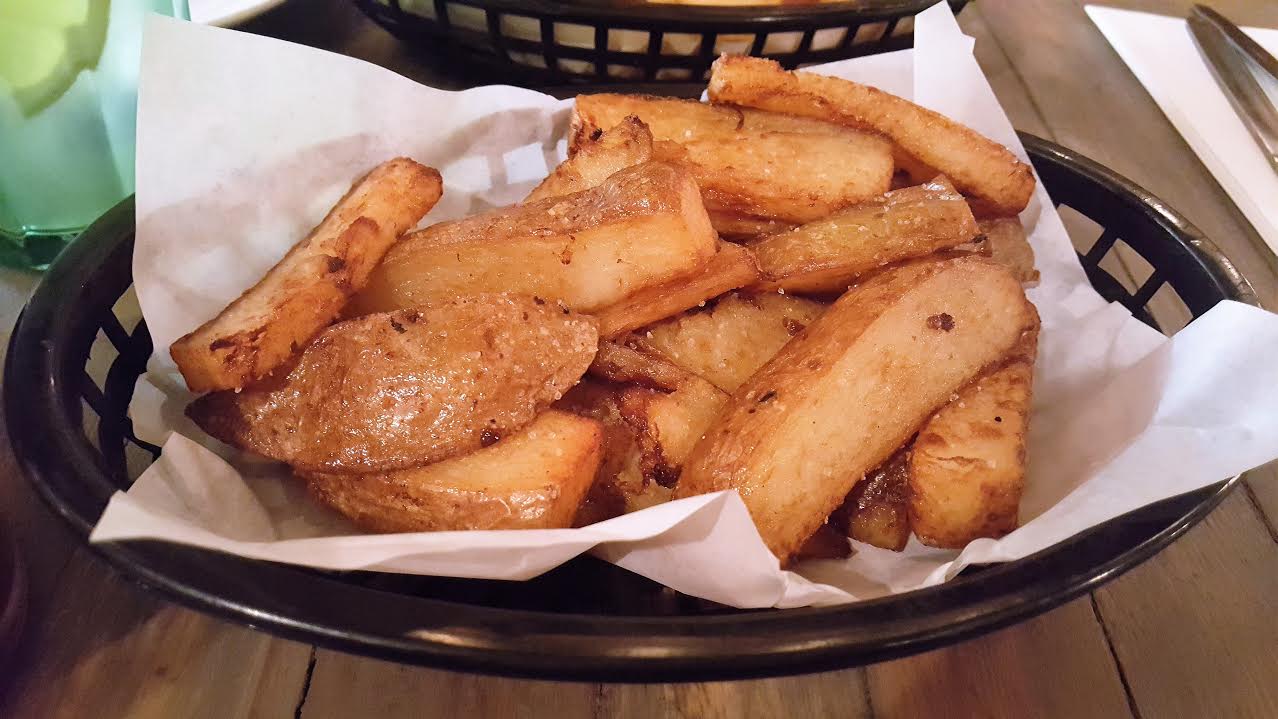 We ordered the vegan Thai Green Curry and the 'Incredible Bulk' which was a humungous bean burger, featuring a Portobello mushroom, fried egg, hash brown and halloumi cheese- alongside chips and 'slaw. The Thai green curry was packed full of flavour with the highlight coming from the uniquely creamy cauliflower rice. The 'Incredible Bulk' was definitely comfort food at its best and very much aptly named (expect a mountain of food!)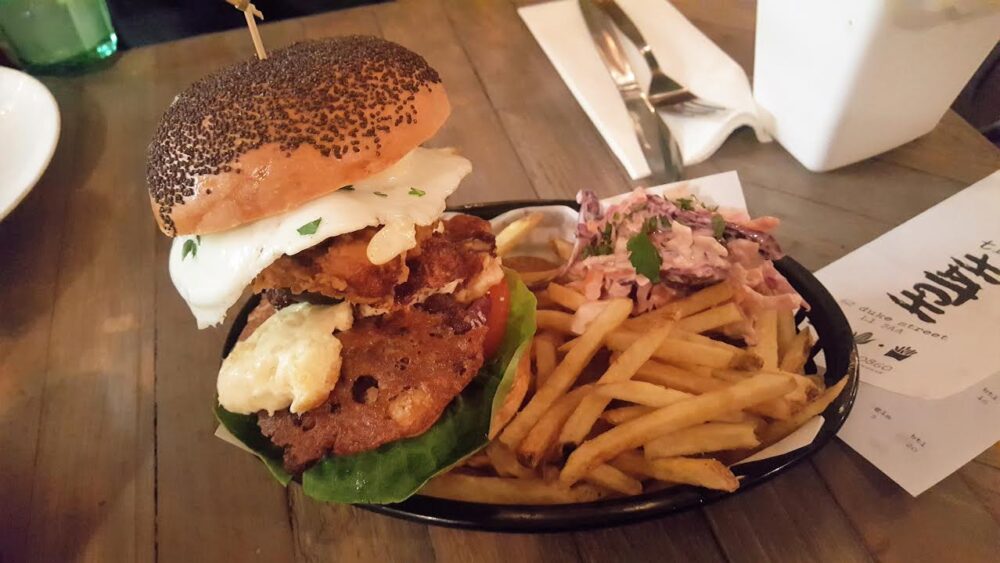 Just looking at the menu and what other diners were ordering, we only really scratched the surface in terms of the cuisine. Down the Hatch offers something for everyone, whether it's Pie and Mash, Veggie Lasagne or more unique dishes like Salt 'n' Pepper Tofu, Jack Fruit Sundae and the incredibly impressive, Cauliflower Five Ways.
Yes, Down the Hatch is a godsend for those of us who opt for a plant-based diet but it's also just a fantastic restaurant and one that has something to offer for everyone- whether you eat meat or not. I highly recommend you give this one a try, I know I'll be going back soon.
For more information and to book a table at Down The Hatch visit https://www.downthehatchliv.co.uk/
Jamie Lewis