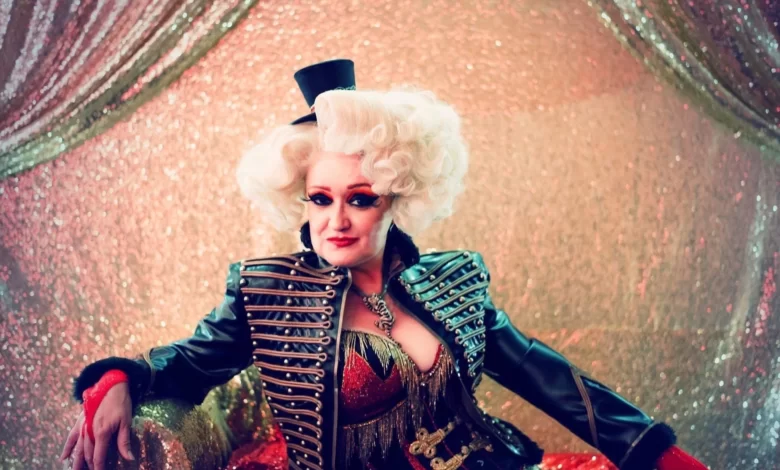 Liverpool based arts organisation DaDa return this month with a winter programme of three distinct events, adding warmth, joy and challenge to the cold winter nights. Unity Theatre and Museum of Liverpool will play host to the disability and deaf arts programme which aims to entertain and educate.
The programme, running in November and December will present a Liverpool premiere play, a night of captivating cabaret, along with their annual social justice lecture presented on international day or disability.
First up on Thursday 23 November, a brand-new play co-commissioned by DaDa and Manchester Independents will premiere to Liverpool audiences. Toilet Paper Diaries, written and performed by DaDa Fellow Porcelain Delaney is a heartbreaking and hilarious tale which anyone with endometriosis or another condition which has led to medical gaslighting will instantly recognise.
We meet Eloise in a hospital bathroom, she needs to do a sample, but she just can't go. We jump into her childhood diaries exploring what's brought her to this moment. Eloise was a happy child, a promising ballerina with no doubt she was going to grow up to be a star.
Then at nine years old her periods start and completely derail her life. She's thrown face first into a war against gaslighting doctors. They refuse to listen or believe her, but she's determined she will keep getting louder until someone hears. Toilet Paper Diaries has access at the heart of the play and includes creative captions and audio description. There will be an optional touch tour before the play starts. There will also be BSL interpretation.
DaDa Cabaret has been a popular staple in DaDa's programming and returns this month to the Unity Theatre on Friday 24 November, warming up the winter with a melting pot of engaging performances.
The night promises to be an explosion of emotions and ideas – fun, uplifting, challenging, extravagant, silly, and politically charged all rolled into one dazzling evening of performance.
A showcase of deaf, disabled, and neurodivergent acts including: Poets Joan Cooper Snark & Shaun Fallows, comedians Lizzy Lenco & Eden MW and singer Miss Sunny Sarah will light up the darker November nights with a line-up of sparkling cabaret performance hosted by the sensational Diva Hollywood and with Dora Belle delivering BSL.
Finally, this year's Edward Rushton Social Justice Lecture takes place at Museum of Liverpool on Sunday, 3 December from 1-3pm, held on United Nations International Day for People with Disabilities and named after the blind poet, activist, abolitionist, and disabled man.
This year, the insightful and inspirational Ashokkumar D Mistry will be exploring 'Reclaiming Nonchalance' the value of disabled lives, particularly exploring the value of the lives of disabled children and young people. Ashok will be joined by panelists Kai Syng Tan (Artist / Agitator / Professor), Sonia Boue (Artist / Writer / Consultant) and Dr Linzi Stauvers (Acting Artistic Director, Education, Ikon Gallery, Birmingham) to discuss the topic. The lecture is presented in conjunction with Disability Arts Online and will also be live streamed on the day and then made available on demand.
Rachel Rogers and Ngozi Ugochukwu for DaDa said: "We are delighted to be back with an exciting and challenging programme of events this winter, which hopefully has something for everyone and will get people thinking. We are thankful to continue working with our venue partners, Unity Theatre and Museum of Liverpool and to collaborate with Disability Arts Online and Manchester Independents to enable us to host part of the programme, as well all our funders, who we couldn't be here without.
"We are looking forward to welcoming audiences later this month as we continue to nurture, develop, and celebrate talent in disability and deaf arts and highlight disability as a social justice issue that all of society needs to address. Watch out for news on the return of DaDaFest International 2024 in the new year."
For more information visit www.dadafest.co.uk