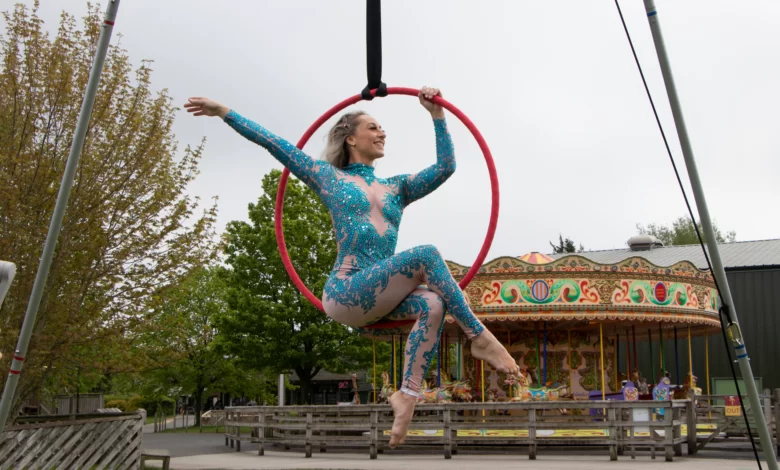 Visitors will enjoy added entertainment when visiting Knowsley Safari this half term, as a Seaside Carnival takes over the Foot Safari. Expect acrobatic skills workshops, pier-themed games stalls, traditional performers, striped deckchairs, and of course, sand! All included in the regular ticket price.
The adventurous types can immerse themselves in a range of interactive workshops, including plate-spinning, aerial hoop and silks, hoola-hooping, and acrobatics. Giant stilt walkers will be overseeing the goings on, ensuring guests are entertained, while food outlets will be serving up delicious ice creams.
Between 11am and 4pm each day, seaside favourites including Coconut Shy, Bottle Ring Toss, Beat the Buzzer and Ball in a Bucket will excite all ages, while bringing a touch of nostalgia to older guests – and with an added challenge of collecting stamps for prizes.
Stephanie Costello, Events Manager, Knowsley Safari says: "The Great British Seaside is a national institution and a great way for families and friends to make memories.  Our very own Seaside Carnival is a fantastic way to bring a taste of this to the Safari during May half term. We can't promise socks in sandals and knotted handkerchiefs – or even the weather – but we can ensure our guests enjoy a wonderfully fun day out!" 
Seaside Carnival activities, including games and workshops, are included in the general admission ticket price. Please note that charges will apply for food and drink. As well as making the most of the Seaside Carnival offerings, visitors can also enjoy the Safari Drive and the Foot Safari, with the chance to see animals including Amur Tiger, giraffe, African lions, white rhino, and Iberian wolves.
A day out at Knowsley Safari can be made even more interesting and inspiring by downloading the free Safari Drive app, which shares lots of interesting and fun animal facts during the five-mile route, as well as visitor maps to make sure nothing is missed.
For further information and to book tickets visit here.