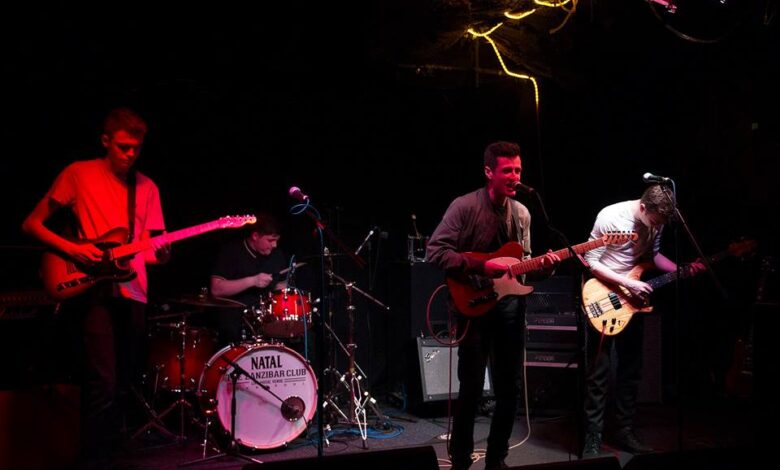 Let's get straight to the point: promoters are the unsung heroes of any live music scene. Their drive, energy and commitment are vital for it to grow and flourish. Without them – taking risks, both financial and creative, muso's will be confined to bedrooms, probably designing the front cover of that difficult second album….In other words, promoters are pivotal to the music industry. And having had some experience of the nerve-racking world of putting on gigs, attending the Boot Live launch was one of mixed emotions – excitement and empathy.
But I need not have worried. The bands that showcased proved with Boot Music we were in very good hands, as they know their musical chops. First up where Mosley Bar, four lads who to these ears were reminiscent of early Wedding Present and James circa "Hymn from a Village". Highlights were the excellent "Risk" and the latest release "Two Apart", which proves that these guys can put together great tunes….a band to watch closely.
Second up were FACTORY, and if you were expecting some homage to Tony Wilson, think again, as there wasn't a northern raincoat in sight. This four- piece literally claimed the Zanzibar stage for Runcorn, and tore into their personal mixture of west coast psych, 60's pop sensibility and fuck you attitude. It was like they were playing to ten thousand people, and you wouldn't bet against that happening one day. But all bets are off with Factory's future when you consider that this is a band that have a song called "Norman Wisdom", and have a drummer who seems to have learnt his work ethic from the great Bonzo himself – studying every chapter and beer stained verse. Full marks Mr Worrall.
Misfires were last up, presumably having just travelled from their home town of Swindon, and they managed to raise the bar even higher. Having toured with The Sherlocks, their stage craft is evident, along with the supremeness of their own brand of indie pop heaven. Notable highlights, amongst a commendable set were "Coming Home", "22" and the glacial "Flirt with Me". Oh, and the brilliant "Come On Over", which is, as I have just said, brilliant.
A fantastic night, curated for our listening pleasure with much insight and thought. With the pressure off, the main man at Boot Music was spotted down in the mosh pit, having it large. And who could deny him that? Mission accomplished, and now onto the next Boot musical adventure.
Steve Kinrade