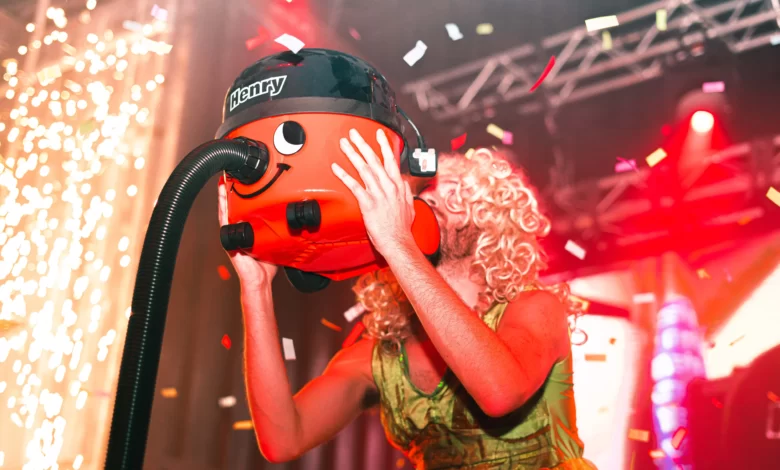 Bongo's Bingo, the wild phenomenon that has taken the world by storm, is thrilled to announce an incredible collaboration with Henry, the iconic UK-made vacuum with a smile. This unique partnership promises to blend the vibrant energy of Bongo's Bingo with the fun – and some would say quirky appeal – of Henry. It's time to meet the Bongo's Henry at CONTENT, Liverpool.
Bongo's Bingo has redefined traditional bingo by infusing it with amazing party music, dance offs, crazy prizes, crowd Karaoke and a contagious party atmosphere as part of the competitive socialising revolution. Known for its boundary-pushing events that combine live entertainment, interactive madness and unexpected surprises, Bongo's Bingo has captured the hearts of audiences worldwide.
Since starting in Liverpool in 2015, Henry has become the defining prize to win at the shows. Well over 5000 units have already been proudly gifted as prizes by Jonny Bongo and his team, with exuberant chants of "Henry, Henry, Henry!" commonly heard as the wee chap is paraded on stage to the masses before being taken home by its proud new owner. It certainly makes for a wonderfully surreal sight which feels quintessentially British.
Henry vacuum, on the other hand, has been a staple in households for decades, renowned for his power, reliability and value. With over 15 million sold, the smiling face of Henry has become a celebrated icon around the world.
And now, in this one-of-a-kind limited-edition collaboration, participants at forthcoming shows will have the chance to win an exclusive Bongo's Henry throughout the coming weeks at all Bongo's Bingo's UK locations from Friday 22nd September onwards including CONTENT in Liverpool. In the unique and vivid Bongo's pink, the brand-new vacuum is only available at Bongo's Bingo.
Jonny Bongo, Bongo's Bingo Co-Founder, says: "We are absolutely buzzing to join forces with Henry vacuum and the team at Numatic – this is literally something I've dreamed of happening and I can't believe we have our own limited edition Bongo's Henry. The reaction to Henry is always magical and in creating this exclusive one of a kind unit, we now have an even more special prize to offer. For me and the team, it's absolutely bonkers to see this become real. I vividly remember back in our earliest days in Liverpool buying the first Henry to give away, and having this feeling people would love it – and from the room going wild then to the present, the passion for Henry at our shows keeps getting bigger and madder."
Henry vacuum's spokesperson adds, "We know our customers choose Henry because he's fun, stands out from the crowd and is fantastic value. We always have lots of offers to collaborate, but when we heard the Bongo's Bingo story and how Henry was already so popular as a prize, we knew this was something different. And when we began working with the Bongo's team, it was clear it was exactly what visitors loved about the Bongo's Bingo experience and why their audience loves Henry. This is an exciting partnership between two very distinct British brands. Jonny Bongo himself pitched in at our UK factory,  in Somerset to help with the first Bongo's Henry vacuum coming off our production lines."
The Bongo's Bingo and Henry vacuum collaboration begins at Bongo's Bingo events across the UK with the truly unique Bongo's Henry available from Friday 22 September onwards.
Bongo's Bingo
CONTENT, Cains Brewery Village, Stanhope St, Liverpool, L8 5XJ
Doors open 6pm – last entry 7.30pm – show starts 8pm
Tickets and info at: bongosbingo.co.uk/city/59/liverpool