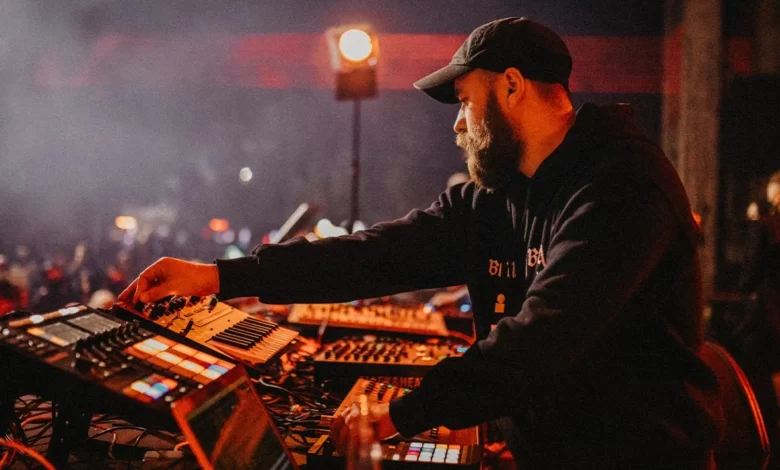 A celebration of culture, unity and creative freedom of expression, Xpresia Festival, takes place at Invisible Wind Factory, Meraki and Quarry over Sunday 7 – Tuesday 9 May 2023.
Xpresia is a unique and free to attend festival concept that brings together different forms of both electronic and performing arts within a carefully curated three-day programme, celebrating culture, unity, and creative freedom of expression.
Xpresia Festival is born from the shared desire to bring Ukrainian and UK artists together in solidarity as Liverpool hosts Eurovision on Ukraine's behalf. The festival is collaboratively produced by both British and Ukrainian creative producers and curators to deliver something truly unique in Liverpool as part of EuroFestival 2023. 
Across three days – Sunday 7, Monday 8 and Tuesday 9 May – over 30 Ukrainian and UK artists will showcase their work to the city and world beyond. Taking place in the thriving development area of the Ten Streets, Xpresia will happen across some of Liverpool's best independent arts and music venues; The Invisible Wind Factory (Hall, Substation & Garden), Meraki, and Quarry.
Artistic disciplines showcased across Xpresia Festival will be creative technology and visual arts, electronic music production and DJs, live music, theatre and cabaret in a celebration bringing Ukrainian and UK artists together as part of the Eurovision festivities.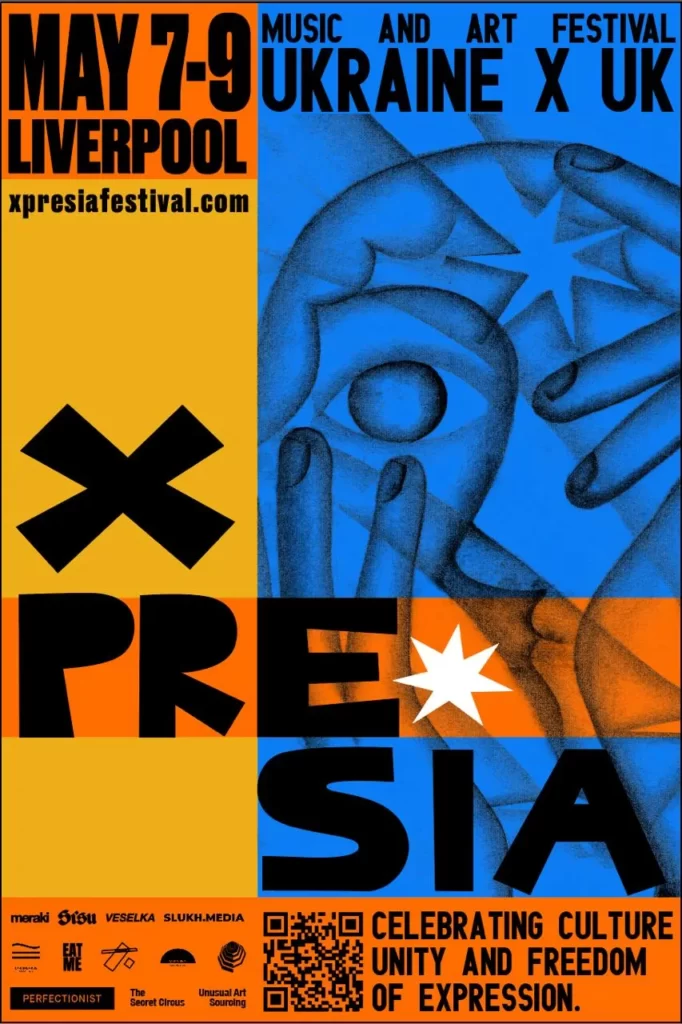 Xpresia Festival Programme
Sunday 7 May – 10pm-6am (including secret after party)
Xpresia kicks off with electronic club nights across all three venues on Sunday 7 May. The lineup includes Kyiv-based producer and rave hero Koloah, DJs from Sisu and Kyiv's Veselka, DJ SweetSpot and friends (Humble Abode), local legend Luna Thee Frenchie, and a special guest to be revealed. There will also be an after party with venue and acts to be announced soon. 
Monday 8 May – 1pm – midnight
On Monday 8 May, IWF hosts a lineup of live acts including Liverpool band Ostrich, Kyiv-based rock group Love'n'Joy, and headlined by Ukrainian alternative music project Zetetics. Meraki becomes the home for electronic and live-electronic acts such as Liverpool act Podge and Ukrainian acts Nu-jazz/electro pop duo Krapka; Koma and electronic pop artist Palmo X. Quarry transforms into a cabaret club to host The Secret Circus for an Xpresia special, as well as an Unsual Art Sourcing takeover and panel discussion with UKRAINE PRIDE.
Tuesday 9 May – 7pm – midnight
Kyiv-based audiovisual jazz-rock band Stas Koroliov headline IWF on Tuesday 9 May, with other acts including Liverpool dance-rock band DSM IV and Ukrainian alt-pop artist Marineris. At Meraki dark electro act Tucha will feature, chill electronic RnB artist Zbaraski and jungle, jazz, and drum'n'bass inspired saxophonist/composer Andrii Barmalii. Over at Quarry is a life changing, not-to-be-missed radical cabaret presented by Eat Me and Pomoc, showcasing migrant talent, influences and voices through a queer lens.
Xpresia Festival Collaborators
The festival is a collaboration between Liverpool-based project partners Invisible Wind Factory, Kazimier Productions, independent theatre producer, Sonia Chapman, and Ukrainian partners Slukh Media and Perfectionist London. Other delivery partners include cabaret collectives Eat Me and The Secret Circus, Ukrainian queer rave Veselka, Sisu – a UK platform for women and non-binary DJs and producers, UKRAINE PRIDE, Amorphic Music, and Sun Palace Sound System.
Maksym Serdiuk, SLUKH.MEDIA founder & editor-in-chief: "I see the great challenge for SLUKH.MEDIA and me personally in popularising Ukrainian culture and music. The Ukrainians have always fought for possibility to express their own opinions, minds, creative ideas. And Xpresia Festival will be a great experience for you to come together over us."
Oleh Teteriatnyk, creative producer of Xpresia. Perfectionist London: "We are bringing emerging artists from Ukraine to Liverpool. Some of them are mainstream, some are pretty alternative, but both are underrepresented. So I'm happy about the opportunity to show how European we are in music.I'm looking forward to making them exposed in the UK by turning the worst time for every Ukrainian into something good. Hope that we can manage quantum leap for every artist we have.
"Xpresia Festival will showcase the Ukrainian spirit and intention to the UK audience. So I'm watching the space for them in the media to put this music on air and intro every headphone. That's a pleasure how much support has been given to us by Culture Liverpool and Mayor. Liverpool is breathing and pulsing with music. Let's roll."
Xpresia Festival
Invisible Wind Factory and Substation, 3 Regent Rd, Liverpool, L3 7DS 
Meraki, 3 Dickson St, Liverpool, L3 7EB
Quarry, 17 Love Ln, Liverpool L3 7DD
Tickets are free and available to book at: https://xpresiafestival.com