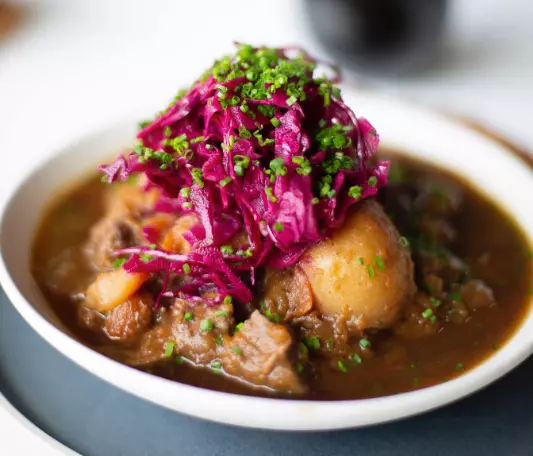 Liverpool's culinary scene is as vibrant and soulful as its storied history. At the heart of this scene is "scouse" – a hearty, nourishing stew that warms the bones and lifts the spirits. Originating from "lobscouse," a dish brought to the port by sailors, it has become a symbol of the city itself.
For the uninitiated, scouse is a must-try local delicacy, and for Liverpudlians, it's a taste of home. Whether you're a local or a visitor, here are the best places in Liverpool to tuck into a bowl of authentic scouse in Liverpool.
*Look out for vegan scouse, known as Blind scouse, in the listings below too.
Maggie May's
Nestled on the bustling Bold Street, Maggie May's serves up traditional scouse that sticks to your ribs and soothes your soul. Their scouse is a homely treat, perfect after a day exploring the city.
Skaus
When the eatery's name is Skaus, you can bet on a Scouse that's as authentic as it gets. Drawing influence from Scandinavian traditions, the commitment to seasonal ingredients, and the inherent warmth of Scouse hospitality, Skaus offers a cozy refuge for a comforting meal on a cool day. It's the ideal spot for unwinding with a delightful dish when the mercury dips.
*Blind scouse is also available.
Ma Boyle's Alehouse and Eatery
Ma Boyle's Alehouse and Eatery offers an inviting stop to heat up post a waterfront wander in Liverpool. With its Scouse served alongside tangy pickled red cabbage and a fresh, crusty roll, it's an unbeatable choice for tasting the cherished local stew. It's the go-to haunt for those looking to experience the city's beloved flavours.
*Blind scouse is also available.
Ma Egerton's Stage Door
Ma Egerton's Stage Door, a historic pub with character in spades, offers a scouse that's rich in history and taste. Their recipe has been passed down through generations, and they serve it with crusty bread – a perfect lunch for a cold day.
Homebaked Bakery Anfield
Right by Anfield Stadium, Homebaked Bakery is a community bakery and café offering homemade scouse pies that have become famous among football fans and locals alike. It's the perfect spot to feel the city's community spirit.
Nova Scotia
At Nova Scotia Liverpool, experience the comforting embrace of traditional Scouse, served with heartwarming hospitality. Nova Scotia offers a culinary nod to Liverpool's maritime links, presenting the city's signature stew in an ambiance that's both classic and relaxed. Perfect for both the history enthusiast and the culinary adventurer, Nova Scotia is a place where each spoonful of Scouse is like a warm Liverpool hug.
*Blind scouse is also available.
Liverpool Cathedral
If you're looking to savour a steaming bowl of Scouse amidst awe-inspiring surroundings, make your way to the Liverpool Cathedral and the Welsford Bistro . Here, you can indulge in the rich, comforting stew within the majestic walls of the UK's biggest cathedral and Europe's fifth largest. It's a unique opportunity to dine in grandeur while enjoying a quintessential Liverpool delicacy.
*Blind scouse is also available.
Ye Cracke
Ye Cracke is a warren of rooms and history, where John Lennon used to enjoy a pint. Their version of scouse is a no-frills, traditional affair that pairs splendidly with the pub's old-world charm. Scouse is served on Fridays, Saturdays and sometimes Sundays!
Lunya
If you want to experience a Catalonia spin on the traditional scouse dish then head to Lunya. Their Catalan Scouse blends the best of Liverpool with Catalunya; made with chorizo & morcilla, topped with spiced red cabbage.
Scouse is more than just a dish in Liverpool; it's a part of the city's identity. Each of these venues serves scouse with pride and a pinch of that unique Liverpool hospitality. So, next time you're in town, make sure you sample this local specialty – it's a culinary experience that captures the essence of Liverpool.