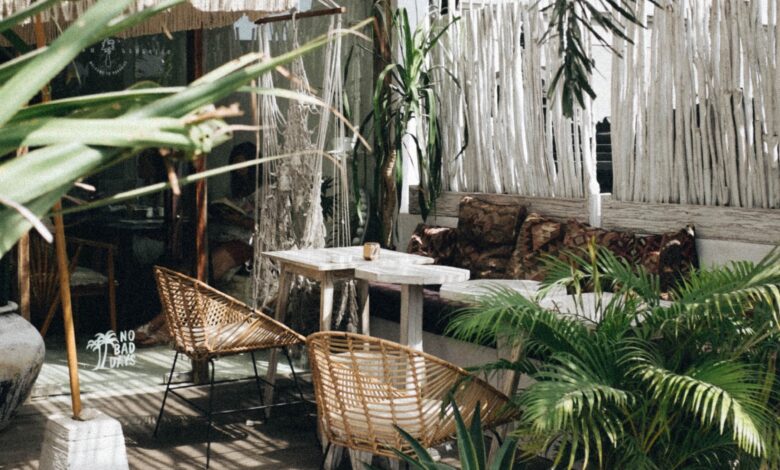 Other
Trendy Décor Ideas For The Outdoor Space
Is your garden a little bland and uninviting? Does this make you stay indoors, even when we are enjoying one of the UK's rare perfect summer days? With just a few tweaks, you can transform your garden into a welcoming space where you will want to spend all your time. Here are some trendy décor ideas for your outdoor space.
Planters and Baskets
Flowerbeds are great, but they are not easy to move around, without a great deal of hard work! While you should keep a few flowerbeds – especially in difficult corners – why not add to the colour and freshness of your garden with some planters and hanging baskets? These can easily be moved, the contents can be completely changed when you wish, and they are a great way to break up your garden into sections: a play area for the children, a seating area for adults, and even to form a screen between you and your wheelie bins.
Keep it Warm
Even the best summer days can become chilly without warning, so having a firepit or chiminea on hand is a wonderful way to counteract a sudden dip in temperature. Firepits can be fixed in place, or they can be portable – you can even take them with you when you go camping! Whether you're away camping or relaxing in the garden or patio, you can get firepits in the UK from Forest Fuel's website.
Light Up Your Life
The nights begin to draw in quickly, even when the temperature stays warm – make sure that you can maximise the benefit of those long warm evenings by having an array of solar lights dispersed throughout your garden, ready to automatically light up as the night falls, so you and your guests can continue to chat, play or simply relax, even as the moon rises.
Cosy Corner
Set aside a small piece of your garden as a miniature meditation garden. Install an inviting bench, carefully placed out of the wind, but in such a way as to maximise your comfort – a little sun, but not too much, and keep this separated from view behind a small hedge or a judiciously placed planter. Then use this cosy corner for reading, sensible sunbathing or just enjoying a moment of peace out of the hustle and bustle of the house.
Water Feature
Water features are no longer the pricy and time consuming installation they used to be. You can find small self-contained fountains that recycle the same – surprisingly small – amount of water over and over again, requiring only a little topping up as evaporation demands. The gentle chuckle of a water feature as well as the negative ions produced by falling water, are both calming and rejuvenating to humans. Adding a water feature to your garden not only adds interest to your garden, but it will attract birds, butterflies, and small animals too to give your garden liveliness and interest.