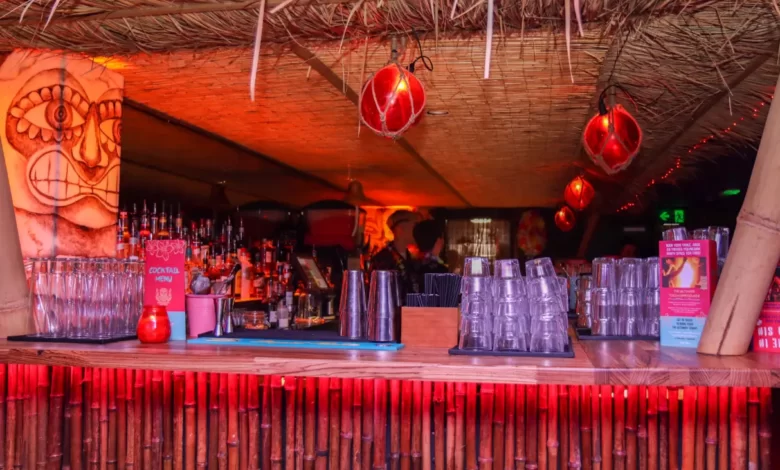 Bars in Liverpool
New Liverpool City Centre Bar, Tiki Hideaway, Launches Easter Weekender
After a hugely successful launch in February 2023, the independent team behind the Mean-Eyed Cat Bar, based in Seel Street in Liverpool's bustling city centre, have launched their very own Tiki Hideaway, a private space for partygoers.
As a new Spring season is now underway, the theme of this luscious venue is all about an urban beachcomber vibe, all set in an ultimate topical destination for the cocktail lover, with its unique Tiki decor – whatever the season, it's always summer inside.
The Tiki Hideaway in Seel Street is the second outing for this family owned and based team, with the original venue in Call Lane, in Leeds, already established as part of the city's cosmopolitan nightlife scene. This new venture, complete with 1950's tropical slice of Tiki goodness, is celebrating an ultimate Easter Weekender from Thursday 6 April – Monday 10 April 2023, so that existing and new guests can enjoy a fun, polynesian party paradise.
Hidden within the existing Mean-Eyed Cat Bar, the Tiki Hideaway's Liverpool lair has a paradise-inspired playlist and an iconic cocktail menus, Island Inspirations and Tiki Classics. Guests can also opt for the iconic Dead Man's Chest, which is dubbed the sharing cocktail for swashbucklers only, the Hideaway's signature mix including coconut rum, mixed with lychee syrup and an array of delicious ingredients.
Signature cocktails also include the Cannon Smoke, a Tiki twist on an old fashioned, and Privateer's Grog, a dark rum blended mix topped with mint and grated nutmeg. A range of Tiki Shooters and Prosecco are also part of the tropical drinks offerings, as well as The Zombie, which has to be lit by bartenders to be seen and believed.
Spokesperson for the Tiki Hideaway Phil Harrison adds: "As a team we have been overwhelmed by the positive feedback we have received since the launch of the Mean-Eyed Cat Bar in Liverpool. As a family enterprise with links to this wonderful city, it made perfect sense to us to launch our very own Tiki Hideaway, which isn't just an addition, but its own stand-alone venue, with a unique stance and friendly vibe.
Apart from our colourful Tiki decor, our team really make the Hideaway what it is – welcoming, dressed for paradise, and comprehensively trained to deliver first-rate guest service, these are cocktail supremos with their own flavour. This Easter Bank Holiday weekend we look forward to welcoming party goers who literally want to escape to paradise, with some extra-special delights you can access via our socials and website.
Our Tiki Hideaway is also the perfect spot for a special occasion celebration, and we also offer our Tiki Cocktail Masterclass, where guests learn how to mix and deliver some of our Tiki Cocktails from our top bartenders. It's the perfect space for birthdays, parties, hen and stag events and anything other occasion our clients wish to celebrate.
Liverpool is a very special place to us, and this season in particular, with events like Eurovision in the calendar, we look forward to welcoming guests from all over the region, as well as national and international visitors.
In a city which already has a reputation for kicking up its heels and partying, this Easter Weekender our Tiki Hideaway is offering an invitation to take those heels off, and get freaky in Tiki."
Tiki Hideaway is based at 71a Seel Street, Liverpool L1 4AZ.
Opening times: Monday – Sunday 9pm to 4am.