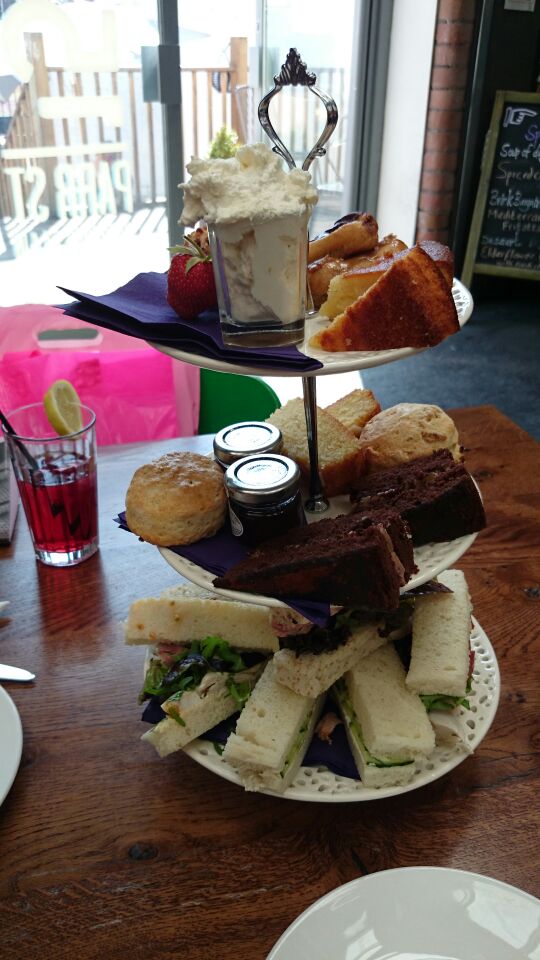 The Brink has always been a favourite of ours. Since it opened in 2011 it has led the way in creating a diverse and imaginative dry bar and eatery as well as playing host to up and coming musicians and performers. It has become an integral part of Liverpool's social scene.  
We headed down on a sunny Saturday afternoon in need of a sit down and some serious refreshments. Opting for the afternoon tea "A selection of finger sandwiches, including honey and mustard roast ham, butter-roast chicken, black pepper & cream cheese and cucumber, served with warm seasonal scones, with double cream and strawberry jam and a selection of miniature cakes and pastries." We did however order cold drinks rather than the tea with it being such a warm day.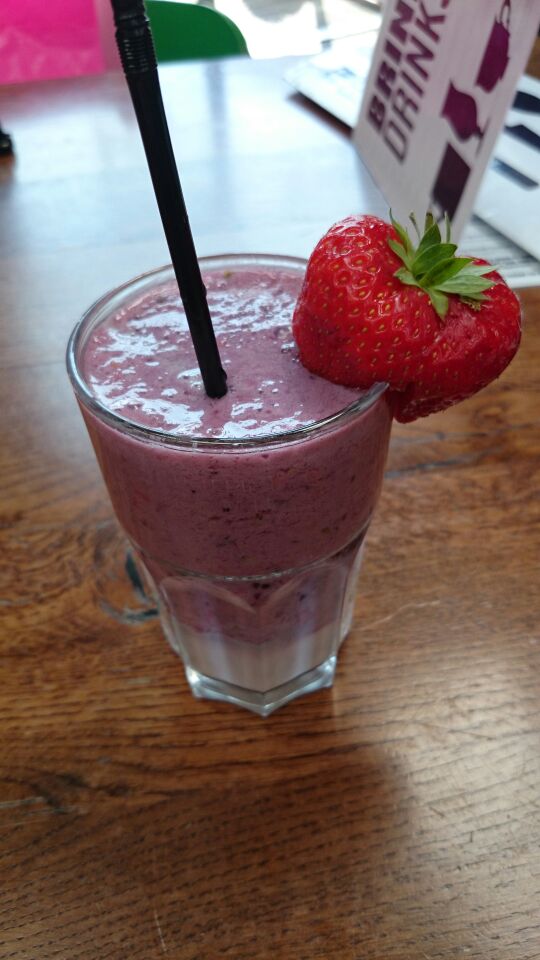 The Very Berry Smoothie was a perfect way to get some of your five a day and authentic (with bits) and to cram even more of your five a day in we tried a 'Fresh Press'. With loads of options of what combinations of fruit and veg you can have, the friendly staff know exactly what goes well and what doesn't, so we left it up to them to surprise us. We weren't disappointed, it tasted incredibly healthy but also really nice – unlike certain healthy smoothies which you have to hold your nose to drink!
When our afternoon tea arrived we delved into the generous sandwich selection. The butter-roast chicken were just as delicious as they sound, full of flavour as were the mustard roast ham, with thick cut meat on both white and brown bread. The cream cheese and cucumber complimented the selection well.
After devouring our first layer we moved on to the scones. Still warm after being made fresh that morning and served with strawberry jam and fresh whipped cream. Already starting to feel full there were still cakes and pastries to make our way through. Chocolate cake, lemon drizzle with more than a hint of elderflower as well as chocolate and toffee mini éclairs. It was all so indulgent and yet The Brink is also very reasonably priced. There's several variations of the Afternoon Tea available including the celebration tea which is served with an alcohol-free Shampagne Cocktail and fresh strawberries served with chocolate dip. Definitely one to try next time!
Afternoon Tea at The Brink is served from 3.30pm onwards. For more info and full menu visit The Brink website here.