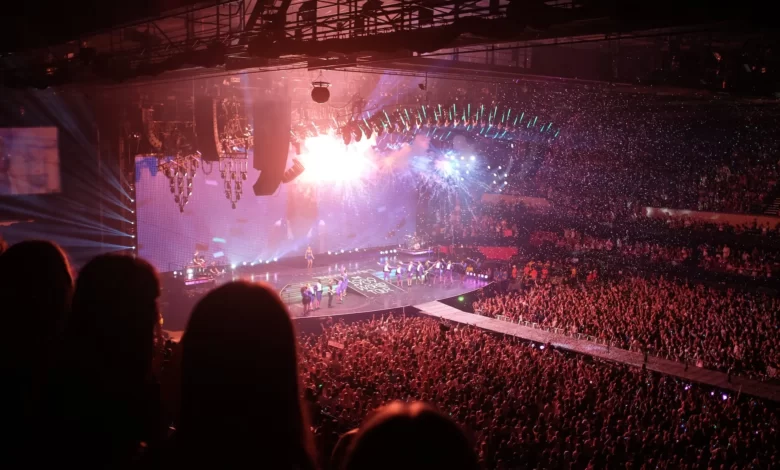 Since when did ticket-buying become The Hunger Games? Watching Taylor Swift fans fight tooth and nail over tickets to Anfield gave me second-hand anxiety. Like any good old-fashioned Northern busybody, it's the kids I felt sorry for. Or, more precisely, their parents.
What do you do when you've got two or more 'Swifties' on your hands in a cost of living crisis? Watching Miss Americana for the umpteenth time doesn't really cut it!
Even those who could afford the eye-watering prices were, by no means, guaranteed a seat in the Kop. Not when the process itself was enough to cause a coronary. It's no longer as simple as exchanging money for tickets to a show you want to watch. Not in the era of 'performative purchasing', when the build-up to the ticket release is as carefully crafted as a Super Bowl Half-Time Show.
It starts off with whispers… rumours of tour dates in the distant future. Every self-respecting superfan must immediately put their life on hold until said dates are made public. Then, there is the choreographed announcement of when tickets go on sale, complete with yet more rumours of how to 'beat the queues'.
For The Eras tour, anyone who hadn't scored presale tickets by preordering the 'Midnights' album had to register separately for general sale tickets to each specific city they wanted to try out for. Then, you had to wait to find out if you had been assigned an access code for Ticketmaster or AXS, which was – again, by no means – guaranteed. (Let's not talk about those left to languish on the waitlist.)
Even if you had somehow managed to purchase tickets, you hadn't struck a home run just yet. Several heartbroken 'Swifties' took to Twitter to report cancelled orders – even though they claimed to have stuck to the four-ticket rule.
No wonder, then, that there is social kudos in being able to say: "I survived – and here's my ticket to prove it!" It's a sleight of hand trick that a Las Vegas magician would be proud of… We're not only relieved to have been separated from our cash, but grateful and elated for the opportunity to do so. In the relatively peaceful and capitalist West, these are our war stories: How we survived the great 'Eras' ticket rush of 2023!
The show itself is almost relegated to the status of an afterthought – particularly if it is a mere speck on next year's calendar. For another dopamine rush in the meantime, we can buy advance merchandise. That, in itself, has become an 'event', with the wise buyer snapping up what they can – one eye firmly on the resale value. If Birkin bags were Generation X's investment piece, then an original Taylor Swift 'Folklore' cardigan is the savvy millennial's triple-locked pension.
None of this is said to criticise Taylor Swift or her contemporaries. To quote every TikToker everywhere: "Go get that coin, girl!" Taylor is the most visionary marketeer of her generation (anyone who can make over a million dollars selling cardigans in a climate crisis is a genius!). From what I can tell anecdotally from the 'Swifties' I am lucky enough to know, there is also a perverse pleasure in the pain of having waited for something.
In the Amazon Prime/Netflix-binging era, delayed gratification is a lost artform. We want things here. We want them now! Queuing to buy tickets for live musical entertainment may be as close as some people get to creating friction in their lives – building up the resilience that the current generation are accused of not having. In an age where everyone gets a participation badge on Sports Day, Ticketmaster is the true competitor's sports field.
I am not convinced, however, that the old-fashioned 'first come, first served' approach to ticket sales has no redeeming qualities. Certainly, the New World strategy of access codes and randomised queuing systems disproportionally affects low-income households. There's a certain degree of privilege attached to being able to sit and refresh your screen for hours at a time (often done covertly in the workplace) that those who work in frontline, blue collar, low-paid positions do not possess.
Parents who try and fail to secure tickets may feel inadequate or, worse still, push themselves beyond what they can comfortably afford – increasing their debt or causing money problems down the line.
There is also a greater risk of buyer's remorse. Having sat in a queue for five hours, might you be inclined to spend more than you budgeted for – faced with only a limited number of higher-priced seat options left? The 'sunk cost fallacy' makes us believe that, for that time to have counted, we must come away with something.
Interestingly, the problem may have already spread to Liverpool's theatre scene… When Shakespeare's Macbeth was announced as coming to Merseyside – fronted by none other than Ralph Fiennes – my book club went into a frenzy. We had to be there, but where was there? The exact location of the performance was a mystery, as were the dates of the shows and ticket prices.
When our nominated bookers logged on with a preregistered link, they were herded into the randomised queuing system which, annoyingly, kept being paused. The estimated time to access the site fluttered like an elusive nightingale – making work an impossibility. It was only when some kindly folk on Twitter got involved – signposting a second, more direct website – that we finally made headway.
We felt like a bunch of Charlies waving our golden tickets when the rallying cry of 'We're sorted!' went up on Instant Messenger. In the end, all that angst – all that worry – turned out to be Much Ado About Nothing (feel free to add in your own Shakespearian puns here). So now that our bloodied hands are washed of the capitalist exchange, we're free to count down to December – and no doubt satiate our appetites with merch along the way!
Michelle Ewen