Opening a few years back on Smithdown road and more recently venturing over into Crosby, it is safe to say that chicken restaurant Spitroast has rapidly become a firm favourite on Liverpool's ever-expanding casual dining scene, and enjoying a spot of lunch in their South Liverpool branch, it was easy to see why more and more Scousers are getting in the queue, just for a takeout.
Nowadays, when people think of chicken, their minds often wander to the notorious spicy chicken and chips of the Portuguese variety. However, what if you knew you could get something even tastier, fresher and healthier from a local, independent eatery? Well, news just in, you can. And it's great.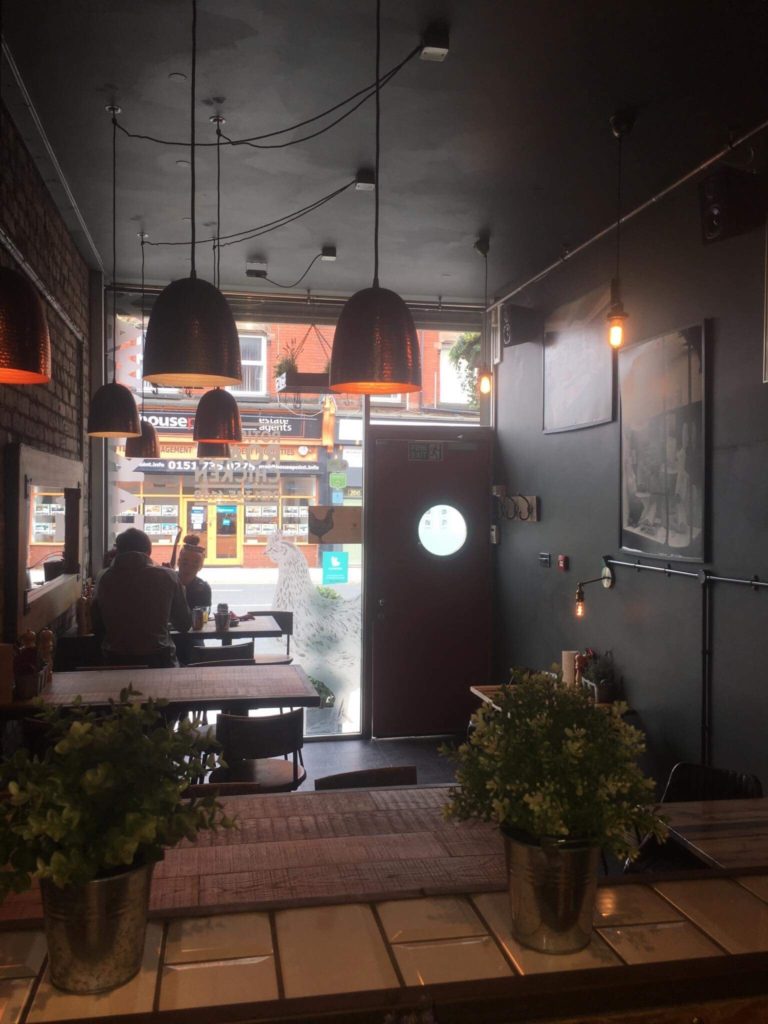 Walking into Spitroast , you're not only met with the friendliest of service , you're also hit with the delicious, unmistakeable smell of roasting chicken. Both the lunchtime and main menus display a wide choice, with the lunch options incorporating chicken into wraps and baguettes and the main menu showcasing bigger dishes such as Superfood salads, delicious sounding stir fries combining their roasted meat and Asian flavours or a cut of chicken (breast, leg, half and whole) with your choice of side dishes. Seeing as it was their speciality, I decided to try the chicken as it comes and went for half a roast chicken which was amazing value at £7.50 and picked a few side dishes to build a delicious lunchtime feast; chilli and garlic Tenderstem and Pak Choi, Sweet Potato Fries, homemade Slaw and a Jamaican Jerk dipping pot.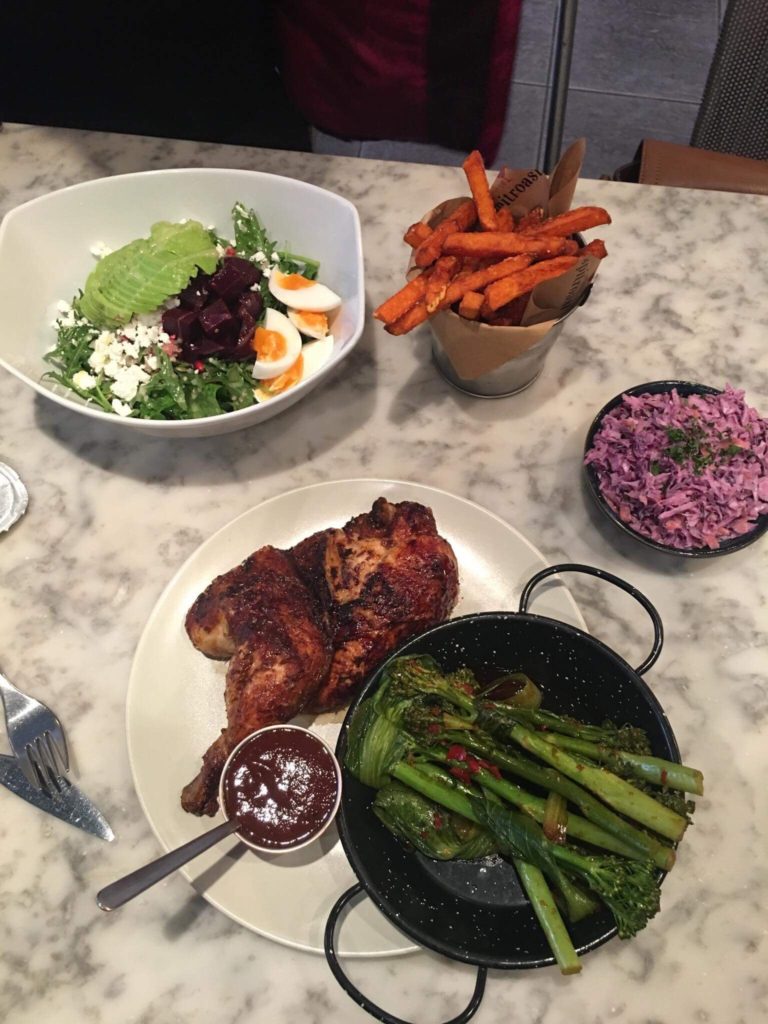 Other side options include their famous sweet potato mash, Peri Peri fries, spring greens, corn on the cob, Moroccan Cous Cous and even a mixture of slow roasted vegetables – as delicious as it all sounds, I couldn't help noticing how super fresh, simple and nutritious a lot of the options were. We also ordered the Superfood salad and with one of us being vegetarian it was great to see that instead of adding chicken, we could go for boiled egg instead. Yum. To drink, we simply had to go with a lemon San Pellegrino – an absolute winning combination. A range of coffees were also available and needing that mid-afternoon caffeine fix I also couldn't resist a Cappuccino – this was perfectly made with creamy, frothy milk and sprinkled with cocoa powder – as it should be.
The restaurant itself is small (but perfectly formed) with high stool style seating for diners to enjoy their chicken. However, it's also worth knowing that Spitroast accepts phone orders for both delivery and collection, so you can enjoy their delicious menu elsewhere (tip: tastes great in front of Netflix…).
Before we knew it, our dishes had arrived and of course, we got straight down to business. The sheer size of the half chicken on my plate was well worth its £7.50 price tag. The meat had been roasting over the spit, giving the chicken a mouth-wateringly crispy skin, which was also seasoned impeccably. The greens were cooked to the point of still being a little crunchy and this combined with the sweetness of the soy sauce and an after-kick of warm chilli made the dish anything but a boring plate of vegetables. Having visited before for a takeaway, I had already tasted the homemade slaw and sweet potato fries and there was absolutely no doubt I was getting them again. Super crispy on the outside, fluffy in the middle and sprinkled with Peri salt, dunk these bad boys into the BBQ Jerk dip and let your taste buds experience tangy, sweet and spicy goodness.
Although everything on the menu is cooked fresh and fairly low in fat, if you are counting those calories in time for summer, the superfood salad is an option that allows you to stay loyal to your diet, without compromising on taste. The salad we ordered was packed full of tasty grains, seeds, zesty pomegranate pips and Generous Avocado chunks. The carb and veggie combination were then topped with boiled eggs and a light, herby dressing. If you're not into the Quinoa and Avocado hype, you can also go for a classic Caesar or a roasted Beet and pickled Red Onion dish drizzled in a honey and mustard dressing. Visiting on a Sunday? Spitroast have even come through with a Sunday dinner for just £10.50 per person, featuring their amazing half chicken, plus sweet potato mash and several other trimmings  – something I'll be back to try.
With different places opening in our city left, right and centre it can sometimes be a little difficult to decide where to eat. But if you're looking for fresh, nutritious and most importantly, delicious then Spitroast is a strong one to consider. Whether you're sitting down for dinner, popping in for a coffee and a bite at lunch or fancy switching up your Saturday night takeaway, you won't be sorry you walked into this place.
Spitroast, Smithdown Road official website
Laura Nicholson