Guests were kept in the dark right up until the doors opened at Secret Diners Club's latest pop-up restaurant on Saturday. Following directions sent out in an email and armed with just an address and time, diners found themselves in front of a railway arch on the outskirts of Liverpool city centre.
A locked shutter was all that separated diners from a night of unconventional fine dining and at 7pm it was lifted, unveiling the pop-up restaurant's unique space to the crowds outside.
For its latest event, Secret Diners Club teamed up with the importers of Monte delle Vigne, one of the finest wine producers in Italy's Emilia Romagna region. The Italian sparkling wine specialists matched the sensational food on offer with a exquisite wine list.
As a nod to the partnership with Monte delle Vigne wines, the menu had a subtle Italian theme throughout. A simple amuse-bouche of balsamic and bread got guests warmed up for a menu featuring octopus risotto, "caeser salad with a twist" consisting of chicken and pancetta tortellini with charred leaves and a main of lamb loin and neck, feta, lamb fat potato and SDC's tomato ketchup.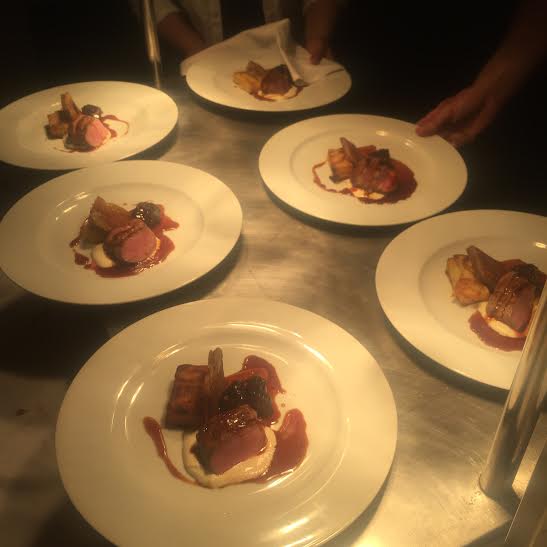 Sweet-toothed guests were treated to desserts of lemon meringue doughnuts with limoncello granita and "SDC's tiramisu" which was composed of almond cake, coffee mascarpone, chocolate mousse and soil, milk foam and milk ice cream.
Like with all of Secret Diners Club dinners, the menu was also kept a secret with guests not knowing what they had eaten until the end of service when the full menus were handed out, however throughout the meal guests were encouraged to interact and guess the courses on blank menus.
Talented singer Frankie Wright provided a beautiful live soundtrack and Bang & Olufsen Liverpool supplied the pop-up restaurant with a superb sounds system from its Love Affair Collection for the night.
Daniel Heffy, Chef and Co-Founder of Secret Diners' Club, says:
"We are thrilled with how Saturday's Secret Diners Club went. It was brilliant to unveil our latest pop-up restaurant to diners from across Liverpool and further afield. Our diners were kept in the dark right up until we lifted the shutters and the atmosphere was electric.
We can't wait to release details of our next event to diner. Watch this space."
Dates for the next Secret Diners Club event will be released soon, follow @sdc_lpool on Twitter and Instagram to be the first to find out.