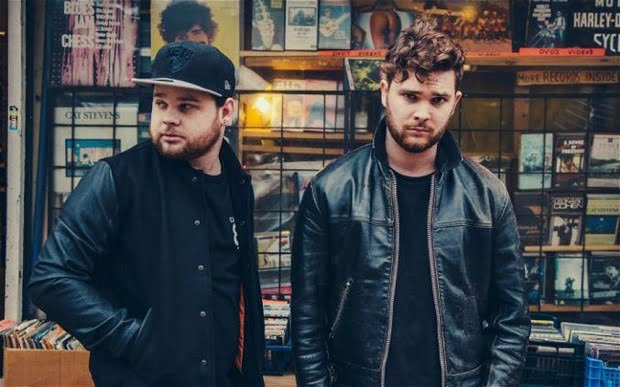 Just over a year ago Royal Blood where playing to crowds of like 20 people, fast forward to now and they've sold out the Liverpool O2 Academy in what? Like 15 minutes?  And to be perfectly honest, it wouldn't be irrational to say that they probably would've sold out venues significantly bigger than this.  I was lucky enough to grab myself self a ticket after staring at my phone screen for half an hour before they went on sale – and I came away more than happy knowing my hard work hadn't been wasted.
Despite only having 3 singles publicly released, the due powered through their 40 minute set with a continuous flow of energy and engagement, and their small footprint on stage meant the space created left Mike Kerr with the perfect platform for some amazing guitar showmanship.  Watching their live sets on YouTube or reading any other reviews of their gigs can put a little insight into why they had such an impressive turnout, "The whole thing is really based on our live performances, even our recording process," Kerr explains. While its impressive that two people can create such a massive sound, it would be interesting to see how they would be on a longer set in a bigger venue, like an arena.  Kerr uses various pedals to mimic the sound of a guitar and being able to switch between the two sounds is astonishing, but despite the duo being so tight they are inevitably going to limited in terms of textural variety.
Quite righty, Royal Blood have argued in the past that they wouldn't record something if it can't be reproduced live – and this view is echoed throughout their entire set, the songs are flawless and you can physically see how passionate they both are about their music whilst they're on stage Ben Thatcher on drums literally throws his whole body weight into it, practically pounding it into the ground, the scale of the hype is understandable watching them perform.
With a little introduction from Jay Z with 99 Problems the crowd was eased into the opening song, before chaos begun with Come On Over. From that point there were very few dips in the tempo, the pair have seemingly already mastered the live show and the only thing it really lacks is more songs,
I've been to a lot of gigs were like 75% of the audience only know the singles and sort of stand around awkwardly waiting for the next song they're vaguely familiar with comes on, but with this show the energy was continuous and there was consistent quality to the set.
Arguably stealing the show was the likes of Better Strangers and Ten Tonne Skeleton and Blood on my Hands.
Obviously thought, Out of the Black was the song that drew the pinnacle and conclusion, an extended version of the song was played while the fins attempted to display their best crowd surfing abilities
Royal Blood completely lived up to the hype, asserting their presence in 2014 with an aggressive statement illustrating exactly why they're ones to watch.
Aimee Atherton