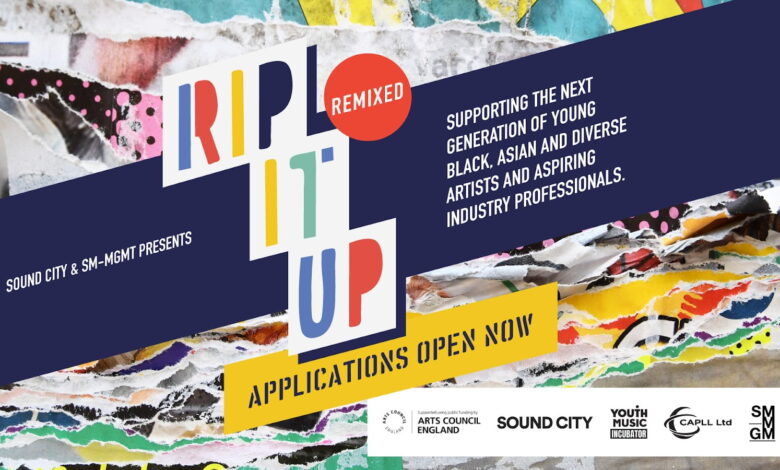 Music
Rip It Up Returns – The Vital Bursary Programme Tackling Racial Inequality In The Music Industry
After a breakthrough inaugural year, Rip It Up – the curated and bespoke bursary programme that provides a platform and direction for the next generation of Black, Asian and diverse talent to make their mark on the music industry in the months and years ahead – has announced details of its second iteration: Rip It Up (Remixed).
Welcoming in a new generation of creatives and talent to the music industry, Rip It Up launched in 2021 in response to the growing disparity when it comes to racial equality within the music industry. Not just addressing and confronting this head on, its programme spanned across 10 weeks of educational insights from a vast array of modern trailblazers shaping the music industry of the future but also providing the opportunity to elevate their work and careers through paid-for work placements, bursaries and support. Helping guide its first class of rising creatives, Rip It Up returns in 2022 to help support another vital crop of exciting new talent.
In 2021, Rip It Up helped elevate tangible change within the music industry – with successful applicants taking their skills and expertise following the programme into placements within music journalism, artist management and industry bodies alongside artists securing record deals with famed independent labels such as Lab Records. Equipped with a greater understanding of the frameworks that exist within the music industry in 2021 and beyond, its impact is already being felt – with 2022 promising a further class of exciting new talent ready to embark on their own creative journeys and breaking apart the long-standing barriers of entry for an entire generation of aspiring Black, Asian and diverse creatives. 
Lending their expertise to Rip It Up are an array of artists, industry figureheads and experts all looking to give back to a new generation of music industry talent. From spotlight speaker sessions, to mentorship and debate insights and mentoring – this crop of individuals will be investing in the future in their own individual ways across the programme. Helmed by course leader and long-standing industry innovator Yaw Owusu (Executive Manager of THE PLAYMAKER GROUP and involved extensively in the PRS Foundation/Power Up), talents from all corners of the industry will be offering their insights.
From Kadeem France, frontman of one of the UK's most invigorating new rock bands Loathe, Lily Fontaine (lead singer of hotly tipped alternative newcomers English Teacher), Ellie Best (RCA Records), Liam James Ward (General Manager of Something Something Social), Elli Brazzill (Music Editor at Napster) and Mike Cave (Mixing & Mastering Engineer who's previously worked with the likes of Lewis Capaldi, The Lathums and Camelphat) to name but a few – Rip It Up promises to continue its undeniable legacy as one of the first programmes directly helping drive that call for greater opportunities and platforms for young Black, Asian and diverse talent to make that step into an industry crying out for greater diversity and inclusion. 
Loathe vocalist Kadeem France said:
"It's an honour to be a part of "Rip It Up" and to be able share my experience to help others who starting out in the music industry"
Course leader Yaw Owusu said: 
"I am really happy to be facilitating the Rip It Up programme again. The positive outcomes for the participants last year were vast and so I look forward to working with the team, and the programme guests, to give those great development and learning experiences to more deserving emerging individuals again – with the overall aim being to ensure the fairer distribution of industry information, connections and opportunities"
Sam Meaghan, Rip It Up Programme Manager said:
"Working on Rip It Up brought into sharp focus that whilst alternative music in its current form is dominated by white males, the heritage of the genre(s) has not been forgotten. The 2021 cohort of the programme not only exceeded expectations in their hunger and desire to learn, but smashed them in terms of knowledge of music and the nuances of subcultures. 
Whilst Rip It Up felt like a genuine success in terms of delivering an educational programme and opportunities for networking to people who may not have been given this platform before, the problems they face alongside the opportunities they lack are still apparent. There is an undercurrent of companies within the music industry willing to do better and learning how to do so. I hope they look at what we've achieved with some of these applicants and appreciate that the reward has been worth the effort tenfold. We, as an industry, still have a long way to go."
Combining an eight session education programme covering a string of vital areas within the current music industry (from campaign strategies, publicity, recording/production, music distribution, management and more) with an extended practical product – Rip It Up (Remixed) will provide the framework and opportunity for young creatives to immerse themselves with a rich knowledge of the industry they wish to enter. 10 selected applicants will receive extensive support from the very beginning of the programme, with a financial grant assisting in their studies – with the sole aim of discovering and providing opportunities for talent from across different communities and backgrounds the equal chance to engage and thrive within the eclectic music world. 
Applications for Rip It Up (Remixed) are now open to young people aged 18-25 across the North West, and new for 2022 – expanding to include applicants from Yorkshire, The Midlands and the East Of England. These applications are separated into two strands:
5 of the 10 bursaries will be focused on Artists themselves – with the practical element incorporating professional experience within a recording studio alongside an engineer being covered as a part of the Rip It Up programme.


The other 5 places will be focused on Industry applicants, with the practical element incorporating a paid placement within a professional workplace in the industry sector they wish to enter. 
All 10 successful Rip It Up (remixed) participants will receive a dedicated mentor to assist them with regular meetings and discussions, with monthly updates continuing after the programme to assist in further job placements and industry catchups. 
To apply, head to https://soundcity.lnk.to/RipItUpPR